With the latest outing for the evergreen British secret agent just a few months away in No Time to Die, it seems a suitable moment to look at his wrist wear during the past decades. Over the course of 25 films there are three basic items that Bond always seems to collect from the Quartermaster ("Q" to James and the rest of us): a tricked-out car, a gun (usually a Walther PPK) and a watch.
Ever since the cinematic James Bond first emerged on local screens in Dr. No, the world's favourite spy has appeared with a range of watches to match fashion and accompany his license to kill. Q Branch at MI6 always had watchmakers with a few horological skills up their sleeve, such as the ability to cram a bomb (not sure I would be that comfortable carrying such a device around on my wrist) or a buzzsaw inside the watch, something the conflict-neutral Swiss understandably had
trouble with in Live and Let Die.
Omega's 007 Seamaster Diver 300M for No Time to Die…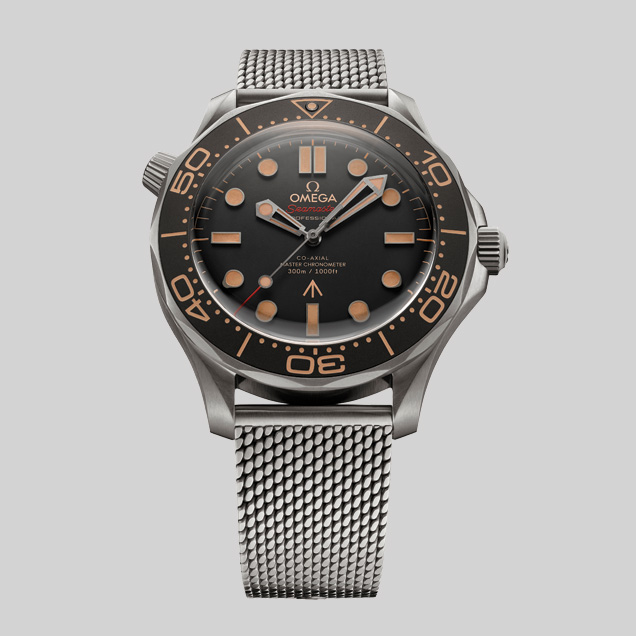 Back in 1962 and for the following two movie outings thereafter, Bond was wearing his military grade Rolex Submariner ref. 6538, now a collector's Rolex of the first order. There was no intention of product placement. The legend is that the producer of Dr. No, Cubby Broccoli, was unable to borrow a Rolex for the shoot, so took off his own and gave it to Sean Connery. The water depth rating, the Oyster sealed case, the luminosity of the dial, and the large oversized crown made it the perfect accompaniment for the Martini swilling, suave and debonair spy who was formerly in the Royal Navy.
That James Bond would wear a Rolex made sense. Rolex were the military issue at the time. They had been used to great effect in WW2 and although there were other brands commissioned by the army, such as Omega, Vertex, Longines and even long-lost names such as Grana –known as the "Dirty Dozen" – Rolex had remained a preferred choice. Military issued watches were distinguished by engraved serial numbers and the "broad arrow" symbol.
Bond's creator, Ian Fleming, a former Special Operations Executive (SOE) officer, was a Rolex fan. Although Fleming never actually defined the watch Bond was wearing in the books, as in which model was issued to 007, it was described as a stainless-steel case with an expanding steel bracelet. Although there was one exception, in the book Thunderball, where Felix Leiter asks Bond if "he is still wearing that old wristwatch, with the big phosphorous numerals?" Which given other clues, and the fact that
Fleming himself wore a Rolex ref. 1016 Explorer, has led most to believe that the author was simply describing what he was wearing on his wrist.
The irony of it all is that in the Thunderball movie, James Bond was issued with a Breitling Top Time (a model recently re-released with much success) that contained a very handy and much needed Geiger counter, very useful when tracking down stolen nuclear bombs. Ever since Q Branch adapted the Breitling, the watches issued to James Bond contained an interesting array of gadgets: from laser cutters to a tracking device with a red dot on an LCD screen (presciently predicting smart watches).
Rolex made a come back in Live and Let Die where, thanks to the upgrades by Q Branch, saved Bond's life on a couple of occasions; and made an appearance in the Man with the Golden Gun. The final outing for the brand took place in License to Kill, in which Bond wore the Submariner ref. 16610 with no additional extras.
To read this article in full, please order your copy of I-M TIME here!
Words: Dr Andrew Hildreth.