The Danish-Icelandic artist's exhibition Symbiotic Seeing, which can be seen at Kunsthaus Zürich until March 22, lets you experience the world from the viewpoint of algae, be part of an atmospheric system and enjoy a robot playing a four-tune soundtrack – all in hope of a better world.
Darwin was wrong: Collaboration in the form of symbiosis makes you stronger and more likely to not only survive, but also evolve. In the 1970s this was a rather radical approach to science, but it is getting more and more accepted. And now, in the Anthropocene epoch, we are standing at a crossroads where we better start collaborating or we are in dire straits. Still with all the future-oriented anxiety swirling through our times, Olafur Eliasson's Symbiotic Seeing at Kunsthaus Zürich fills you with hope and positive awe.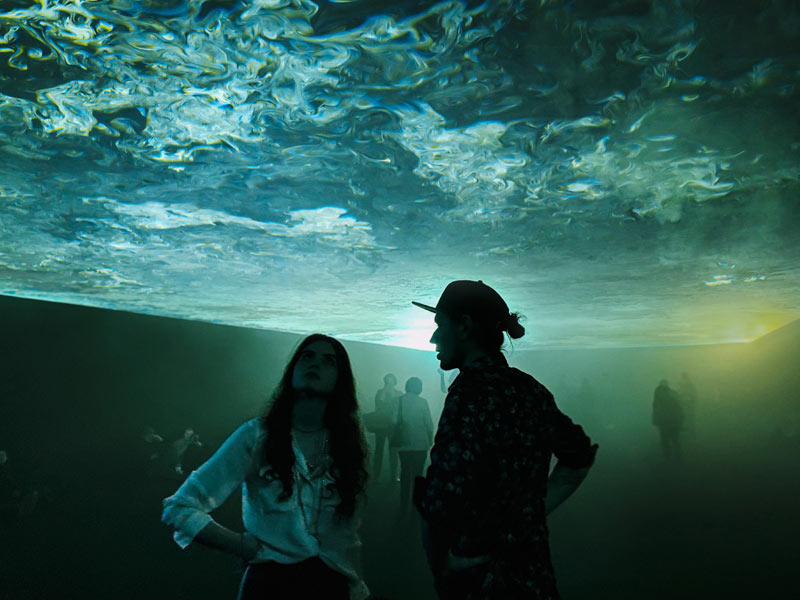 Room 2, taken up with the 2020 work that gives the exhibition its name, is the most spectacular. Here, a thin veil of light creates a second ceiling some two and half metres up, halfway to the real one. Thanks to a smoke machine the veil becomes an ongoing, ever-changing picture reminiscent of the primordial soup, an intergalactic cocktail of the microscopic movement of bacteria – what you would see if you looked very minutely at the world around you or into galaxies far, far away.
"The room is an atmospheric situation. The temperature is kept at around 22°C, whereas our bodies are 37°C. The heat the emanates from our bodies goes towards the ceiling. Our mere presence, the change in temperatures and the air movement generated by our motion creates swirls and holes changing the images above us, which could make us question how we interact with the world," explains Eliasson, who in September 2019 was appointed Goodwill Ambassador for climate action by the United Nations Development Programme.
The simple set-up with spotlights situated in each corner and moving smoke probably sounds very 1970s psychedelic, but to me, the swirls somehow have more in common with 1920s art nouveau posters than the dopey 1970s. It makes sense, since the work is about heightened awareness rather than Asbury Heights; the ever-changing swirls also become a beautiful symbol of unaware, unintentional symbiosis.
Passage 2 houses Algae windows (2020), a live peep show of hundreds of half domes in front of a corridor and window, which gives you upside down images of visitors as well as of the city of Zurich. Eliasson means it to mimic the point of view of algae. It is also a good example that the art itself is symbiotic; it is changing, evolving, creating new experiences. Are you looking or are you being looked at?
After a small tour through the exhibition – which also includes Escaped light landscape (2020), a slow-moving "flair machine" creating a spacey sci-fi environment – Eliasson and his assistant invite me to a back corridor used for interviews. Here, we are "protected" from the subtle four-note live loop adding a sonic tapestry to the whole exhibition. "I don't know if it is music, because it is only four notes in a cello piece written for a one-armed robot," he says about the tirelessly playing industrial robot arm some 30 metres away from us. He offers me some water and bites into a croissant, which leaves a few crumbles in his large beard as we dive into our discussion.
What role does the individual mind play in a symbiotic world?
I think it plays a significant role, but I don't think the challenge of today is that we are losing the individual mind, rather the challenge is that we have an unprecedented amount of egotism and this means that there is quite a bit of space to take away from the obsessive nature of the individual to contribute to a sense of collectivity. For me, the sense of connectedness is not a dogma or a theoretical or political or religious concept, connectedness is a sense of causality – when you do something, it has consequences and you can feel them. When you vote, it has consequences; when you say, write or do something, it has consequences. This is what I think the question of symbiosis is about, because it is one system in which one sees oneself as a part of a bigger one.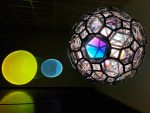 The environment is part of this bigger system. In your work, how do you find a balance between hope and apathy?
I am now, like everyone else, realising that continuing to live the way we do might end up depriving my grandchildren of their own existence. Yes, I think it is a valid question that a lot of people are discussing: Are we achieving more with a fear-based narrative or a hopeful, positive narrative? I have always in my art worked with a more inclusive and hopeful idea and not a fear-based narrative in order to encourage people in civic participation. We need to have a degree of hope that what we do actually matters. We want to create a future that is better than the past, and for that we need hope and not, I think, fear.
How do you look at the future?
I am actually quite scared, to be honest. But, one could say just like Desmond Tutu: I am a prisoner of hope.
Olafur Eliasson's Symbiotic Seeing
Kunsthaus Zürich
Heimplatz 1, 8001 Zürich
Check out Little Sun, the charity project founded by Olafur Eliasson, with a vision of clean energy for all.
So far, more than a million solar lights have been provided to places without electricity.
www.littlesun.com