Over the last decade, Cape Town has become famous as a gourmet destination with many international names opening an establishment there, maybe encouraged by its cosmopolitan reputation, maybe because of the abundance of glorious produce in the region, including incredible wines.
Joining this group of high-dining propositions we find the internationally renowned Nobu, which has come to Mother City as part of the gastronomic proposition at the newly refurbished luxury One & Only resort, located at the fashionable V&A Waterfront overlooking the marina and with panoramic views across to Table Mountain. At the helm of this new adventure, Nobu has appointed Chef Prajal Rana, who has been involved in Nobu's kitchens for over a decade, a journey he started when he joined Atlantis, The Palm, in 2009. Chef Prajal is well-versed in the brand's style and levels of quality and cradles a passion for guest experience, which he has passed to all his staff. And this is the first thing you notice the moment you come through the doors of the restaurant. The team members in charge of front of the house really do make you feel welcome, as if you just came into a friend's for supper… one with a very large dining room and lots of other friends.
The décor at Nobu Cape Town cleverly combines noble materials and warm lighting to create a cosy and comfortable environment within the One & Only resort.
The place is spectacular itself. Hugely tall ceilings and modern interior design combine with traditional, warmer materials to create an inviting and cosy space for dining. The lighting is also carefully looked after, so there is enough to appreciate the aesthetics of the dishes but doesn't feel like an operating theatre. Then you have the sommelier, Grant Sondezi, who is simply fabulous, not just for his knowledge of wines but for his way with words, his humour and his savoir-faire. He paired our food with a series of fantastic South African wines such as Life from Stone 2021, a Sauvignon Blanc that gets his name from the extremely rocky soil of the Springfield estate. The reward is an intense, minerally wine with lime and gooseberry notes, even a bit of green pepper. It is well rounded, zippy, zesty and lingers in the palate. Foodwise, Chef Prajal really spoiled us.
The South African waters provide plenty of fish and seafood, which are transformed into the most delicious dishes thanks to the creativity of Chef Prajal Rana.
We started with a series of cold dishes. First seabass Dashi ponzu, mixed with mushrooms and asparagus and topped with chives. I can't tell you how good this dish is. The tanginess of the ponzu works with the chives to balance the sweetness of the seabass and the earthiness of the mush- rooms and asparagus. Salmon sashimi New Style – that is, Chef Prajal's style – followed. The thinly sliced fish is plated and dabbed with garlic puree. Ginger, chives and sesame seeds are added before searing it with sesame-olive oil. The dish is finished with yuzu soy. This is sashimi elevated to a higher power.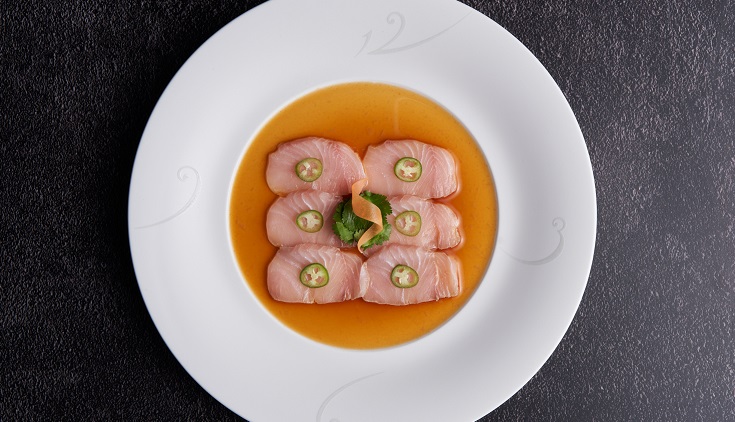 Salmon sashimi New Style: thinly sliced salmon dabbed with garlic puree. Ginger, chives and sesame seeds are added to the dish before it is seared with sesame-olive oil. The dish is then finished with yuzu soy.
The sushi platter that came straight after was devoured by my children within seconds. I just had time to clock that there were salmon, tuna, yellowtail, white fish and shrimp nigiri with cut rolls of spinach and salmon New Style and of Toro with avocado. Next, we were presented with chicken and beef tacos. Again, never such a modest dish has been treated with such respect. The chicken is slowly cooked with chilli and white sauce in a sake soy and anticucho sauce, topped with chopped chives. The beef version is made with Wagyu and topped with garlic chips.
A few of the pieces we got to enjoy in our bespoke sushi platter: salmon roe and sashimi, toro tuna, yellow tail and toro and avocado rolls.
I am mad about this super-marbled beef, so Chef Prajal – bless his soul – brought us an extra dish of Australian Wagyu with anticucho sauce served with pickled tomatoes and mixed seasonal vegetables and chives. The different elements of the dish work so well together that I almost ran to the kitchen to kiss Chef Prajal. We also had a spinach salad with kohlrabi, dry miso, yuzu juice, Parmesan cheese, truffle and olive oils, garnished with fried leeks.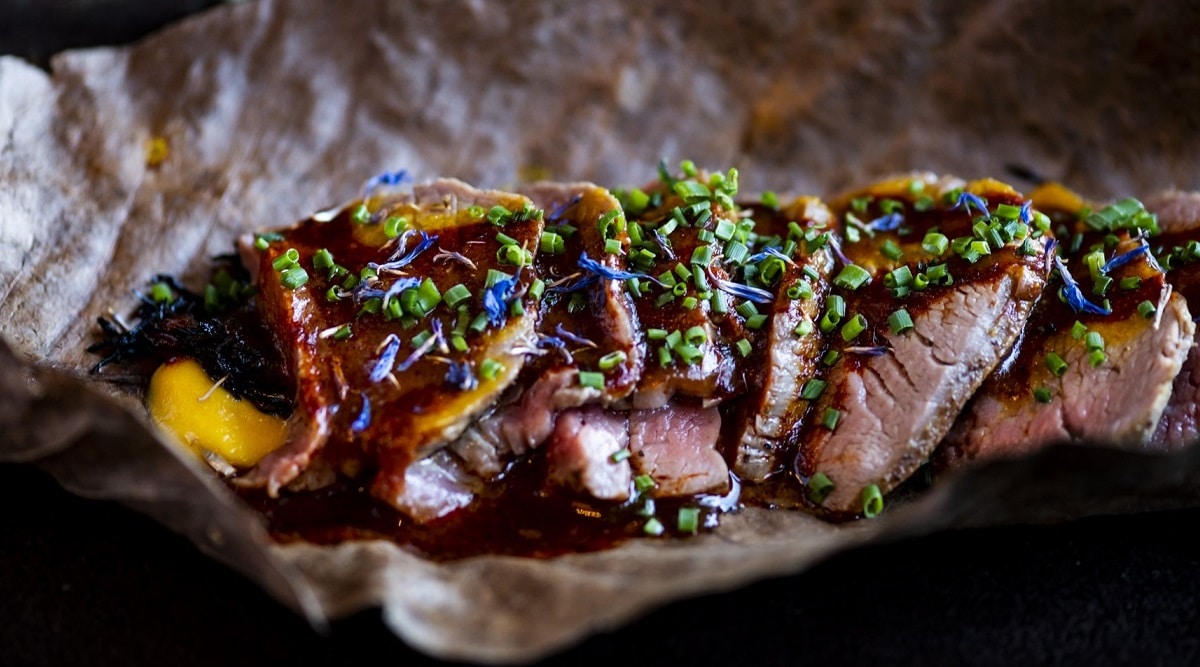 Australian Wagyu with miso and anticucho sauce, sprinkled with chives and served on hoba leaf.
When Chef Prajal kindly came to our table for a little chat, he told me that he draws inspiration from the environment around him. He is a great believer in sourcing high-quality ingredients through local suppliers and has no doubts that he can keep Nobu standards working with local markets and winemakers. "It is important to work with the local community," he says, "Here in South Africa, there is an abundance of fresh vegetables and fish that we can incorporate into the menu. It is a great opportunity to be creative with local products that support regional suppliers."
Chef Prajal Rana's preferred style of cooking is Japanese cuisine but he credits other Asian countries and their rich cultures such as Taiwan and Singapore, for playing a role in his culinary journey.
To finish, we got a portion of cheesecake served with yuzu strawberry sorbet, which introduces a bit of playfulness into the classic dessert. Grant brought us a glass of Simonsig Kaapse Vonkel Brut, an elegant and refined sparkling wine that shows how South Africa is becoming a real contender in all fields of wine production.
I was surprised by the elegance and delicacy of Chef Prajal's cheesecake and how well it worked with the strawberry sorbet. A rainbow of flavours and textures for the palate.
On your next trip to Cape Town, you simply can't miss dining at Nobu.