It is not often that my jaw drops at the unveiling of a new car – these days changes from one iteration to the next are normally quite marginal – but that is exactly what happened when Prof Gerry McGovern OBE, Chief Creative Officer at Jaguar Land Rover pulled the cover of the new Range Rover SV.
Having reached the half century milestone, the Range Rover has been through many face-lifts and adaptations to keep pace with the demands of its customers which over the decades, have purchased more than 1.25million units since the first one rolled off their production line in 1970.
True to its roots, 51 years later we have been presented with a new Range Rover of impeccable design, modernist and refined, worthy heir to the original that was catalogued as an "exemplary work of industrial design" in the early 1970s and exhibited at the Musée du Louvre in Paris.
The first thing that catches your eye is the harmony in the proportions of this car, its clean lines and surfaces, the blessed absence of everything and anything that is not necessary, given the new Range Rover an elegant, almost regal presence. Its basic trademark architecture (falling roofline, strong waistline and rising sill line) is still there, but in this fifth generation it has been refined with a short front overhang and a distinctive new boat tail rear.
Handcrafted by Special Vehicle Operations, the new Range Rover SV is an exquisite interpretation of the brand's capabilities when it comes to luxury and personalisation. Examples of unparalleled attention to detail can be found all over the car, for example where the rounded edge of the door meets the glass in a simple, clean finish thanks to a specially engineered hidden waist finisher, or the hidden-until-lit lighting and flush glazing that contribute to the impression that the vehicle has been milled from solid. The palette of colours available includes a Sunset Gold satin finish that truly adds to the luxurious feel of this new Range Rover.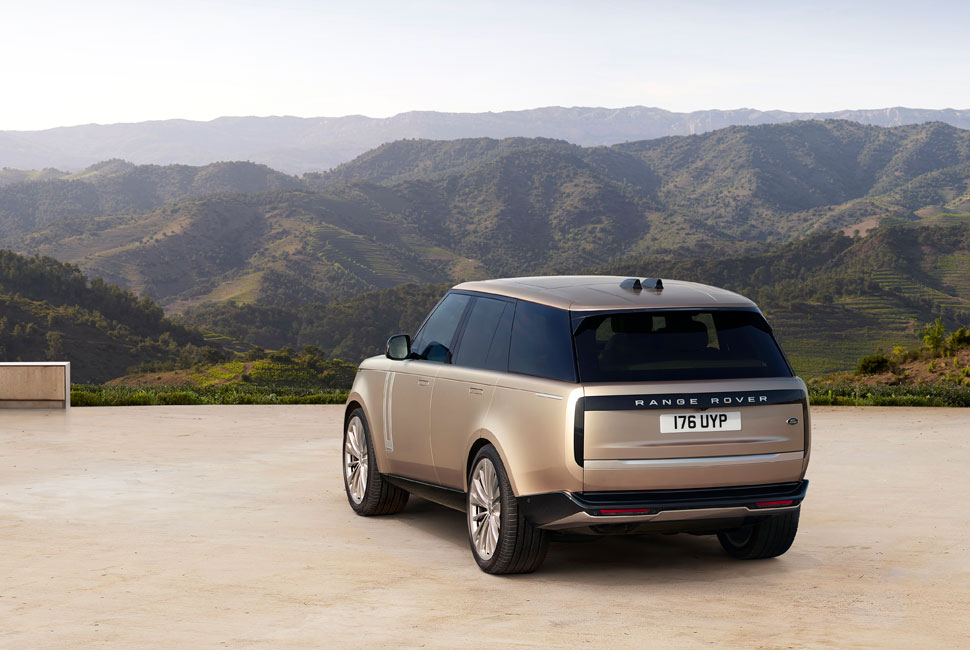 The quality of the interior is something to behold. Underpinned by modern, intuitive technology, designed with the finest and most responsible materials and equipped with the latest wellbeing innovations (massage included), the cabin becomes a sanctuary for all occupants. Customers enjoy a wide choice of materials and finishes, even innovative textiles and tactile Ultrafabrics™ combined with Kvadrat™ wool-blend to create an option that is lighter and generates only a quarter of the CO2 of traditional leather. Other possibilities include lustrous plated metals, smooth ceramics, intricate mosaic marquetry and soft near-aniline leather.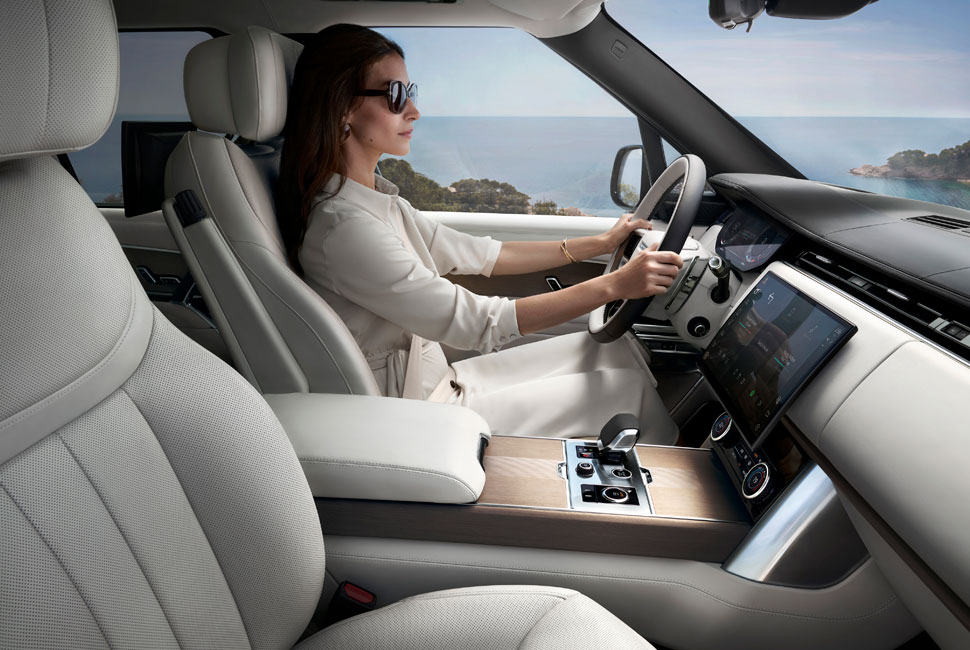 In the new Range Rover, less is definitely more. The efforts to reduce cognitive load on the driver and passengers extend to eliminating unwanted noises, vibrations and distractions, which results on everybody arriving to their destination as fresh as a daisy, even after the longest journeys. The car even uses pre-emptive suspension that primes the vehicle for upcoming corners, noise cancelling with new headrest speakers and clean air technology.
Other clever tech to add to the comfort of the travellers include Adaptive Cruise Control with Steering Assist to smooth out body movements resulting from sudden changes in speed and a suspension that isolates the cabin from surface imperfections more effectively than ever using advanced air springs.
With integrated Alexa, customers can manage everything from favourite infotainment features and music selection to navigation or phone contacts – all while keeping their hands on the wheel and eyes on the road. Alexa works in addition to Wireless Apple CarPlay® and Wireless Android Auto™ and does not need any phone or external device to operate.
Auto-Folding Loadspace Cover, Versatile Loadspace Floor and Tailgate Event Suite4 enhance every journey, from shopping trips to tailgate picnics…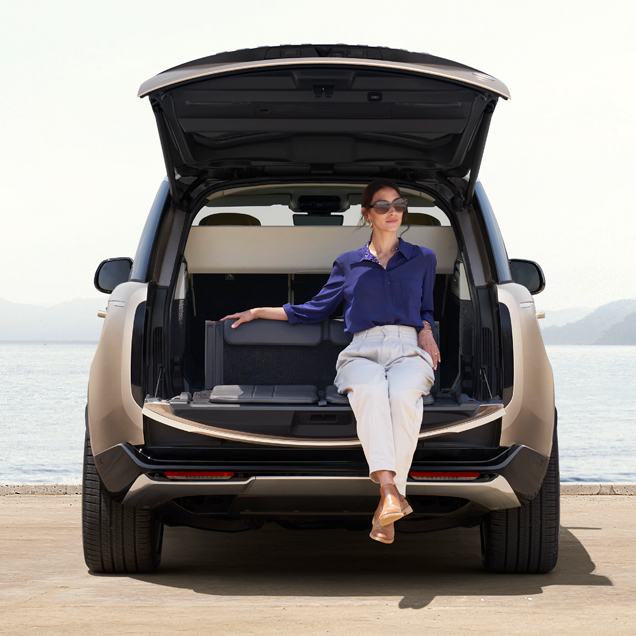 In terms of practicality, the new Range Rover will not disappoint you. From a lower tailgate that can be used as outdoor seating to a clever array of panels and pockets to store all kind of items, the car has it all, even a ramp for your four-legged friends to get in and out of the boot. Also, the car can turn a full circle of less than 11mwhich comes in pretty handy in town.
Land Rover's award-winning Pivi Pro infotainment technology comes here with its largest ever touchscreen. The 13.1-inch curved, floating screen has a minimalist frame design. Pivi Pro works in harmony with an elegant new semi-floating 13.7-inch Interactive Driver Display, available in a variety of configurations, including a conventional analogue layout, using the steering wheel controls.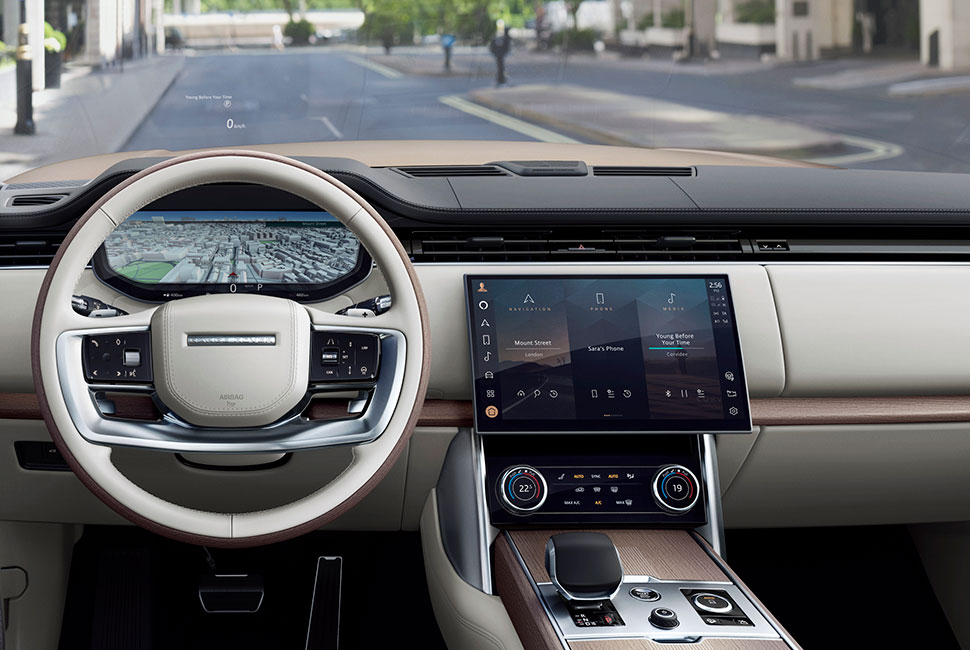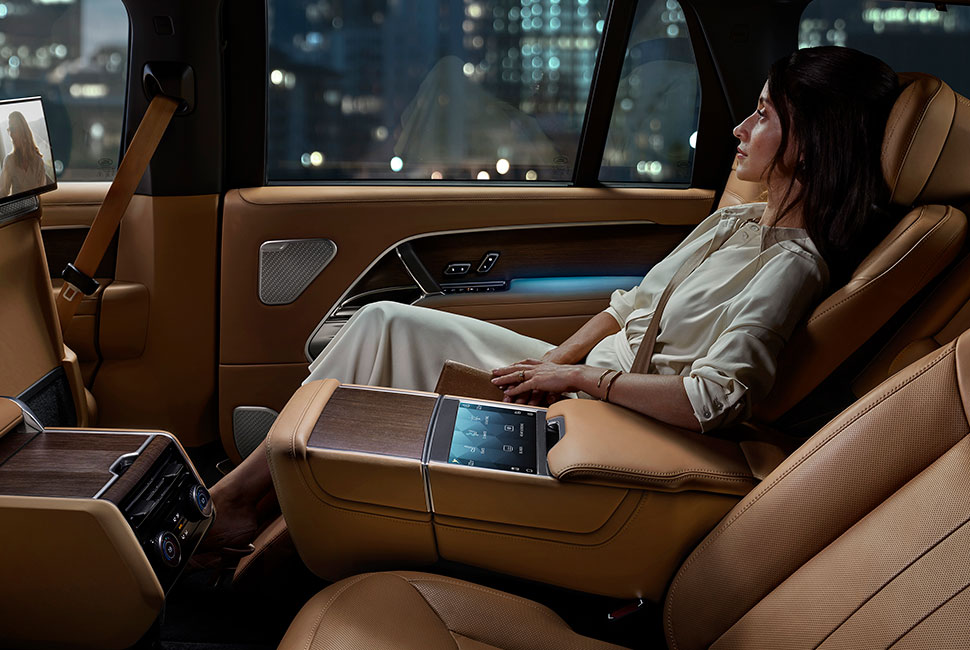 All the technology and state-of-the-art engineering in the new Range Rover also makes it incredibly safe. Adaptive lighting, all-wheel steering… the new Range Rover comes with every trick in the book. My favourite is the new Manoeuvring Lights that help complete low-speed manoeuvres in dimly lit surroundings by creating a carpet of light around the perimeter of the vehicle, working with its 3D Surround Camera system. However, if you get fed up with twisting and turning, you can step out and the car will park by itself while you watch. That's a party trick in the making if I've ever seen one.
All the clever tech in the new SV feeds into Land Rover's award-winning Terrain Response 2 system, which harnesses the various chassis systems to automatically provide the optimum settings from a choice of six driving modes. Alternatively, the driver can select manually or use Configurable Terrain Response to create a bespoke chassis set-up.
The new luxury SUV is available in SE, HSE and Autobiography models. Its new MLA-Flex body architecture provides Standard and Long Wheelbase body styles with luxurious four, five or seven-seat interiors and a range of mild hybrid and plug-in hybrid powertrains (a fully electric option will premiere in 2024) and a 530PS twin turbo V8 petrol version. The six-cylinder petrol and diesel engines feature the latest 48-volt MHEV technology which harvests energy usually lost under deceleration and braking to boost fuel efficiency.
This is a car which I am convinced will turn many heads and witness thousands of magical moments.