For the first time in 11 years, ESA is looking for a new astronaut squad. These recruits will work alongside their existing astronauts as Europe enters a new era of space exploration. Established in 1975, the European Space Agency now has 22 Member States and cooperates with many others. Their mission is the peaceful exploration and use of space for the benefit of humanity.
Over its nearly fifty years of existence, ESA has watched over Earth, developed and launched inspiring and unique space projects, flown astronauts and pushed the boundaries of science and technology, seeking answers to the big questions about the Universe. As a multinational and multicultural organisation, diversity is seen as one of their strongest assets and so it is highlighted in this new call for new recruits.
The starting point for this is 31st March 2021, when the vacancies for new astronauts open for eight weeks. This initiative intends to initiate a real generational change for ESA, who is strongly encouraging women to apply as they are seeking to expand gender diversity in their ranks. The aim is to hire 4-6 astronauts plus a reserve of 20, among them, at least one individual with physical disabilities. As astronaut Samantha Cristoforetti stated, "In space we are all disabled."
David Parker, ESA Director of Human and Robotic Exploration said on the subject of diversity, "Representing all parts of our society is a concern that we take very seriously," diversity at ESA should not only address the origin, age, background or gender of our astronauts, but also physical disabilities. To make this dream a reality, alongside the astronaut recruitment I am launching the Parastronaut Feasibility Project."
Arguably, the exploration of space is humankind's greatest adventure, a journey of discovery for the benefit of our planet and the viability of our species. A field previously dominated by the US and the former Soviet Union has now several very strong contenders, such as China, the UAE and Europe. Former ESA Director General Jan Wörner commented, "Thanks to a strong mandate from ESA Member States at Space19+, our Ministerial Council in 2019, Europe is taking its place at the heart of space exploration.
To go farther than we ever have before, we need to look wider than we ever have before. This recruitment process is the first step and I look forward to watching the agency develop across all areas of space exploration and innovation, with our international partners, in the years to come."
Human and robotic spaceflight contributes to a circular economy that benefits us all. Research and technology developments in space improve our understanding of energy efficiency, automation, robotic and artificial intelligence; as well as habitation, recycling, waste management and additive manufacturing processes and technology.
The new recruits will be divided between active and reserve astronauts. The successful candidates with disabilities will be joining the latter group and ESA is working with international and commercial spaceflight partners to assess the possibility to fly to the International space station on an ESA mission.
"Becoming an astronaut has been a dream come true," says Samantha Christoforetti, "it brings together many of my passions: science and technology, complex machines, demanding operational environments, international teams, physical fitness, public outreach. And of course, occasionally you get to ride a rocket to work!"
Obviously, the list of requirements to apply is not to take lightly. A Masters Degree (or higher) qualification in Computer Sciences, Mathematics, Engineering, Medicine or Natural Sciences is required as well as a minimum of three years working experiences in one of these fields. Languages are extremely important, with fluency in English being indispensable and in other languages desirable.
I couldn't help but smile when reading the non-academic requisites: strong motivation and ability to cope with irregular working hours; frequent travel; long absences from home, family and regular social life; calm under pressure; willing to participate in life science experiments.
Once applications are received and the first screening conducted, candidates will have to go through a series of psychological, practical and psychometric tests before moving to the medical selection and finally, the two rounds of interview after which the successful future astronauts will be appointed (October 2022).
And this is when the fun really starts. Training with ESA to go into space includes courses like CAVES (Cooperative Adventure for Valuing and Exercising human behavior and performance Skills). Over a period of three weeks, participants are prepared to work safely and effectively in multicultural teams in an environment where safety is critical: caves. Astronauts need to get used to confined spaces, minimal privacy, technical challenges and limited equipment and supplies for hygiene and comfort – just like in space.
The Pangaea course provides astronauts practical knowledge of the geology of Earth, Moon and Mars to prepare them to work with planetary scientists and engineers in the next exploration missions. The course is split into several locations: the Nördinger Ries crater in Germany to study Earth and lunar geology; Lofoten in Norway to become acquainted with Moon highland terrain; the Bletterbach canyon in Italy to learn about Martian sedimentary geology and surface processes; and Lanzarote in Spain, for geological field training and astrobiology.
Once fully qualified, ESA's astronauts will explore low Earth orbit on the International Space Station, one of the greatest engineering works achieved by humankind, the moon and Mars.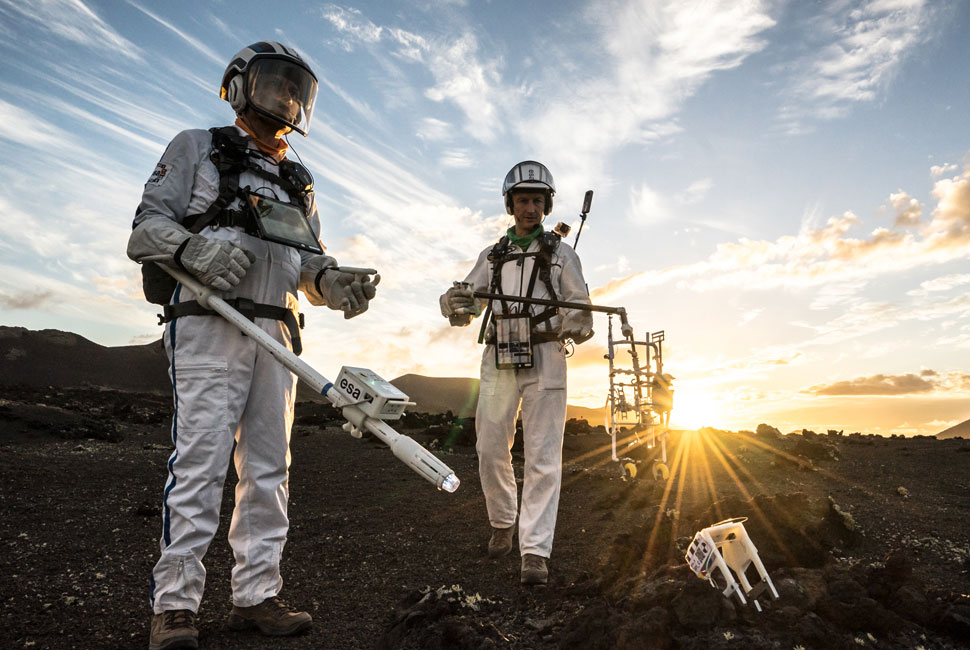 Particularly exciting is the Gateway, the next structure to be launched by the partners of the International Space Station. During the 2020s, it will be assembled and operated in the vicinity of the Moon, where it will move between different orbits and enable the most distant human space missions ever attempted. Placed farther from Earth than the current Space Station – but not in a lunar orbit – the Gateway will offer a staging post for missions to the Moon and Mars. Like a mountain refuge, it will provide shelter and a place to stock up on supplies for astronauts en route to more distant destinations. It will also offer a place to relay communications and can act as a base for scientific research.
The Gateway will weigh around 40 tonnes and will consist of a service module, a communications module, a connecting module, an airlock for spacewalks, a place for the astronauts to live and an operations station to command the gateway's robotic arm or rovers on the Moon. Astronauts will be able to occupy it for up to 90 days at a time. The European Space Agency signed a Memorandum of Understanding with NASA on 27 October 2020 detailing its contribution to this international endeavour including building the main habitat for astronauts when they visit the Gateway, known as I-Hab.
A second contribution called ESPRIT will supply enhanced communications, refuelling capability and a window similar to the European-built Cupola observatory on the International Space Station. ESA will supply the European Service Modules that provide electricity, water, oxygen and nitrogen to NASA's Orion spacecraft to bring astronauts to the Gateway. ESA will receive three flight opportunities for European astronauts to travel to and work on the Gateway.
NASA's spacecraft Orion is set for missions to the Moon, Mars and beyond. Its service module, responsible for the supply of electricity, propulsion, thermal control, air and water has been designed by ESA. This is the first collaboration between ESA and NASA on a transportation vehicle that will carry astronauts farther into space than ever before.

Opening picture: ESA class of 2009, from left to right- Andreas Mogensen, Alexander Gerst,
Samantha Cristoforetti, Thomas Pesquet, Luca Parmitano, Timothy Peake.