The charm of the Cyclades in the heart of the Aegean has attracted visitors from across the globe since the 1950s. In the 70 years since, it has grown to unprecedented levels of notoriety and allure. Yet while the Cyclades may be made up of some 220 islands, it is the small island of Mykonos that has thundered to the top as the most luxurious one upon which to sojourn. While it has an ancient history; in Greek mythology it is stated that the island was formed from the bodies of giants killed by Hercules, its 20th century history is what grounds it today.
In the '50s and '60s, it was frequented by the likes of Grace Kelly, Brigitte Bardot, Alain Delon, Mick Jagger, Mia Farrow, Keith Richards and Paul Newman. And when Jackie Kennedy married the business magnate Aristotle Onassis, once the world's wealthiest man, it was Mykonos that they turned to for it offered security, seclusion, outstanding natural beauty and luxury, all in equal measures. In recent years, the island has come to attract a growing fan-base of celebrities including Kendall Jenner, Lindsay Lohan and Bella Hadid, to name just a few. 21st century Mykonos has evolved into the chicest party island, with many dubbing it the "New Ibiza". And while the liveliness of its newfound extravagance may not be for all, it's rather fortuitous that the historic Mykonos still remains, with plenty to explore if only for a long weekend.
For those with the capital, a modicum of time and a penchant for the seclusion and beauty that made Mykonos so very alluring 70 years ago, there's also only one place to stay, and it's called ALEGRIA.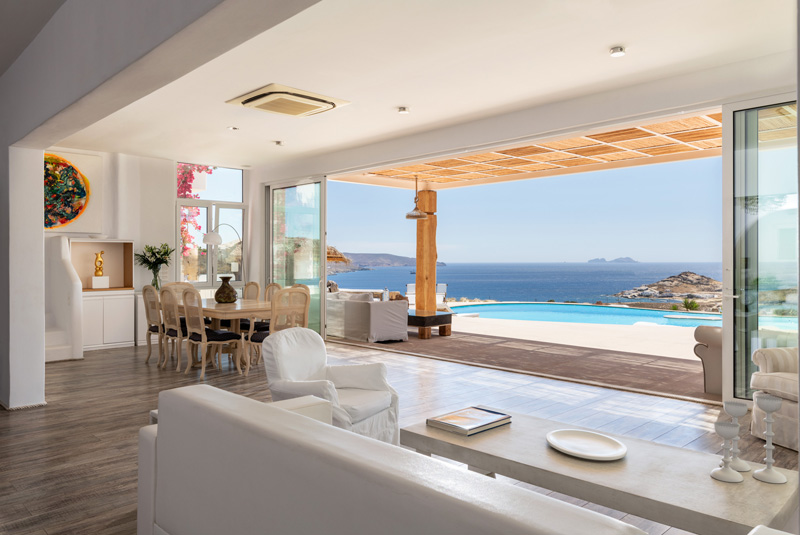 As the island's largest private estate, ALEGRIA balances the fine line between the Mykonos of old and the Mykonos of now. Located on the south east of the island, a short distance from the airport and just minutes from two of the trendiest beaches, Kalo Livadi and Kalafatis, this mammoth 7,000m2 estate features two adjoining villas with 13 spacious suites and master bedrooms (all of them en-suite) with spectacular sea views and a host of exquisite amenities.
Its sumptuousness is of such a high calibre that is has twice been voted Seven Stars Villa at the Luxury Hospitality and Lifestyle Awards, and even snapped up Best Holiday Home in Europe at the European Holiday Home Associate Awards. While a totally private estate, it boasts full hotel comforts including 24-hour personal service, a 22 metres heated pool and jacuzzi, as well as wellness and spa facilities. In addition, with geothermal cooling and heating systems, solar energy and a bio garden, it's also one of the island's only eco properties. The credentials, without doubt, speak volumes. But it is also the location that makes it, and it is a sublime spot from which to explore Mykonos's cultural side.
15 minutes from ALEGRIA, in a sheltered bay on the west coast, lies the island's capital, Chora (Mykonos Town). Here, narrow roads are lined with white cubiform houses; their blue doors, shutters and a carpeting of pink bougainvillea offer a punch of colour in the crispness of the maze-like lanes. Matoyianni Street offers high-end shops, cafes and art galleries aplenty, and the town's Little Venice quarter is filled with popular waterfront bars. Yet history abounds here too, and from the Old Port you can almost see Delos, a hallowed island in Greek mythology that is believed to be the birthplace of the twin-gods Artemis and Apollo.
You can even visit the island and witness the 5000-year-old archaeological and mythological site, with numerous amphitheatres, public spaces and temples. Back on Mykonos, overlooking Little Venice, Panagia Paraportiani, "Our Lady of the Side Gate", is a whitewashed Greek Orthodox Church of incredible design that dates back to the 15th century, and the Windmills of Kato Mili, built in the 16th century by the Venetians, proffer yet more historic and visual inspiration.
What at first might appear an island for the pleasure seeker alone quickly becomes altogether more rounded. For a spot of lunch, stroll over to Niko's Tavern for a casual bite, or opt instead for the acclaimed Interni if seeking the crème de la crème. Back towards the south-east of the island, near ALEGRIA, Solymer Beach Restaurant & Bar on Kalo Livadi is one of the most desirable spots for a relaxing afternoon drink. And for sundowners, nothing but the water of ALEGRIA's infinity pool will do. From here, you can look over Kalafatis Bay and across the Aegean as the last of the day's light sparkles off the famed "Aphrodite's Breasts" twin hills.
It is a moment caught in time and one that abounds with hedonism and mythical fantasy. Finally, when the sun has fully set, it may well be time to explore the Mykonos of now and some of its highly celebrated nightlife. The champagne and cocktail bar Queen of Mykonos in Chora is the preferred spot for alfresco magnums of Dom Pérignon and one that, should the feeling take you, serve you long into the early hours of the morning. Alternatively, you can choose to finish the evening by heading to a nigh party by the beach at the popular Scorpios Beach Club or the renowned Nammos Beach. And while Mykonos is a fantasia of Greek history and beauty, we must contend with a new element to our travelling thoughts, that of COVID-19. Here at I-M Intelligent Magazine, we forecast that drastic change is afoot for all those thinking about travelling, with seclusion and privacy at the very top of the list of requirements. And it is for this reason that ALEGRIA lies at the forefront of our minds as the vastness of the estate and its absolute privacy allows the guests to enjoy the feeling of a personal luxury refuge.
These are the characteristics that have distinguished ALEGRIA as the leading destination in Mykonos for large events, including spectacular weddings, with its wonderful pool and garden that can host up to 700 people… all of them sitting! The events team at ALEGRIA is there to help you organise everything, from the flowers to the menu, as well as assist your guests with accommodation suggestions. When speaking to owner Yiannis Georgiadis, he mentioned many celebrities that have spent holidays at ALEGRIA, like Paris Hilton, as well as incredibly exclusive parties at which even Leonardo di Caprio has been spotted.
Indeed, with the lifting of Greece's travel restrictions this month, it will be one of the first countries to welcome foreigners again and therefore a truly viable option as a 2020 travel destination. We must understand that hotels, however luxurious, are locations of continued and regular footfall, they are a melting pot of different nationalities and therefore they do pose a risk. So that means that the options for the well-heeled traveller must be focussed on private properties, spaces where footfall is little to none, where the fear of potential illness is practically eradicated.
It is the time for luxury private villas to shine, and on Mykonos, ALEGRIA is surely the most desirable offering. With a personal chef and waiter, alongside full butler service and a landing spot for helicopters with a concierge team to manage all the necessary arrangements, and above all, with absolute privacy in an estate with no neighbours or time restrictions, it is even possible to while your time in Mykonos away in the privacy of ALEGRIA alone.
So, whether exploring Mykonos's illustrious history, its vibrant nightlife or simply searching for a place to relax in the solitude of Aegean luxury, we know where we're heading this summer. What about you?

 
Words: by Hugh Francis Anderson