Land of heroes and pirates
By Lavinia Dickson-Robinson
Montenegro is a small Balkan state with rugged mountains, medieval villages and many small beaches along its Adriatic coast. With a history that dates back to the 9th century, this relatively unknown country is a force to be reckon with, and played a pivotal role in stopping the advances of the Ottoman Empire.
This is just a speck in the rich tapestry of its history, so much so, that you can almost feel it tingle in your fingertips when you are there. Just close your eyes and let yourself go back in time. Montenegro's colourful history has been ruled by many different regimes, from the Habsburg monarchy to the Soviet Union.
Since the end of the Soviet era, Montenegro has slowly but steadily grown as a holiday destination. It is not a surprise to me, since this little European paradise has a stunning array of landscapes that
will enchant you forever. Framed by the majestic Balkans and blessed with turquoise blue waters along its coast, this is a country that reminds me of both, dark legends and fairy tales.
The Bay of Kotor, resembling a fjord, is dotted with coastal churches and fortified towns such as Kotor and Herceg Novi. Durmitor National Park, home to bears and wolves, encompasses limestone peaks, glacial lakes and 1,300m-deep Tara River Canyon. In 1991 Montenegro's parliament declared the country an Ecological State. Having searched the internet, I stumbled across a tiny boutique hotel called Casa del Mare Capitano in the heart of Boka Bay (Herceg Novi). This UNESCO protected house translates as "The Captain's Palace", a hidden gem that conquered our hearts the moment we crossed its threshold. With only eight bedrooms, it would be ideal for a "family takeover" or to celebrate with friends one of those crucial birthdays we are all slowly walking towards. All the rooms are totally different in size and style. Ours had a four-poster bed and it was located by the large plunge pool.
We spent a relaxing day under orange and lemon trees. That night, we dined on delicious paper wrapped sea bass. I thought food couldn't get any better, but it did, the morning after when we were presented with divine banana pancakes with truffles for breakfast. Autumn is a fabulous time to come to Montenegro, it is truffle season and the landscape is dyed in rich, beautiful shades of ochre every where you look. Foraging for other wild mushrooms is also quite popular. Their award-winning wines put the final notes on what it is, overall, a gourmet's paradise.
Ado and his incredible team at Casa del Mare Capitano blew us away with their hospitality, helping us organise all the sight-seeing and making insightful and truly interesting recommendations. Our first adventure was to visit Hergec Novi, affectionately described by Nobel Prize laureate Ivo Andric as the city of "eternal greenery, sun and promenades" and by me, as the city of 100,000 steps.
As we gingerly climbed down the steps to the harbour, we came across tiny jewellery shops, little grocery stores overflowing with delicious peaches, ruby red cherries and fragrant figs; and stopped for one of the greatest traditions in Montenegro: a mocha Dojckafa coffee. Fully energised by our caffeine fix, we skipped down yet more steps to the harbour. We were met by Marco, our guide for the day, from the boat trip company "Pajo". A boat trip to the Blue Grotto is not to be missed if you come to Montenegro, and as we were there in low season, we were the only passengers on board.
I am not the bravest, but I am sure I would have regretted not jumping off the boat for a swim in the crystalline waters of the blue Grotto. The water was not as cold as I expected it to be this time of the year and this secluded cove near Zanjice beach is definitely worth the effort. After our swim, Marco took us to a tiny island nearby, to see a 13th century church with stunning orthodox frescos. For lunch, we tied up our boat on a small pebble beach where our restaurant was located, shaded by ancient olive trees and with a stunning view of the coastline. All the fish was freshly caught and cooked to the guests' specifications, so we chose ours to be simply grilled with just a squeeze of lemon. We washed it down with one of the award-winning local white wines. Later that day, we visited Tivat. Once a sleepy little village, it is now a luxury harbour full of superyachts, designer boutiques and pristine, white promenades lined with palm trees. You could easily think you were in the French Riviera! In fact, Porto Montenegro is definitely becoming the place to be seen.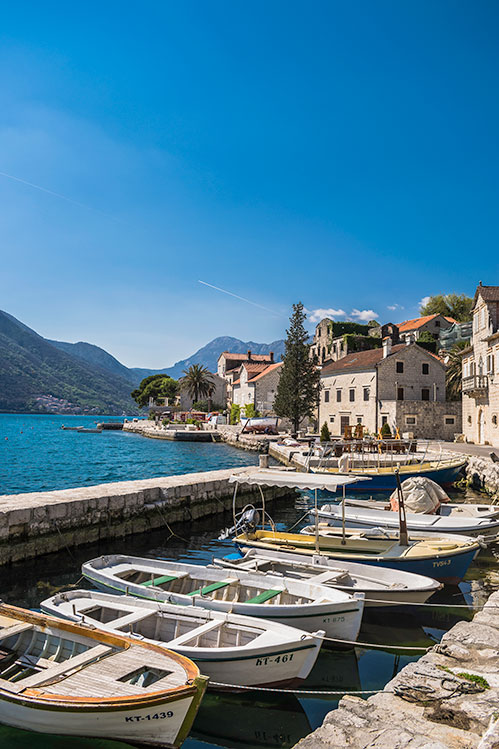 As the week went on, we discovered more enchanting places, like the medieval town of Budva. The first impression of the oldest city on the Montenegrin Coast is really spectacular. It was the Venetians who gave Buvda its magnificent appearance in the 15th century, including its city wall. The
new town on the other hand, is full of big hotels and marina bars. We weaved our way along the marina until we got to an arch in the old city wall. This took us back hundreds of years, as it showed the way to a labyrinth of wonderful narrow streets, roof top restaurants with purple bougainvillea cascading down their walls and little squares with old men playing chess and couples laughing over a glass of wine. The Venetians also built many churches in the region. The triple nave of The Church of St John the Baptist (St Ivan) dates back to the 9th century. Sadly, our last day came too quickly. We decided to take one last boat trip, this time to the fortified town of Kotor. We embarked at Herceg Novi as before. This time we were not the only passengers but we were delighted with the company, since our fellow passengers were a jolly crowd and within ten minutes of departing, we were all chatting with each other. As the boat gently moved through the fjords, we had the opportunity to admire stunning mountains, churches and monasteries. After a swim and a light, but delicious lunch onboard, we pulled into Kotor.
Kotor is one of Montenegro's most popular destinations, which sadly means that is often a stop over for cruise liners, which can make the town feel quite crowded. Despite this minor issue, this is still a place you can't miss if you visit Montenegro. It was declared a World Heritage Site by UNESCO after an earthquake in 1979. Here you can truly immerse yourself in history and feel the many civilisations that have step on its streets: Romans, Venetians, Austrians… and of course, the Ottomans. I particularly liked the beautiful Cathedral of St Tryphon, which had its foundations laid in 1166… on a 9th century church.
The town is totally enclosed by city walls, which are cut deep into the mountain, giving the whole place and uncanny fairy tale essence. As you gently climb up to the city gate, you get a wonderful view of the mountains and fjord. Kotor is dotted with many cafes, and small restaurants, where you can enjoy a feast of local squid stuffed with cheese and ham, delicate sheep's cheese served with figs and drizzled in honey, and of course, if you are all fished out, you can try organic beef, which is available in many of the restaurants. On our way back, we stopped at Perast, a stunning little village, famous in Tsar Peter the Great time, and home to the beautiful St Nikola Church, with its 180.4ft high bell tower. Only 300 people live here, and it feels as if time had literally come to a halt. To me, it is undoubtedly one of the most beautiful villages in the whole Adriatic.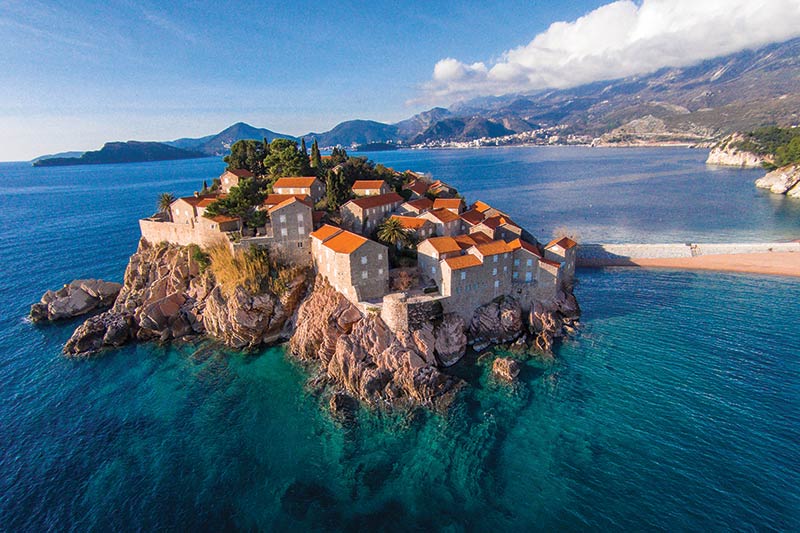 Knowing it was our last day we were sad to return to the hotel. Aldo greeted us with a big smile: "You haven't been wine tasting yet. You can not leave without wine tasting. Come on, it's all arranged." So, we were driven up in to the hills, the mountains and fjords behind us, to the beautiful Savina Winery, owned by the Obradovic family. Savina overlooks the Bay of Kotor. Its sun soaked vineyards are still bearing fruit much like they did back in the 18th century. Only the finest grapes are carefully picked, and the wine is nurtured in French oak barrels in the estate cellars which are protected like the most valuable treasure.
We tasted three different wines and two types of Grappa, all accompanied by a table of local delicacies: olives, meats, cheese, fresh baked bread and sweet, home grown tomatoes. As we sat on their terrace watching the sun go down, I knew that Montenegro is one of this places where I would keep coming time and again. Actually, I almost didn't write this article…