Until April 2nd, 2018
By Lavinia Dickson-Robinson
Amedeo Modigliani (1884–1920) was a ground-breaking artist who pushed the boundaries of the art of his time. Thanks to a pioneering partnership with HTC Vive, the TATE Modern has been able to put together the most comprehensive Modigliani exhibition ever held in the UK, bringing together a dazzling range of his iconic portraits, sculptures and the largest ever group of nudes to be shown in this country, including many works that have never before been shown in the UK.
Modigliani was born in Livorno in 1884. He grew up in Italy, and spent his youth studying the art of antiquity and the Renaissance at the Accademia di Belle Arti in Florence. In 1906 he moved to Paris, which at the time was a focal point of the avant-garde. It was here in Paris that he met artists such as Pablo Picasso, Constantin Brancusi and his partner Jeanne Hebuterne. Modigliani was at first influenced by Henri de Toulouse-Lautrec, but by 1907 he had become fascinated with the work of Paul Cezanne and Pablo Picasso. The exhibition begins with the artist's arrival in Paris, exploring the creative environments and elements of popular culture that were central to his life and work. Inspired by the work of these artists, Modigliani began to experiment and develop his own distinctive visual language, characterised by elongation of faces and figures which were not well received in his lifetime.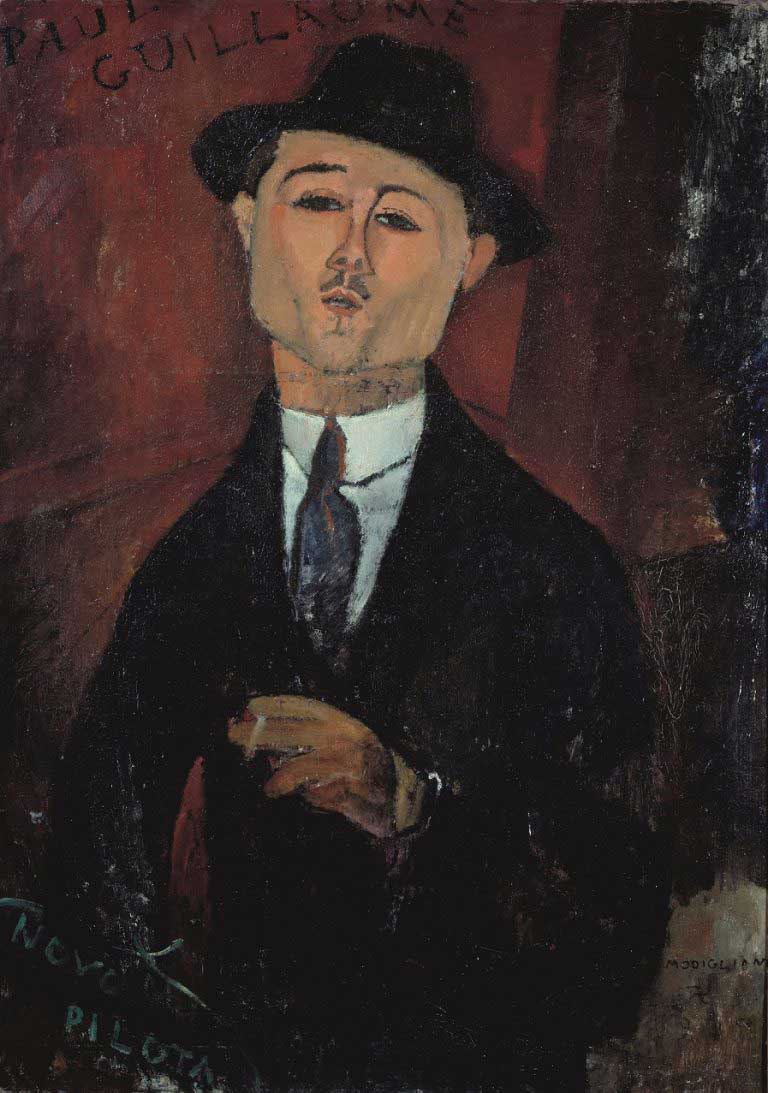 Between 1909 and 1914 he devoted himself to sculpture. He was introduced to Contastin Brancusi by his friend and agent Paul Guillaume, and trained under Brancusi for a year. Some of his sculptures where exhibited in the Salon d'Automnein 1912 but Modigliani gave up sculpting in 1914. In June 2010, Modigliani's Tete, a limestone carving of a woman's head, became the third most expensive sculpture ever sold.
Modigliani's first great romance was with the Russian poet Anna Akhmatova. A six-foot-tall, raven-haired and ravishing beauty, she became something of a sensation when she arrived with her husband in 1910. They headed straight to Montparnasse. It was here that she met the 25-year-old Modigliani. Anna was immediately enchanted by him; the pair became inseparable. It was a meeting of hearts and minds. Modigliani drew her no less 16 times although sadly many of these paintings have been lost. She was his first muse and in the exhibition one can see how she influenced his work over the period of their affair.
Many of Modigliani pictures, and undoubtedly his most famous work, were portraits of friends and benefactors. His circle included poets, dealers, writers and musicians, many of whom helped him financially and emotionally and posed for his portraits. Examples include Diego Rivera (1914), Juan Gris (1915) and Jean Cocteau (1916). Modigliani was an attractive man, and women came and went until Beatrice Hastings appeared into his life. She stayed with him for two years. Beatrice was the subject of several of his portraits including Madame Pompadour. It was a temptations affair and the cause of many of his drunken rages.
At the beginning of world War 1 Modigliani tried to enlist but was refused on the grounds of ill health so instead, he to the South of France for the duration of the war with his partner Jeanne Hebuterne, with whom he had a daughter. Tragically, when he died of tubercular meningitis in 1920, Jeanne committed suicide. In the South of France he painted some of his most beautiful portraits; possibly the light of the south of France being so different from Paris made the colours totally different, much more vibrant and bold. Modigliani painted several dozen nudes between 1916 and 1919, 12 of which are displayed in this exhibition, the largest group ever seen in the UK, with paintings including Nude 1917 and Reclining Nude c.1919. His explicit depictions also proved controversial and led to the police censoring his only solo exhibition in his lifetime, at Berthe Weill's gallery in 1917, on grounds of indecency. Reclining Nude made $170,405,000 at Christies in New York in November 2015, a record for a Modigliani painting, making it one of the most expensive paintings ever sold.
I strongly recommend getting an audio guide when you visit this exhibition. It really brings alive the artist's work in a way that couldn't possible be done by simply watching the pictures and sculptures. Other related events taking place include: Les Chants De Maldoror Talk on Sunday 11th February and a Curators Tour on Monday 19th March. There is also a Podcast Artists' models talk about Modigliani's nudes. You can Listen for free at tate.org.uk/podcasts or search for Tate on Apple Podcasts.