Photographer Mirella Ricciardi was born in Kenya when it was still a colony of the British Empire. She grew up on the shores of Lake Naivasha, in a household that was both sophisticated and wild. It was HER mother who suggested she take up photography as a 'serious hobby' and introduced her to the people who kick started her career. She was married at 25 to the Italian adventurer Lorenzo Ricciardi, who hired her as the photographer on the film he was preparing to shoot in Kenya.
Her book Vanishing Africa, published in 1971, is considered a masterpiece of photographic excellence. Mirella had close connections with Kenya and a privileged access to the peoples of the Turkana and Masai tribes. In her pictures, one can recognise the vulnerability of the land, its people and its animals, together with the magic of their inherent nobility. After Vanishing Africa, Mirella published 4 other photographic books – African Saga, Voyage of the Mir-el-lah, Vanishing Amazon, African Rainbow and African Visions.
Mirella Ricciardi's pictures are spontaneous and intuitive, made with the deep love of someone who knew and understood their subject. Her pictures reveal the intelligence and sensitivity of that loving instinct. Assisted by her daughter Amina, Mirella is currently completing her magnum opus, which will include an update of Vanishing Africa, with still unseen images. In a sunny summer afternoon, Mirella shared with our Editor the story of her career and her plans for the future.
I-M: What are your favourite memories of your young years in Africa?
M.R: I can safely say that my most lingering and still vivid memories of growing up on a farm in Africa were my daily contact with the still uncontaminated nature that surrounded me, the wilderness people, the animals, the scenery and the sounds that, at the time, I took so much for granted. Today, 20 years after I stepped off the African continent, it's the sounds which are still so vivid to me: the call of the fish eagle, the chirping of the sapphire starlings, the cooing of the pigeons and the nightly grunting hippos in the lake, as they emerged to trample everything in their path; the smells that still linger in my nostrils as I envisaged the advancing curtain of raindrops falling on the parched dusty ground, preceded by the role of savage thunder rolling overhead chasing welcome rainclouds, pregnant with life-giving sustenance for all living things. When I later became a photographer, it was the light to which I set my 'shooting' timetable, the magic hours of the early morning and the late afternoons of the Equator.
it's the sounds which are still so vivid to me…

– Mirella Ricciardi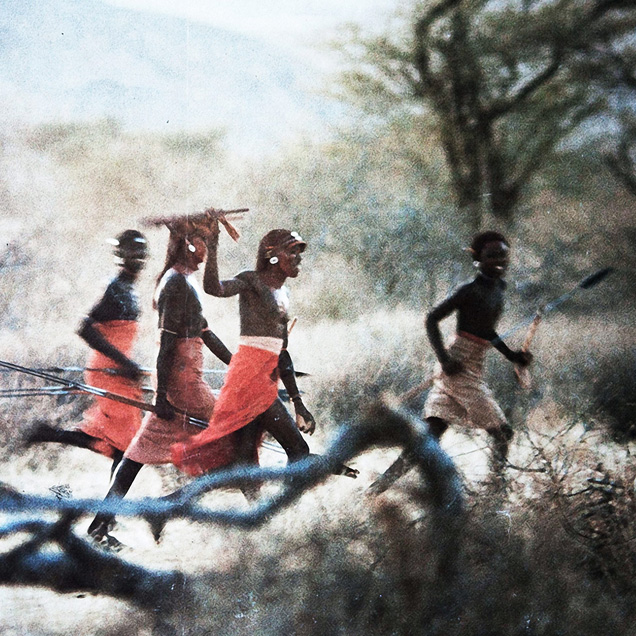 I-M: I understand your mother has quite an influence in your career. In what way?
M.R: As with every generation, my mother's evolution affected mine. She was born in the l6th arrondissement in Paris and grew up in a wealthy, highly respected family of achievers. Her father, Philippe Bunau Varilla, was chosen at the age of 21 by Ferdinand de Lesseps, to head the building of the Panama Canal while his brother Maurice bought and nurtured a small faltering gazette and turned it into Le Matin, the leading newspaper of France at the time.
Protected and influenced by the norms of her time, my artist-mother soon understood that the role of women as wives, home-makers and child-bearers was shifting and she opted for a different formula for her daughters i.e. that they should remain in the background, but exchange their assigned roles for "serious hobbies on which they could fall back in case of necessity." This realisation saved my life.
I-M: Is this why you took up photography?
M.R: Yes, absolutely but also because I had inherited some of her artistic genes, which were waiting to be addressed and recognized.
At the age of 19, my mother took me to Paris and introduced me to members of her family who were in the world of fashion. One was a director of Vogue, another was director of Le Jardin des Modes. They introduced me to Russian photographer Harry Meerson. I can safely say that meeting Harry Meerson was the equivalent of a ripened seed falling on fertile ground – he taught me to see and how to use light to capture what I saw.
I-M: What role did Peter Beard, with whom you discovered the super model Iman, played in your career?
M.R: I met Peter soon after his first African book, The End of the Game, was published. A mutual friend of ours suggested I do something similar for 'the end of the tribes' and Vanishing Africa was born.
I-M: What was the idea behind this book?
M.R: The concept of this book was to recognise and capture the uncontaminated nobility of the African land and people before it was lost forever. Billy Collins had seen my work and recognized something in it. It was he, who commissioned Vanishing Africa.
I-M: Being a woman, was it difficult at the time to gain professional respect as a photographer from your peers and from the public?
M.R: On the contrary, the very fact that I was a woman working alone among the tribes in the far-flung reaches of Africa, enhanced the power of my oeuvre and I gained huge professional respect from my peers and the public in general, making Vanishing Africa the forerunner for all the photographic books that later followed in its wake.
I believe part of its success was due to the fact that there was still nothing like that on the market. I was one of the first, so it was easy to be noticed; there was no competition.
I-M: Travelling to places off the beaten track has always been an integral part of your life. Are these wild places and their peoples what fuel your inspiration?
M.R: Not really. What fuelled my inspiration was the fact that when I looked for a certain book I did not find, I decided to go out and produce it myself.
It was never an intellectual process; it was visceral, which is very, very important. Lorenzo was very outspoken about it. He used to say "She doesn't use her head, she uses her uterus."
I-M: I understand your marriage to Lorenzo was quite tumultuous. Do you think he was jealous of your talent?
M.R: I would not use the word 'jealous' to blame for our tumultuous relationship, as he was my biggest fan and the first to recognise that my images had a quality that had not yet been seen in photographs of the wild.
I-M: The 10 years you lived in Rome with Lorenzo (late 50s to late 60s), while he was working in the movies, socialising with the likes of Fellini, Visconti and Antonioni, you very much lived in Lorenzo's shadow and were happy to do so. Why?
M.R: I grew up in a very traditional family –my father was Napolitano, where the men were considered the heads of the house and the bread winners, who cast a protective shadow under which, the 'secondary' female elements lived and thrived. In many ways, Lorenzo was much like my father; they both went to a Catholic school, and were surrounded by subservient women.
Thankfully things are different now. The aim in life is not anymore just to get married and be dependent on somebody who looks after you, which gives them control over you.
You have to consider that we have all evolved from our parents, just like our parents had evolved from theirs. What is important is to move forward.
I-M: As a lover of nature and wildlife, how do you feel about the pace of destruction inflicted on our planet?
M.R: I am totally appalled, but at the same time, I am painfully aware that our overpopulated planet gives precedence to the human race at the cost of our beautiful wildlife and its habitat. Sadly, there is not enough room for them both to live side by side and because animals cannot speak out in their own defence, they have to bow out.
I-M: At your exhibition last December, I understand you were using digital tools to paint on some of your pictures. Is this a new avenue of work for you?
M.R: No, I do not use digital tools as I am not sufficiently proficient with the medium. I use pastels and soft crayons to further enhance some of my images.
I-M: I believe you like working by yourself. How do you find working with your daughter in your legacy?
M.R: I am now almost 88 years old and have virtually laid down my cameras. I am lucky to have my very enthusiastic daughter Amina, my greatest fan, who has a very critical eye and a keen interest in the photographic medium, as the recipient of my lifelong creative work. I have handed to her my overflowing archive; she has understood the much needed organisational digital skills that I totally lack and is very severe about keeping my images within the norms of professional boundaries that respect the necessary status quo of collectors.
We also have the help of Philip Garner, who used to be the Head of Photography at Christie's. He says there is a real shortage of content in the market today, which could interest collectors in my archives.
I-M: Your work is still revered worldwide, with fans often coming from all parts of the world every time there is an opportunity to see your work. How do you feel about this?
M.R: I am very humbled by the loyalty of my fans. It keeps surprising me the emotion my work brings to them. A few months ago, at my last London exhibition, a group of visitors said that my work brought tears to their eyes; these were people I had never met before. You could say it was an emotionally explosive experience.
I-M: What fuels Mirella Ricciardi's soul?
M.R: I am fortunate to still have my good health and my unfettered enthusiasm for all things beautiful, be they alive or still, endures…..the recognition of the world continues to bewilder and feed my soul.