Luxury supercar company McLaren has recently unveiled the Artura. This all-new era, high-performance, hybrid supercar (HPH) combines ground-breaking technology with steadfast dedication to pure driver engagement. More than half-a-century of McLaren's expertise and experience in race and road-car engineering has been invested in producing this sleek and elegant beast, which drives like a demon and feels like heaven.
McLaren designed the Artura not only to be a technological game-changer, but to also stay true to the core company attributes of being incredibly captivating to drive, maintaining the highest levels of performance and dynamic agility. Manufactured to excel on both road and track, Artura also boasts the refinement to make serene progress through urban streets in EV mode. Just watch out for speed bumps! Olympic gold medallist and sports personality Michael Johnson commented about the Artura, "Being a huge McLaren fan and owner, I am looking forward to seeing what the new Artura has to offer." I imagine he won't be the only one queueing for a test drive.
Watch the McLaren Artura in action:
Artura presented McLaren engineers and designers with new opportunities to innovate, chief among these being how to preserve their famous super-lightweight engineering when adding hybrid powertrain elements including an E-motor and battery pack. They made it look easy but I am sure it wasn't. The Artura is as a true lightweight – and I mean that as a compliment. With all hybrid bits and bobs, the car still weighs under 1,500kg.
By packaging the E-motor in line with the engine and transmission, its power and torque are transferred directly to the main transmission shaft, improving the response of the McLaren Artura.
Electrification brought the additional benefits of an even faster throttle response, lower emissions, and being able to run in pure EV mode for emissions-free journeys of up to 30km, basically, perfect for those short journeys in town shopping with your girlfriends or just for turning up at school and get a few murderous looks. Designed with full plug-in Hybrid (PHEV) capability, the Artura can be charged to 80 percent in just 2.5 hours with a standard EVSE cable. The batteries also harvest power from its combustion engine during driving, tailored to the driving mode selected.
An increased feeling of space is created by all surfaces being as far outwards as possible in order to maximise the interior volume.
Mike Flewitt, CEO, McLaren Automotive commented, "Every drop of McLaren's experience and expertise has been poured into the Artura. Our all-new, High-Performance Hybrid delivers all of the performance, driver engagement and dynamic excellence for which McLaren is renowned, with the additional benefit of EV driving capability. The introduction of the Artura is a landmark moment – for McLaren, for our customers who will appreciate and enjoy this car on every emotional and rational level, and for the supercar world."
The engineering artistry beneath the Artura's skin is complemented by its exterior design. The low-nose, cab-forward, high-tail stance is pure supercar, and the drama underlined by the signature McLaren dihedral doors – which open closer to the body and houses mirrors that fold in more tightly – is further enhanced by the short wheelbase and low stance. Every time I look at one, it reminds me of a hypnotic feline creature about to attack.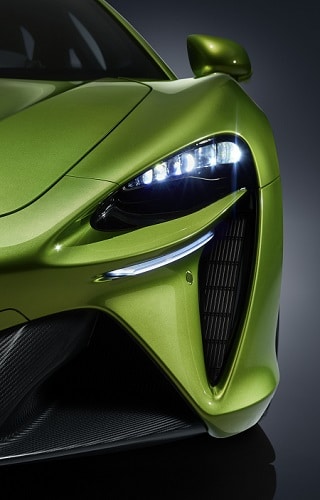 The cab-forward stance and long, low sleek nose of the Artura reminds me of an hypnotic feline about to attack.
The overall effect gives the Artura an almost 'shrink-wrapped' appearance, elevating the McLaren design approach seen in recent models to a new level. The lithe, technical sculpture has minimal body shutlines and panel joints, assisted by features such as an entire rear clamshell, engineered and superformed as one panel. The shape of the Artura, sculpted to optimise performance and manage airflow for aerodynamic performance and cooling, is driven by the McLaren design principle of 'everything for a reason' which is in evidence throughout the car. The centre of the front splitter is an example of this, being the intake for the eHVAC system, and also houses a front-mounted radar (optional).
The Artura represents the distillation of more than half-a-century of McLaren's expertise and experience in race- and road-car engineering.
Low and lean, minimal and powerful, with a ferocious straight-line acceleration of 0-100km/h in 3.0 seconds, and 0-300km/h in just 21.5 seconds*, Artura is a brand-new interpretation of McLaren's design language and proof positive of the company's committmet to staying at the forefront of automotive design and engineering.
Beautiful functionality, that functions beautifully.