Matthew Williamson is an award-winning, British interior designer known for his bold use of pattern and colour. Having begun his career in fashion under his namesake brand 25 years ago, Matthew slowly but steadily moved towards interior design.
He now develops several homeware collections to sit alongside his growing residential and commercial interior design portfolio and does regular collaborations with world leading brands. Growing up in Manchester in the 1970s, Matthew's passion for colour, aesthetics and design was catalysed by his mother. "I love her sense of style," he says with affection, "full of life, colour and optimism. She encouraged me to be creative early on and to this day, my mum remains a huge influence and inspiration to me. I always want to make her proud of the work I do."
In 1994, he graduated from Central Saint Martins in Fashion and Textile Design and two years later founded a label with Joseph Velosa, which was an immediate success both among fashion lovers and the press. Other exciting projects followed with Dame Zandra Rhodes, Marni and Monsoon, including the creation of dance costumes for Studio Wayne McGregor, which set the tone for Matthew's debut collection, Electric Angels, at London Fashion Week in September 1997. The collection of just 11 looks made a huge impact on the fashion world. "At the time there was a lot of androgynism around, lots of black and grey in fashion and I guess my work was a breath of fresh air," reflects Matthew, "my point of difference was noted and picked up by buyers, press and celebrities worldwide so the show and collection put me right in the forefront of the global fashion stage."
I love to collaborate with like-minded brands to create exciting new homeware propositions…

– Matthew Williamson.

In the early 21st century, Matthew worked as Creative Director at Emilio Pucci and even collaborated with H&M on a summer collection which comprised men's and women's ready-to-wear and accessories. Also in the noughties, Matthew started collaborating with brands outside the world of fashion, the first one of which happened in 2003 with The Rug Company; a collaboration with Coca-Cola followed, as well as others with Smythson, Bvlgari, Swarovski and Osborne & Little to name but a few. "I love to collaborate with like-minded brands to create exciting new homeware propositions," explains Matthew, "currently I'm working with amazing companies who are all experts in their fields such as Pooky Lighting, Obeetee rugs, Roome London furniture and Osborne & Little wallpapers."
With Pooky he has created a quintessentially Matthew Williamson collection of decorative lampshades with a heady mix of Ikats, florals, animal and palm prints which launched in October 2020. "Great lighting is key to any beautiful interior," he says. "It's like the accessories to an outfit and can elevate a space. All of my rooms at home are filled with interesting lights, and I use them to create little pockets of warmth to give a sense of intrigue to each and every corner."
In his second collection of rugs launched in spring this year, Matthew partnered with Obeetee, the world leader in handwoven rugs. Matthew's collection features his joyous designs inspired by the natural world, from starry skies to the dense undergrowth of tropical forests interpreted by Obeetee's skilled weavers in India.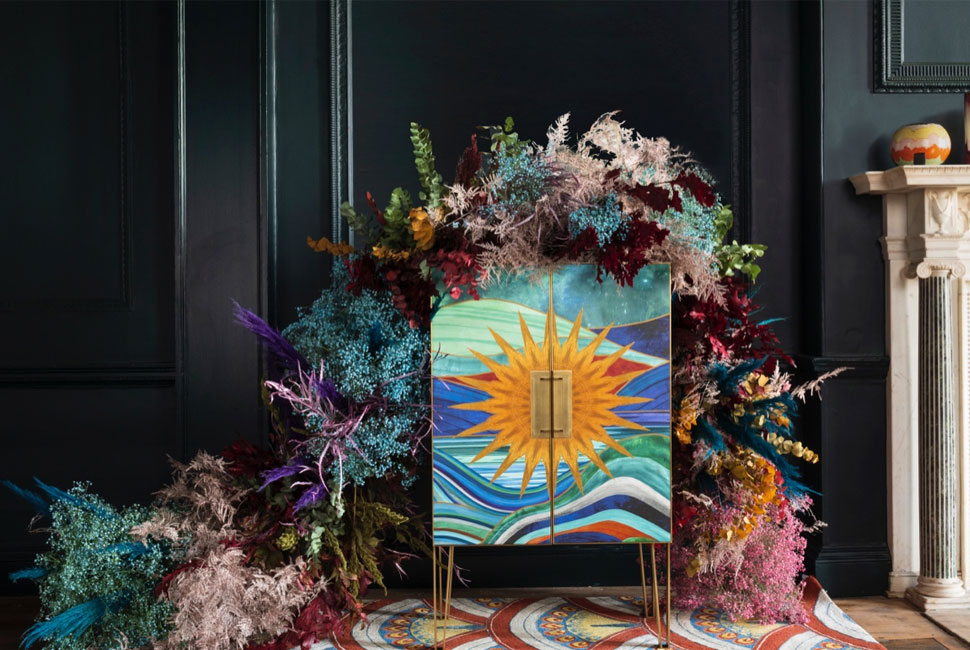 Statement-making furniture can be found in any of Matthew's design schemes. His collaboration with Roome London, launched a few months ago and comprises a collection of exquisitely manufactured furniture featuring graphic and colourful patterns and visuals. From bar cabinets to divider screens, the collection fuses Art Deco silhouettes with contemporary design.
One of the latest brands benefiting from Matthew's creative talent is the alcohol-free drinks company Jukes Cordialites. For them, he has designed a box for their best seller, Jukes 8, inspired by the most elegant Provencal rosé wines. The design is very Matthew Williamson, with a stunning array of pink and orange palms that evoke both summer and the colour and subtle flavours of the drink. "Jukes Cordialities is such a great concept. I love the idea of non-wine wine for those occasions when you want to have a drink but you don't necessarily want the fuzzy head or a hangover. I like the fact that the brand is small yet ambitious and I wanted to create the prefect print for them to embody their delicious rosé-pink blend. I took swaying palm leaves as my inspiration for the pattern and washed the design in soft pink watercolours. I wanted to evoke a feeling of lazy summer lunches merging into dinners in warm and sunny climes."
As interior designer, Matthew has worked with the likes of Hotel Blakes in London, Aynhoe Park in Oxfordshire, Nama Bar and Belmond La Residencia – both in Deià, Mallorca, where he currently lives – and many more. His reputation in the field was sealed when in 2019, he was asked to be a guest judge on the BBC's Interior Design Masters. From all the projects he has worked on, his favourite seems to be the suite he designed for Belmond La Residencia. "It's such a wonderful hotel," he exclaims, "it has a rich history and aesthetic and it was a pleasure to add my touch to this landmark hotel in the beautiful setting of Deià."
Currently, Matthew is filming a couple of episodes of Interior Design Masters, creating an interior design book for Thames and Hudson and will be speaking on stage at the Financial Times festival in London this September. As if that wasn't enough, he adds, "I love working on my website. It's great to now have a place where you can find all my interior design projects to date and my growing collection of homeware products. I work on it almost every day with a very small team and I am loving seeing it evolve."
In Matthew's work though, not everything is about creativity and design. Increasingly, the protection and preservation of our planet have become paramount factors to consider. "In every design project I undertake, environmental and social sustainability come first on the agenda," he states with conviction, "all Matthew Williamson products are created, packaged and sold with sustainability in mind." The brand uses innovative materials to minimise waste, fund and support craftsmanship and have an eco-friendly approach to packaging and shipping. "These are all key factors to ensure the success and longevity of homeware in the modern-day. We strive to ensure that sustainable standards are met during the process, creating pieces that last a lifetime."