One of the most unique experiences that London has to offer in the summer time is Masterpiece, where the finest antiquities, ancient and contemporary art, jewellery and design from all over the world come together under one roof.
The main space feels grand and spacious, the nude colour shades decor and flower arrangements give a serene, elegant and peaceful atmosphere. I swooned around, feeling inspired and at times touched by the exquisite artefacts on display. It's pure joy to zig zag from one beautiful curated stand to another. This year I visited the fair 3 times and in each of them I discovered a new gem. That is what I love the most, learning about a new gallery or brand I have never heard of. This year, there was a large-scale neon fluorescent installation which I found hypnotising: the Impenetrable Room by the renowned artist Iván Navarro. Another work of art that took my breath away was Rossetti's Proserpine (1878), by brought to Masterpiece by Agnews.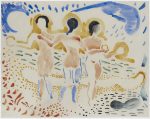 The fair showcased some of the world's foremost dealers and specialists with exhibitors including: Robin Katz Fine Art, Offer Waterman & Co, Perrin Fine Art, Galerie G. Sarti, Tomasso Brothers Fine Art, Richard Green, Colnaghi, Van Cleef & Arpels, David Aaron, Stoppenbach & Delestre, Dickinson, Wallace Chan, Thomas Gibson Fine Art, Axel Vervoordt, Agnew's, Hazlitt Holland-Hibbert, Rupert Wace Ancient Art, Hemmerle, New Art Centre, Osborne Samuel, Tornabuoni, Steinitz and Robilant + Voena, amongst others.
After a long tour, the only thing left to do is visit one of the in-house restaurants; a sip of Perrier-Jouët and a bite at Scott's or Caprice.  With so much beauty around, one needs a little break, or two. I always think of the hard work that goes on backstage, not only for the organisers but for the exhibitors too; months of meticulous planning, dealing with complicated logistical export and import issues to get their most precious and valuable stock to and from the fair, the large manpower needed, the long hours … not to mention the huge costs involved. It's a big investment to make for any brand, and all for one week worth of exposure.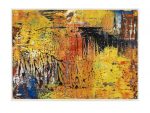 The fair attracts a global UHNW audience, international institutions, private collectors, buyers, connoisseurs, the curious, the media and the famous. It is and an incredible opportunity for a business to showcase what they do best to a desirable target audience.  If you start thinking about the astronomical rents in key areas for fine goods and arts such as Bond Street, where galleries are quiet and empty for the most part of the year, then suddenly it starts making sense. The fair is busy every day, with a constant flow of visitors coming through the stands. Moreover,  the fair is open until 9 pm during weekdays and 7 pm at weekends, something that sadly often goes amiss elsewhere in the capital.
However, selling is not the only focus. The exhibitors understand the value of making you a fan of what they do and so, they share with visitors brand talks, tales about their founders, anecdotes from he past and passionate descriptions of their finest pieces. Whether you are visiting a large or a small gallery, you can count on an excellent customer journey and service. It is very pleasing to have found out that on closing day, Masterpiece confirmed they drew a record of 44,000 visitors and declared strong sales across all disciplines.