An internationally renowned architect, Mark Dziewulski received a Masters of Arts degree from Cambridge University, and was a Fulbright scholar at Princeton.
He has been praised for his large-scale site-specific sculptures including an aerodynamically inspired sculpture at the Warsaw national war memorial, for which the Republic of Poland presented him with the Gold Cross Order of Merit and which received a letter of approval from Buckingham Palace, as well as Dancing Ribbons, Asia's largest indoor sculpture (Hong Kong).
We had the chance to interview Dziewulski on the eve of his debut exhibition in London, which will take place between April 25th and May 1st at the Gallery Different in Fitzrovia. He told us about his Essentia works and about Layers of Self, a multimedia sculpture he presented in New York last October at the annual CaringKind (New York's Alzheimer's Association) conference at the Times Center. The conference was attended by over five hundred leading research scientists, doctors, patients and caregivers. The event announced Dziewulski's ambassadorship for CaringKind, and his plans to donate the sculpture for auctioning at the CaringKind's Gala event on June 4th, with David Hyde Pierce as Master of Ceremonies.
I-M: Could you tell us a bit about how you became an architect, your family influences, inspiration…
M.D: My grandfather was an artist and I discovered his paints and sculpture materials when I was a kid. I found myself experimenting with them from a very young age. My father was an engineer and he directed me towards architecture – he thought it would be a more sensible career than painting!- I started painting before I thought of being an architect but found that the same fluidity and movement of forms can be expressed in both. My art and my architecture have always inspired each other. I think it is helpful to try to express yourself through different arts. When I lived in New York, I was recording music and that gave me another outlet.
I-M: So your love for architecture and art are inexorably entwined?
M.D: I've always seen architecture and art as media for expression, and in both practices I'm interested in capturing movement in form. The process of painting is also a release from architecture, – I get great satisfaction from the visceral quality of painting, the immediacy of expression that seems to directly resist the control and precision required to create architecture.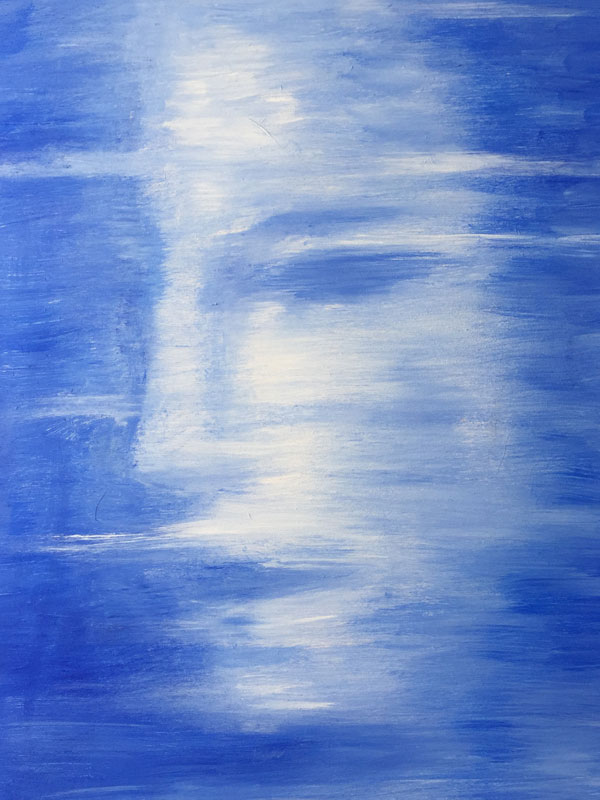 I-M: When did you start to paint "more seriously"?
M.D: I would not say my practice has become more serious, only that my desire to paint has become more difficult to curb. About two years ago I started a new series of artwork, Essentia, that reflects how we really perceive people we know: moving forms that are complex in the way that real people's characters and personalities are complex. The works shows movement and character, and introduce the element of time. This series has allowed me to hone in on my style, and I'm preparing to present the work through a solo exhibition in London this month. The series was also shown at the Venice Biennale last year, they have been recently shown in South Korea and in June there will be exhibited again in New York.
I-M: Does this mean you are setting aside your career as an architect?
M.D: No! I'm still practicing both architecture and art from my studios. I am designing a house and starting on a large apartment building. I have just completed a large practice facility for a basketball team. I think each discipline inspires the other. The painting allows greater freedom and the architecture allows new forms to be expressed at a larger scale.
I-M: Tell us a bit more about the London exhibition, what inspired you, your life in SF, your family…
M.D: I grew up in London and I've spent many years working between my home city and San Francisco. In London, I was particularly drawn to work by Young British Artists and their attitude towards art as a conceptual pursuit. These artists, who radically parody cultural codes of seeing, reflect the witty nature of contemporary British art and the sophistication of the London art scene. My work has also been well received in the rest of the UK and in Europe. I've had the privilege to receive a medal from the Republic of Poland and a letter of approval from Buckingham Palace. I've also had the rare opportunity to participate in both the Art and Architecture Biennales in Venice. London is of course a door into Europe.
The London exhibit presents a provocative new series of paintings that debuted at the Biennale di Venezia and sculptures that launched at The New York Times building in Manhattan, both in 2017. Through fine art, the exhibition explores the extra dimensions of time and memory.
I-M: How do you see your career evolving in the future?
M.D: I hope that, however my career evolves, I'll still have plenty of time to focus on my work in the studio, experimenting with new mediums and methods. I'm open to exploring collaborations with other artists, which has been a very exciting way for me to work in the past; I've had the pleasure of collaborating in an interdisciplinary way with greats such as Baryshnikov. I would like to deepen my international gallery exposure and also engage more with the California art scene, which is rapidly changing and evolving since its bohemian heyday.