Marco Lavazza has worked in the family business all his professional life. At the age of 44, he serves as Vice President of the company, the legacy of which he feels responsible for safeguarding, as he does for leading it into the future.
Lavazza is now run by the third and fourth generation of the family. When I ask Marco what it is like to work with so many of his relatives, he smiles and answers: "It is an organised mess." He is doing a literal translation of a well-known Italian expression. He explains further, "We love working together but we are five people with ages that span three decades and we are very different in our attitude, different character, different behaviour, opinion… What we all have in common is a deep-rooted love for the family firm." Funnily enough, Marco's father and uncle never forced their children to join the business, they just asked them to try it. "It was a clever trick," admits Marco, "because of course the moment we joined, we all fell in love with it and didn't want to leave."
Luigi Lavazza founded the company in 1895. I can only imagine the pressure for every generation to grow the business, keep true to the founder's values and leave it for the next generation better than it was given to them. As Marco explains, "it is not just to maintain and improve the legacy given to us but also the fact that 4,000 employees depend on Lavazza for their livelihoods." He doesn't seem deterred by such a responsibility. "This is the way large companies are and one must learn to accept and embrace the responsibility that comes with the position. Having so many members of the family on the board of the company means that we always face things united, even if we have different views and opinions."
Upon his (Luigi) return, he instructed his children to make sure they paid attention to the farmers and the land first…
Lavazza is indeed a very large company. It is estimated that three in four italian families buying coffee choose Lavazza. Luigi Lavazza S.p.A. is present in over 140 countries with more than 20 offices and manufacturing plants in Italy and in the rest of the world. Known as "Nuvola", the headquarters are still in Turin, where the company was founded, housed in a building by world acclaimed architect firm Cino Zucchi. The development of Nuvola meant an investment of €120 million, with enormous repercussions on the regeneration of the local area. "It is our way to give back to the city and to the people that have accompanied us for nearly 125 years," says Marco modestly.
Currently, the Lavazza Group includes 21 companies and international offices. In addition, the company has 12 other European bases and is also present in the United States, Australia, South America, India and Morocco. Lavazza imports coffee from around the world, including Brazil, Colombia, Guatemala, Costa Rica, Honduras, Uganda, Indonesia. Sustainable production concerns have led the company to develop the ¡Tierra! project, a sustainable agriculture program in Honduras, Colombia and Peru, that seeks to improve the quality of coffee as well as the environmental and working conditions of those communities.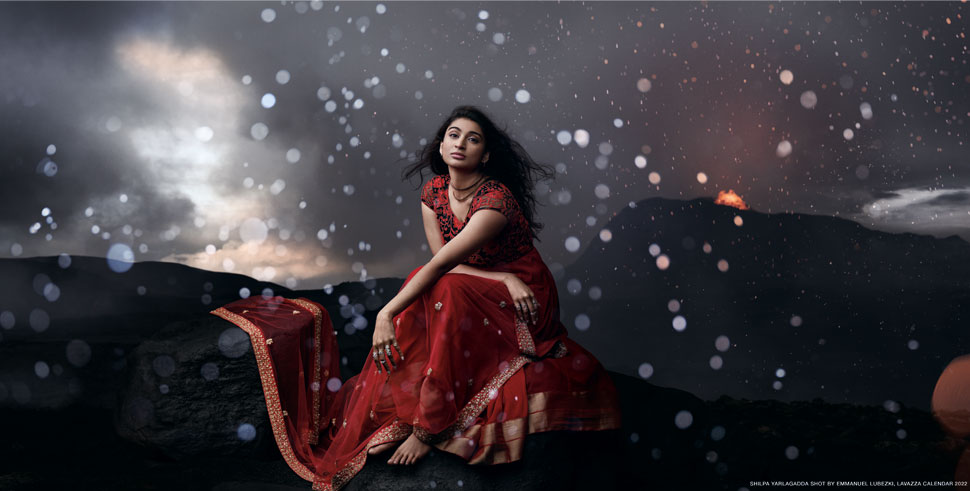 Shilpa Yarlagadda, photographed by Emmanuel Lubezki for Lavazza's 2022 calendar.
From the very beginning, Lavazza has been concerned about sustainability. Ever since Luigi Lavazza went to Brazil for the first time in 1910 when there was a huge economic crisis and people were burning coffee plants for fuel, he realised the inherent danger of destroying nature with man's actions. Upon his return, he instructed his children to make sure they paid attention to the farmers and the land first. Marco doesn't even hesitate. "Sustainability is deeply rooted in our DNA,' he states. "Even if it means that the company has smaller profits, we'll always choose the most sustainable option." It is not just sustainable principles at the core of the brand, social responsibility is also one of the most important values for Lavazza.
In fact, during the COVID-19 pandemic, they donated €10 million to help the people of Turin and their state-of-the-art building became a vaccination centre. "Very early on, we appointed a Corporate Social Responsibility Manager," shares Marco, "as we were trying to get reduce to a minimum the use of plastic. This was far before EU regulations. We never saw it as an extra cost but as an investment in the future." And it is in the future where Marco's attention is very much focused. In the last few years they've made a series of international deals and partnerships that put Lavazza in a very good place to keep growing and exporting "the Italian way of life". Marco is particulary proud of a few of them. "The acquisition of Carte Noire was a very important move for us," he states proudly, "as it is the number one in France and it opened the hearts of the French people to us. This was the first time we invested in a brand that wasn't ours." It wasn't a light decision, but it was clear for the Lavazzas that the way forward was "cherry-picking exactly what we wanted, and once a company is bought, then it becomes part of the family. It is all about trust."
Sustainability is deeply rooted in our DNA…

– Marco Lavazza.
Marco believes in blending the past to shape the future. He is aware of the importance of evolving and changing with the times, but cautiously. "It has taken over 120 years to get here, but all could be destroyed in three," he says candidly, "you need to be curious and keep looking at what is out there, understand different cultures and identify the direction and partners that are right for your business."
Actually, a great way to see how the company has evolved in its mentality is to have a look at their famous calendars. Since 1991, the "Lavazza Calendar" has featured photography from some of the world's leading photographers. First it was focused on fashion, with contributors like Helmut Newton in 1993 and 1994, Ellen Von Unwerth in 1995 or David LaChapelle in 2002. With Annie Leibovitz in 2009 the mood of the calendar moved slightly away from fashion but it could be said that the big change in direction came in 2015, when photojournalist Steve McCurry used the calendar to tell a story about Lavazza's Earth Defenders: women and men who every day defend their land and their projects in Africa. In this way Lavazza and Slow Food took a stand beside all the Earth Defenders as symbols of hope for local communities and spokespeople of the potential for development and a better future.
Each calendar since then has been more outspoken and uncompromising about Lavazza's commitment to safeguarding the planet and in doing so, it has become a global tool for promoting sustainability. In fact, in 2018, they embraced UN's 17 sustainable development goals and added one more, which they called "goal zero". Marco explains the significance of such a pledge, "When your surname is above the door, when you have a brand this size, you also have a responsibility to use your influence raise awareness and spread positive messages." As Marco says, "Art educates."
Another tool for Lavazza to reach as wide and far as possible is sport sponsorship. They support all kinds of international sports with high visibility: ski, tennis, football… even horseracing. "We are a global brand," explains Marco, "and an aspirational one. International events elevate the brand. It makes us partners with people all over the world and help us take the Italian way of life everywhere." Lavazza has indeed become a powerful global company with group revenues over two billion euros in 2019 and 2020. I'd dare say Luigi would be proud of his descendants. Not a man to stand still, Marco is keen to keep growing the company. "We'll continue investing in the brand,"he shares, "as I tell my guys, 'You are not selling a product, you are selling my surname,' so we always thrive to achieve more and do it well and with care."