Inaugurated in 2022, Jaeger-LeCoultre's Made of Makers encapsulates a series of collaborations with artists and artisans from various disciplines outside of watchmaking, building a community of creators with similar values and visions of creativity. Expanding on the dialogue that exists between horology and art, the programme is founded on the core principles of the Maison: creativity, expertise and precision. Combining the creativity of the mind with the skill of the hand, the initiative focuses on world-class creators whose work explores new forms of expression through different and often unexpected materials and media. Each year, new works commissioned through the programme animates the exhibitions that Jaeger-LeCoultre stages around the world, amplifying the chosen theme and creating new opportunities for audiences to engage and to become part of the wider conversation about art, craft and design.
CEO of Jaeger-LeCoultre Catherine Rénier says about this initiative: "In the spirit of our founder, Antoine-LeCoultre, our Manufacture has always been driven by the belief that to be truly innovative we need to push boundaries. Through Made of Makers we are looking for different perspectives on how the practices of watchmaking, art and other creative disciplines can bring value to lived experiences." These Makers are the creators of today and the shapers of tomorrow. While the chosen collaborators are all notable for having taken their disciplines in new directions, they share Jaeger-LeCoultre's respect for the past as their creative foundation. Made of Makers highlights the importance of creating bridges between the past and the future – celebrating what is made, how it is made and who makes it.
On 4th March 1931, René-Alfred Chauvot file the patent for the mechanism that would become synonymous with an icon in horology: the Jaeger-LeCoultre Reverso.
The story of the Reverson began during the winter of 1930-1931. While travelling in India, the Swiss businessman and watch collector César de Trey attended a polo match at a club of British army officers. One of these officers, who had just broken the glass face of his watch, challenged de Trey to create a watch tough enough to resist to a polo match. César de Trey discussed the idea with Jacques-David LeCoultre who in turn, hired designer René-Alfred Chauvot, who invented the unique slide and flip mechanism and the whole enterprise resulted into the Reverso, an elegant watch with a dial that could flip, protecting it from shock while offering a case back with a generous surface that could be used for personalisation.
Spacetime by Michael Murphy, on display at the current Reverso Timeless Stories exhibition in Covent Garden, London. @Jaeger-LeCoultre
Artist and artisans that have collaborated in this programme include, among others: Guillaume Marmin, a French multi-media artist who created a new installation Passengers: Through Time for Jaeger-LeCoultre, expressing the Stellar Odyssey theme in a profound and exciting way; Matthias Giroud, a celestial alchemist renowned for his avant-garde approach and a leader among the new generation of mixologists; and Zimoun, the Swiss multi-media artist who uses simple raw materials and repurposed industrial components to create complex tapestries of sound and movement that redefine traditional ideas of sculpture, space and time.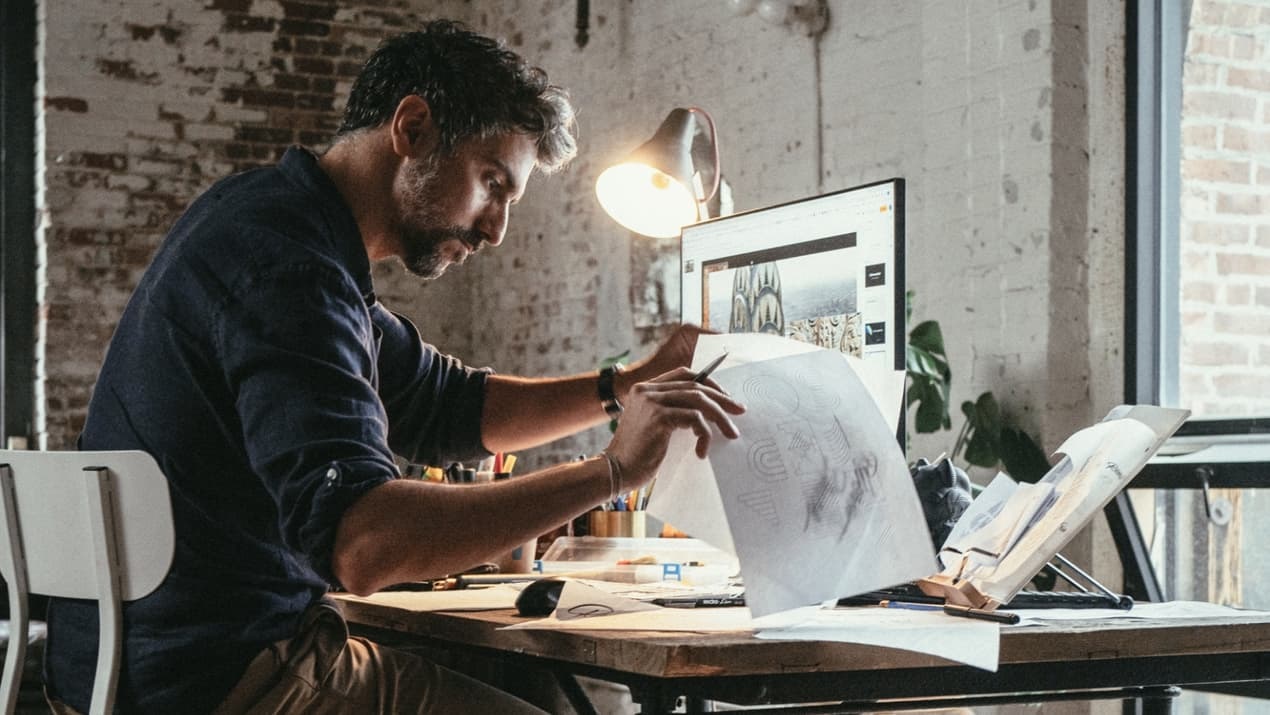 Alex Trochut is the latest artist joining Jager-Le Coultre's Made of Makers project.
The latest name joining this extraordinary group of talent is lettering artist Alex Trochut. Born in 1981, Alex began his career studying at Elisava Escola Superior de Disseny. After launching his own design studio in Barcelona, Alex relocated to New York where he has worked independently since 2012. His work is defined by an intense, fiercely original creativity that pushes the limits of language to produce a truly expressive, emotive visual lettering style. He has also been honoured with prestigious awards by Type Directors Club, Creative Review, Cannes, Clio, D&AD and others. Inspired by the architectural identity of New York and Jaeger-LeCoultre's strong Art Deco heritage, Alex has crafted a bespoke signature alphabet for La Grande Maison, the 1931 Alphabet. "This concept unifies Art Deco and Jaeger-LeCoultre's craft of watchmaking," explains Alex, "I wanted these letters to feel physical and expose their intricate parts equally as functional and decorative, giving the sense of a moving machine." Just looking at his new typeface, I can see how much it aligns with the origin of the Reverso, at the zenith of the Art Deco period.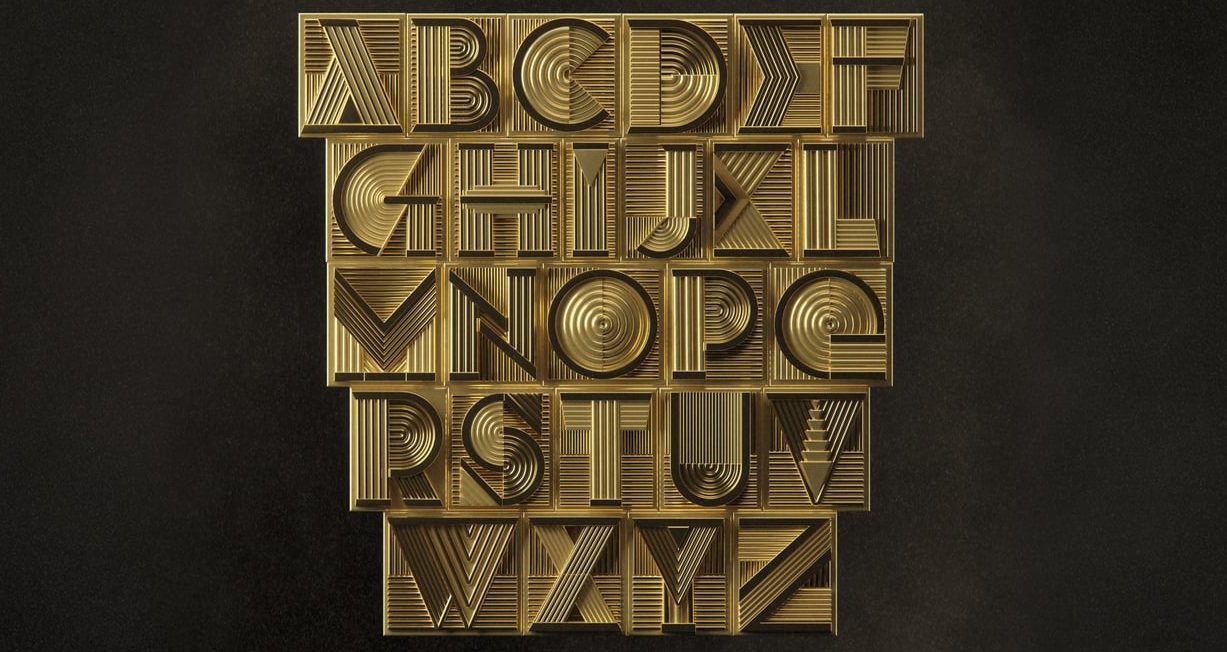 Alex Trochut has created for Made of Makers the 1931 Alphabet, inspired by the architectural identity of New York and Jaeger-LeCoultre's strong Art Deco heritage.
This exciting partnership will be showcased during a special exhibition from 15th to 24th December at The Piazza in Covent Garden: Reverso Timeless Stories, celebrating the heritage of their iconic Reverso collection, its innovation and metiers rares. Three exhibition areas include: the art installation Spacetime by American artist Michael Murphy, which transports visitors through the three physical dimensions of space and the fourth dimension of time and was exclusively created for Jaeger-LeCoultre; the Reverso Exhibition, the centrepiece of the pop-up and an exciting retrospective of the watch with a selection of iconic models, including – for the first time in London – The Quadriptyque, a true highlight of the Maison's savoir-faire. End your exhibition experience with a visit to the 1931 Café which provides an exquisitely designed menu of pastries by French pastry-chef Nina Métayer, described as visual masterpieces that marry the evocative flavours of the Vallée de Joux with the timelessly elegant forms of Art Deco, and look as remarkable as they taste.
The Reverso Stories is a free exhibition open to the public from Monday to Sunday, 11am to 8pm at the East Piazza, Covent Garden. LONDON WC2E 8RF.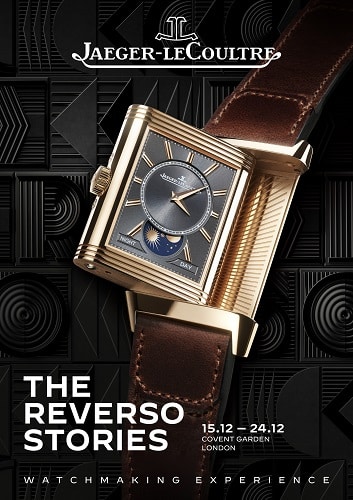 To book tickets to the exhibition please see HERE