Gustave Flaubert's masterpiece Madame Bovary is The Folio Society's stunning new limited edition of 750 books, each signed by the introducer, the translator and the artist. Illustrated with sensual oil paintings by Nushka and beautifully bound in Douppion silk, this exquisite edition mirrors the perfection of the Flaubert's writing.
The story follows Emma, a rural doctor's wife, who yearns to escape the banality of her life. A masterpiece in realism, the novel, subtitled Provincial Morals, was controversial when it was first serialised in 1856, and lead to Flaubert standing trial for obscenity. More than 150 years on, Madame Bovary's depiction of desire, disaffection and love is as poignant now as it was then.
Originally painted in oils, Nushka's subtle, seductive compositions are infused with a blend of American and European influences. Nushka staged the scenes she chose to paint for this edition using live models, props and costumes.  The result is artwork that is both intimate and evocative, very much in line with this young artist's style, celebrated for her honest explorations of the female body and her dynamic painterly style .
The translation selected for this edition is by Adam Thorpe, an author whose translations of Flaubert's Madame Bovary and Zola's Thérèse Raquin have received critical acclaim. In this book, he only uses syntax, vocabulary and expressions that were in general use up until the 1850s, when Madame Bovary was first published. This approach immerses readers in the ambiance of 19th century France.
In a new introduction specially commissioned by Folio from Norwegian novelist Karl Ove Knausgard, he explains not only why Madame Bovary is the perfect novel, but also why "the novelist of today continues to write in Flaubert's shadow." Henry James's 1904 piece On First Reading Madame Bovary is also included, completing this unique edition.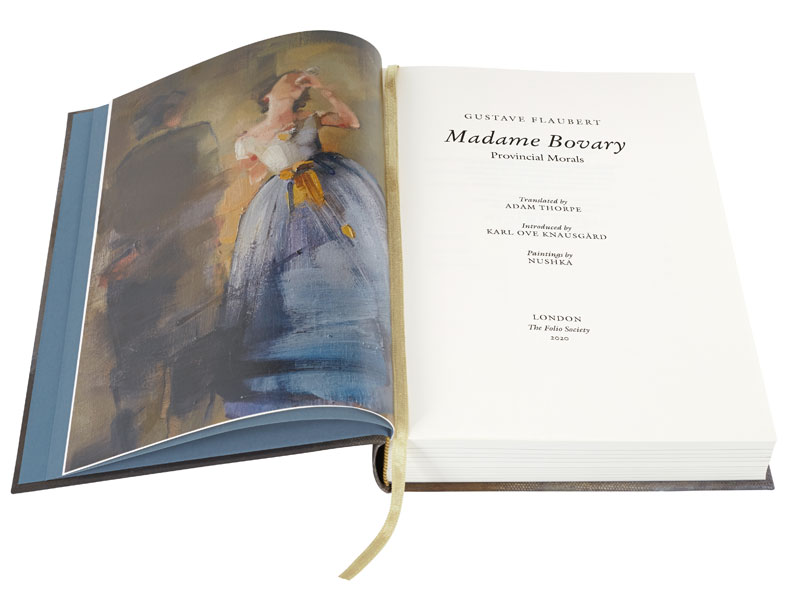 Madame Bovary
by Gustave Flaubert
Published by The Folio Society.
Limited edition hardback in slipcase, £245