Lamborghinis rarely arrive late, but better late than never. For the second year running, the supercar marque has pitched up in Porto Cervo to make the most of the shortest summer on record and cram as much of the good life as they can into a couple of months. Social distancing in a Lambo seems to defeat the point; those muscular curves, deafening exhausts and outrageous paint schemes suggest a certain openness to intimacy. With masks and hand sanitiser at the ready, we gleefully accepted our traditional irresponsibilities; namely the defiance of Italian speed limits.
Through August until 6 September, the Lamborghini Lounge on the Sardinian harbour front, home to several billions-worth of bobbing status symbols, is showing off Sant'Agata's devilish wares: The seductive Huracán EVO, Urus super SUV, and the heart-pounding Aventador SVJ. I:M took the latest Huracán EVO RWD Spyder for a spin around the sparkling Costa Smeralda. As well as serving a sales function – and a place to spec your £200,000 indulgence in the Ad Personam Studio – the Lamborghini Lounge sometimes lends preferred customers a raging bull free-of-charge while they're on holiday and separated from their own pride and joy. It beats joining the queue for an Astra at Avis, doesn't it?
You'll be familiar with the shape of the Huracán, but this 2020 drop-top has rear, rather than four, wheel drive. That makes it lighter and more exciting; a supercar that really yearns to be driven, with balletic cornering balance and linear, yet savage, thrust. Zero to 62mph takes just 3.5 seconds and top speed is 201mph. The 602bhp normally-aspirated V10 sounds like Placido Domingo dropped a bowl of hot soup in his lap, and is worth the £188,900 for the racket alone. It makes other mid-engined rivals feel fusty and buttoned up, when the whole point of a fruit-hued spider is to tear open its Hawaiian shirt and cause a scene.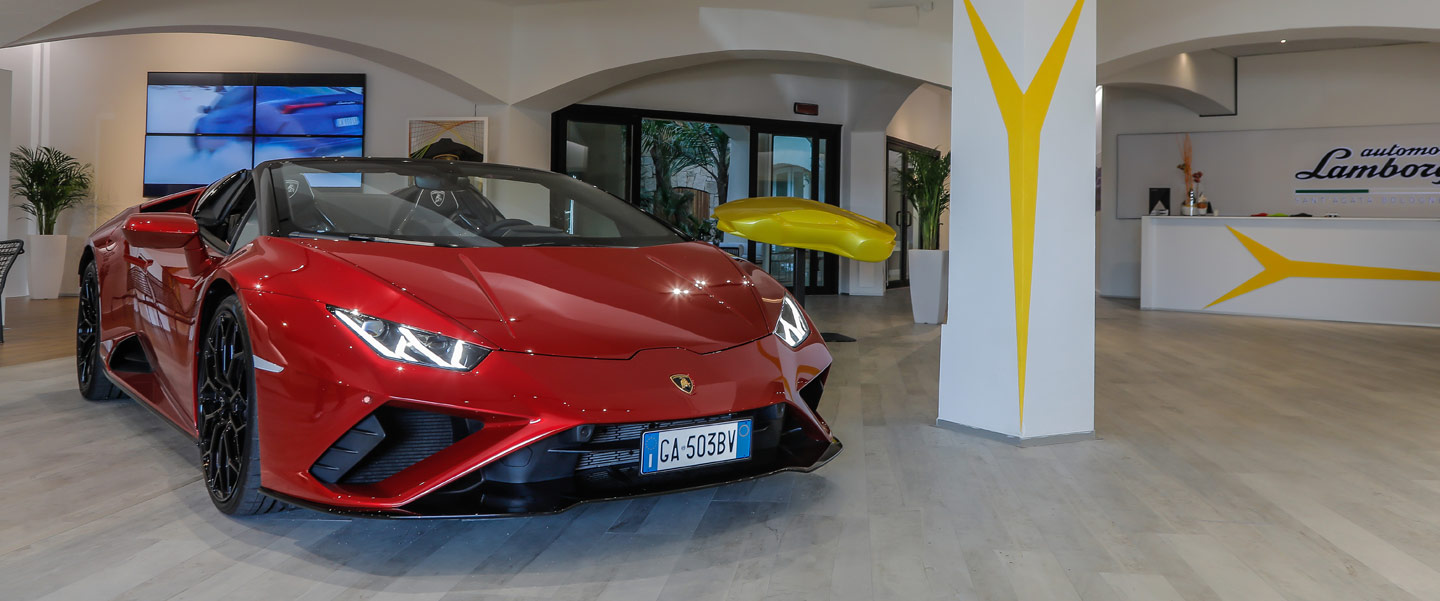 It was with blissful relief that test driving opportunities resumed after lockdown, but virus concerns have led to a sca2ling down of hospitality. Petrol station sandwiches have replaced the five course tasting menus that we luxury journos are used to, I'm sure you'll be outraged to hear. Fortunately, Lambo never got that memo. Our post-blast soirée in Sardinia was a simple affair; a dinner for 120 celebrity and VIP guests in San Pantaleo's market square, the tables of colourfully-attired jetsetters separated at a polite distance around a glinting Huracán. Gastronomy was served by Mauro Colagreco, the three-starred chef and owner of Menton's Mirazur, considered by many to be the best restaurant in the world.
To Lamborghini we say grazie mille, for unleashing the heavenly din of your V10s and V12s upon this Mediterranean outcrop and encouraging your friends to join you in embracing La Dolce Vita once again. The Huracán EVO RWD Spyder has made summer worth waiting for.