This is the first limited edition of L'Or de Jean Martell, considered the most exceptional cognac by the oldest of the great cognac houses, founded by Jean Martell in 1715.
L'Or is a powerful symbol of their legacy of savoir-faire, handed down through eight generations of Martell Cellar Masters. Inspired by the Chinese Zodiac, this unique edition is a tribute to the art of blending, which has been perpetuated by the Maison since the beginning of its three centuries journey.
In celebration of the Chinese New Year, Maison Martell is unveiling an exclusive, individually numbered collection evoking the character of the year's zodiac animal. The first one, Assemblage du Tigre launches today, celebrating the Year of the Tiger. A rich and complex cognac, Assemblage du Tigre is available in an edition of just 700 decanters, priced at €8,000 each.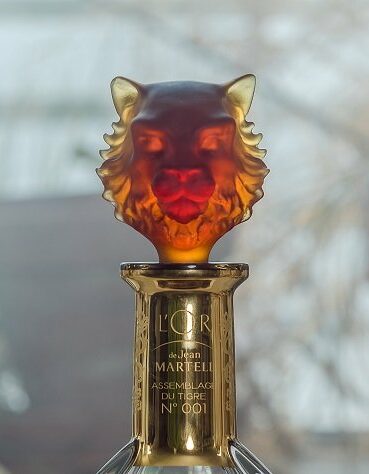 Detail of the carafe stopper, each individually crafted by the artisans at crystal Manufacture Daum.
With its Zodiac Edition, Martell intends to demonstrate their mastery in the art of blending. L'Or is the result of a blend of more than 700 rare and precious eaux-de-vie, and as such the Maison's ultimate symbol of their legacy and savoir-faire. It is this legacy that inspired Cellar Master Christophe Valtaud to create the Zodiac Edition, which is a testament to his expertise, combining the complex aromatic profile of L'Or with a further selection of vintage eaux-de-vie.
For Assemblage du Tigre, Master Valtaud drew inspiration from the personality of this majestic beast. He selected eight eaux-de-vie from past Years of the Tiger and from the three most prestigious Cognac terroirs. Combined with the original blend, they preserve its elegance, richness and power, while adding the energy and intensity associated with the tiger.
Borderies eaux-de-vie were chosen to accentuate the richness of the original blend of L'Or, while Petite Champagne and Grande Champagne add vivacity. As a result, the new cognac has a more vivid attack and an even greater aromatic intensity, while its exceptional length on the palate is marked by pronounced notes of red fruit and wood.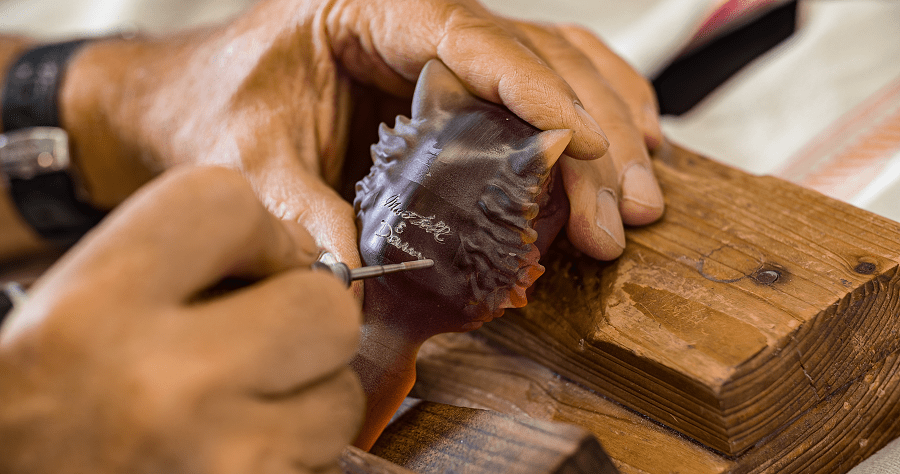 Daum crafted the stopper of the carafe in amber-hued pâte de cristal to represent a tiger.
The magnificent crystal carafe of L'Or de Jean Martell is exquisitely decorated with a gold filigree motif evoking the year's zodiac animal – in case the tiger – carved individually by the artisans at the Frech crystal Manufacture Daum.