Once again London Concours delighted us with an incredible display of nearly a hundred of the finest classic and performance cars ever produced.
Hosted at the Honourable Artillery Company garden in the heart of the City and basked in gorgeous summer sun, London Concours have gone the extra mile and besides a fabulous collection of cars, they've brought some really interesting pop-up boutiques like Anthony Sinclair (James Bond's tailor), a marquee by Breguet displaying some of their finest timepieces and some other very interesting tents to help you lighten your bank account. Furthermore, the London Concours team even managed to arrange a solar eclipse for the closing day!
The iconic Jaguar E-Type, one of the most beautiful cars ever designed, turned 60 earlier this year…
From dazzling Bugattis to Jaguar E-Types (called by Enzo Ferrari "the most beautiful car ever made"), Porsches galore and even a Ferrari LaFerrari (a machine that makes 0-100km/h in under three seconds) and a Lotus Elite Type 14, an elegant two-seater coupé produced between 1958 and 1963, famous for its fiberglass monocoque construction.
With so much to admire and such beautiful weather, a visit or two to the Veuve Clicquot bar was a must (in my case… three, but who was counting?). Lunch was served by Searcys, Britain's oldest catering company and total experts in organizing summer parties. I am sure their ancestors catered Gatsby's parties.
On the first day, Awards and VIP day, car owners, VIP guests and media were invited to attend, complete with formal judging, an evening cocktail event and prize-giving. There were seven class winners and a best-of-the best presented during the evening party.
The Best of Show Award went to a Lotus Eleven LM50 which was a Team Lotus works entry, which raced at Rouen and Reims in 1957 driven by Herbert Mackay-Fraser. Other class winners included a Maserati Ghibli, a Ferrari F40 and an early Porsche 356 Carrera Coupé.
This year the Chairman of the Judges, Peter Read, also awarded the Chairman's Award, based on the car that he would most like to drive home himself. This year the winner was a 1961 Ferrari 250 SWB/Comptezione Sefac Hot Rod, due to its wonderful pedigree and rich history in the hands of Stirling Moss and Graham Hill. I wouldn't mind driving this home either.
Day two was themed "Style Edition" and as such the focus was on design, fashion and luxury. On the final "Supercar Day", we saw a collection of the latest performance innovators roll into the HAC, including Bugattis, Ferraris, Lamborghinis and more, joining the collection of 70 vehicles already at the heart of the London Concours.

Our Editor Julia Pasarón and her friend Yvonne Francas wonder if they could take the Lotus Evija for a spin…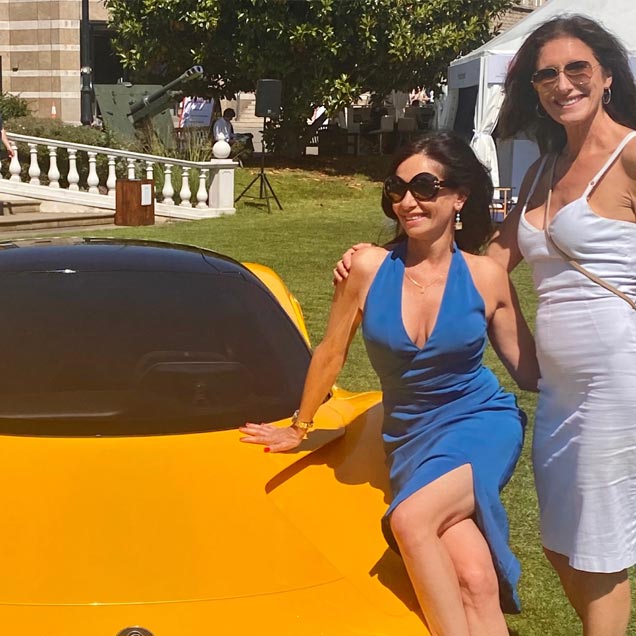 It has been indeed a remarkable three days. I can't wait for Concours of Elegance in Hampton Court in early September.
Words: Julia Pasarón
Opening picture: Tim Scott