The London Concours bravely returns to the idyllic lawns of the Honourable Artillery Company from 19th-20th August this year. Displaying around 100 automotive greats of all ages, it's a world-class collection of cars, the likes of which the City of London has never seen before, gathered into one of London's most beautiful hidden locations. The Honourable Artillery Company HQ is a five-acre oasis of green nestled among the buildings of the City of London just off City Road.
The Garden is informally known as "the world's second most valuable cricket pitch", used from mid-April to mid-September for cricket matches. As an active military facility, it functions as storage for large artillery guns and even holds the unique honour of being the location of Britain's very first hot air balloon ascent.At London Concours this year, you'll find more than 100 rare cars on display, all privately owned and carefully curated into features and classes. The event's flagship feature will be a uniquely colourful collection of eight examples of one of the finest handling Ferraris ever: the Dino. First introduced in 1967, the Dino 206 GT was the first mid-engined car from Ferrari, and the first to use a V6 at a time when all of its cars were V12-powered. The 2.0-litre V6 engine itself was adapted from one of Alfredino' Enzo's racing car designs for road car use. And so, with the release of the new 'Dino' brand and the 206 GT, Ferrari stepped into the fray against the all-conquering Porsche 911.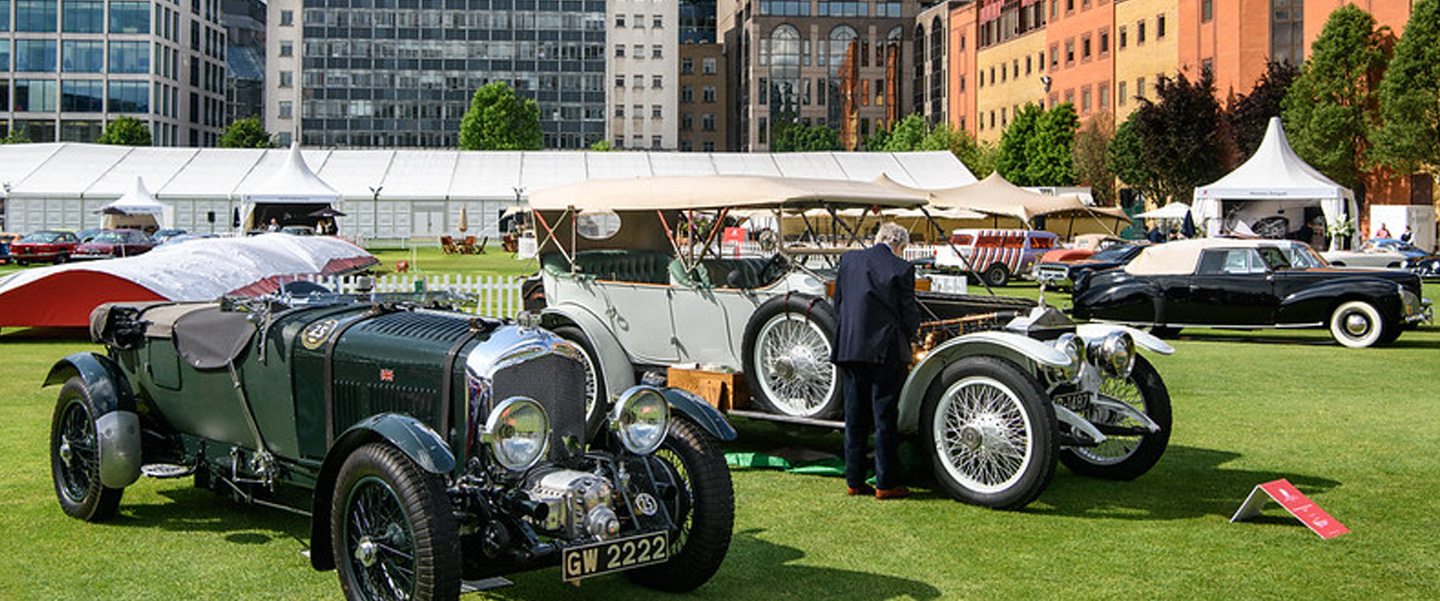 Showcasing the gamut of outlandish original colours offered to Dino customers, the London Concours will gather examples in Rosso Chiaro red, Grigio Ferro grey, Blu Dino, Nero black, Nuovo Giallo yellow and more. Among them is a rare "Chairs and Flares" version of the Dino, just one-of-five UK-delivered examples with these sought-after additions; wide wheel-arches and Daytona seats. Long considered "not a proper Ferrari", the London Concours car selection committee feel now is the time to give the Dino the attention it so rightly deserves. Elsewhere, you'll find classes dedicated to two legends of the automotive world: Bugatti and Aston Martin. No other car manufacturer stirs the soul quite like Bugatti; over the course of its 110 years it has produced some of the fastest and most beautiful cars ever and London Concours 2020 is bringing together a group of these icons, from pre-war Grand Prix cars to world-record breaking Veyrons and Chirons.
The Aston Martin display will focus particularly on some of Britain's finest hard-top sports cars, showcasing the evolution of the DB series, from DB2 through to the latest DBS Superleggera. You'll also find lesser-spotted rarities like the track-focused Vulcan and the beautiful One-77, utterly bespoke and limited to just 77 examples worldwide. Elsewhere, visitors can find a collection of ultra-modern hypercars, taking in the likes of the Pagani Huarya, McLaren Senna and P1 GTR, Porsche 918 Spyder, Ford GT and more. It's a celebration of the very latest innovations in design and engineering, a class of cars that stretches the limits of what's possible in a production car. Celebrating the passion of individuals that drives advancements in the motoring industry, each year London Concours shines a spotlight on one automotive luminary and their car collection. This summer, the honour falls to Ian Callum CBE, ex-Director of Design at Jaguar.
Ian has been at the forefront of automotive design for decades, penning designs for the likes of Ford, TWR Design, Jaguar-Land Rover and now runs his own design studio – CALLUM. Having designed veritable icons like the Ford Puma, Aston Martin Vanquish and most Jaguar products from the early 2000s until 2019, Ian's own car collection is a fascinating insight into his own personal milestone moments in car design and engineering. Ian will showcase his very own Jaguar XJC, Porsche 911 (993), Alfa Romeo Giulia GTV and more; each subtly modified by the man himself to emphasise the best parts of their design. As well as the automotive displays, visitors will be able to browse a number of other luxury attractions, including the world-class watches of Montres Breguet, fine displays of art and a number of top-end food and drink offerings, delivered by Searcys and Veuve Clicquot champagne. You'll also find some of the nation's top supercar and classic car specialists showcasing their latest stock – just in case you're inspired to pick up something new for yourself.