Notting Hill, a part of West London synonymous with movies, markets, carnival madness and a certain blue door hosts an eclectic mix of residents and visitors, all of whom are attracted to this area for its lively ambiance, eclectic history, and colorful market.
On a beautiful sunny Sunday, while taking a stroll in search of a new destination for brunch, I discovered the elegant and somewhat hidden Laslett hotel on Pembridge Gardens, tucked away just behind Notting Hill tube station. For those of you who are unaware, The Laslett opened its doors in the summer of 2015, inspired by the area's vibrant cultural heritage and new wave of creative cool. The hotel is named after Rhaune Laslett, a half-Native-American, half-Russian social worker, and much-loved local community activist, whose Notting Hill Festival in the 1960s sowed the seeds for the now world-famous Notting Hill Carnival, Europe's largest street celebration.
The Laslett offers 51 guest rooms and suites set across five Grade II listed Victorian townhouses in the heart of Notting Hill.
Enviably located, literally smack-bang in the middle of Notting Hill, The Laslett places guests at the lively heart of West London – a place that has long attracted some of the capital's most renowned names in music, fashion, and art. A recent resurgence has made Notting Hill a key London destination, with a flurry of new openings drawing the creative crowd across from the East to the West.
The eclectic hotel concept by Living Rooms, launched The Terrace at The Laslett this summer, and what perfect timing to enjoy it in this bout of hot weather. Set to be this season's West London hot spot, the terrace is also home to a new brunch offering. Diners will find spins on the classics alongside Mediterranean fare and a plentiful supply of new and inventive refreshing cocktails. The new daily brunch spread – a first for the property – boasts a crisp summer salad of roast beets and orange, fresh burrata, smoked salmon, and cream cheese on toasted sourdough and a take on the famed Laslett Burger. To finish, sweet bites Cookies & Cream and Portobello Affogato will be sure to tickle taste buds al fresco this summer. The Weekend Brunch comes equipped with added feast specials such as succulent French toast and The Matcha Waffle. I also sampled Wild Idol, a newly launched, non-alcoholic champagne-esc serve, which is delicious.
Star dishes in the Laslett's brunch menu: crisp summer salad of beets and orange, French toast and smoked salmon and cream cheese on sourdough toast.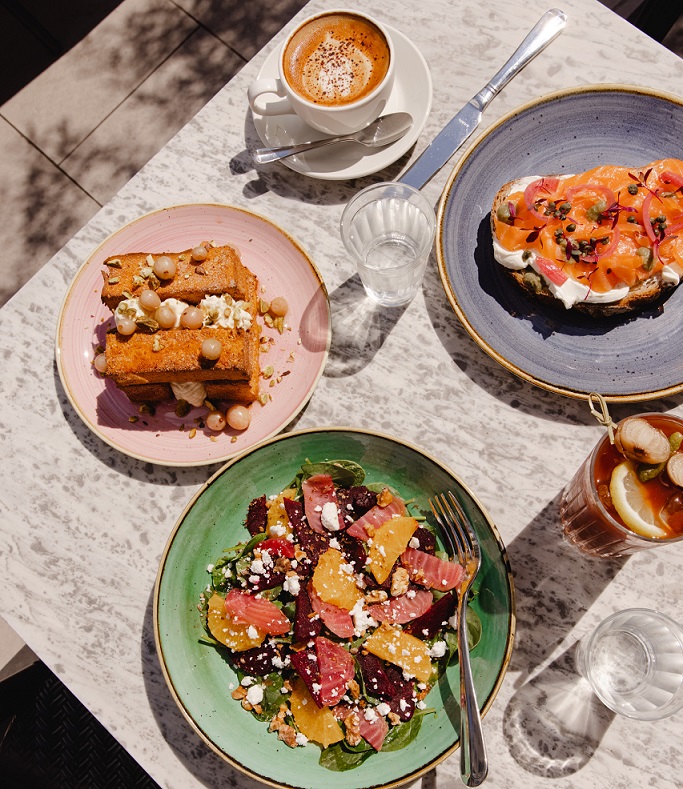 The surroundings are crisp, cool, and elegant, all in one. The service, is friendly and relaxed, with the manager regularly checking in with information about the menu, hotel, or the locals, and always in readiness to top up our glasses; just what one needs to gear up for the week ahead. Guests can watch passers-by surrounded by herb and citrus-filled terracotta pots, shaded underneath elegant striped canopies, and when the sun sets, twinkling lights. A pleasant surprise was the locally sourced, carnivalesque live music, from the aptly dressed and entertaining local guitar musician. Quite simply, the hotel embodies the same sense of community spirit and creativity as its namesake.
Sunday well spent, I should say. Highly recommended.
The Laslett Brunch is available daily from 12 pm to 3 pm, with live music on Sundays.
8, Pembridge Gardens, London W2 4DU