"I drink Champagne when I'm happy and when I'm sad. Sometimes I drink it when I'm alone. When I have company, I consider it obligatory. I trifle with it if I'm not hungry and drink it when I am. Otherwise, I never touch it – unless I'm thirsty."
Who doesn't know Madame Lily Bollinger's well-worn words about drinking Champagne? The quote may sound light-hearted but reveals much about the extraordinary woman whose spirit still guides Champagne Bollinger today. Lily knew what it meant to be sad and alone – even more than that, she knew what she wanted. She had celebrated the first centenary of the house that had been founded in the village of Aÿ in 1829 and steered it into the future with a clear vision.
In late September 2022, Champagne Bollinger revealed an ambitious seven-year programme to future-proof its business in the run-up to its bicentenary in 2029. The seven years are symbolic: it is how long the bottles of Bollinger's famous vintage cuvée La Grande Année take to age. With milestones set for the intervening years, Bollinger not only made eight commitments of sustainability, but started a wholesale revamp of the historic Bollinger campus in Aÿ. It will include a 20-bedroom hotel with spa, conference rooms and restaurant and a new cellar holding 5,000 oak barrels, overlooking the adjacent vineyards in "cathedral-like" fashion.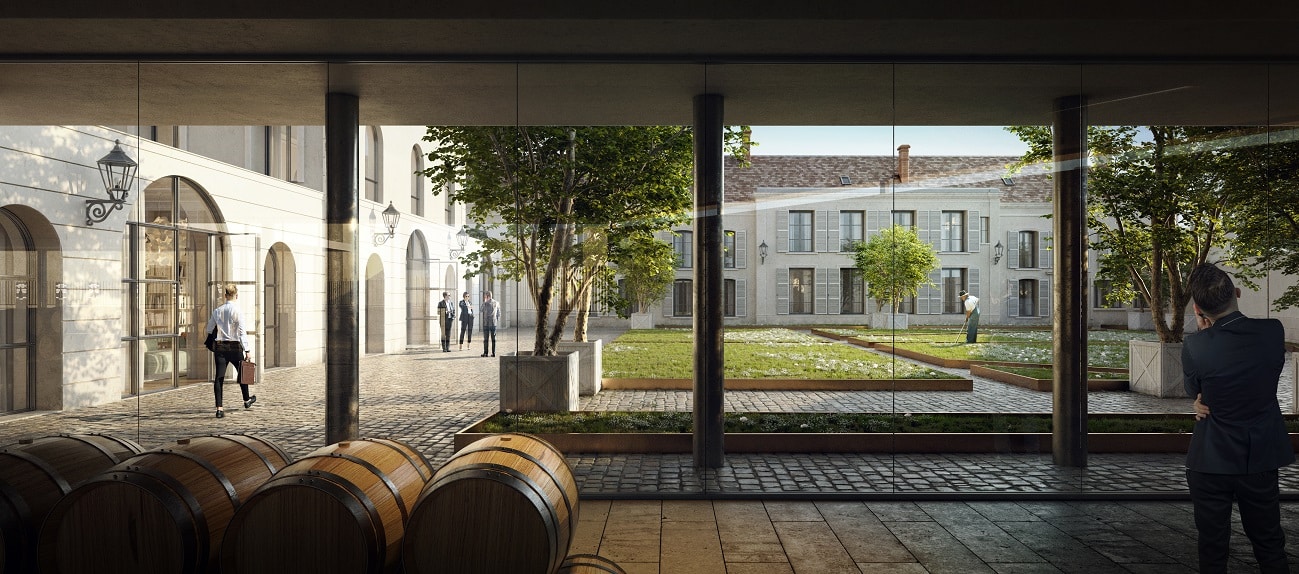 Bollinger's new campus in Aÿ Bollinger campus in Aÿ will include a 20-bedroom hotel with spa, conference rooms and restaurant.
In terms of tourism, this is a point of difference: most Champagne visits take you underground to ancient chalk caves and kilometres of subterranean corridors – coming to Aÿ will take visitors into the vineyard. So far so 2022: Bollinger uses an upcoming anniversary to give a nod to "sustainable" practices while enlarging production space and creating new sources of revenue. Bravo, Bollinger, you may think. Yet those who understand viticulture know that most wine regions need urgent future-proofing – and none more so than Champagne. Both climate change and shifting consumer attitudes endanger the established business model that relied on the natural high acidity of the 49th degree of latitude and all the trappings of luxury in its marketing. The new generation of serious Champagne lovers no longer cares for ostentatious, unrecyclable packaging – no, they care for environmental credentials and Champagnes of impeccable quality and balance, something that can only be achieved in a well-run vineyard. They expect this in the face of capricious vintages that have thrown heatwaves, drought, hail, frost and disease-inducing damp in for the region.
Bollinger's vineyard manager Gaël Vuille has the hard figures: over the past 30 years, the average temperature has risen by 1.1°C, the average harvest date has moved forward by 18 days, grapes have on average 0.7 percent more potential alcohol and 1.53g/l less acidity. Preserving and evolving a wine-style as iconic as Champagne in the face of climate change is a chief challenge – as is building and retaining credibility in a global marketplace that expects more transparency than ever before. Simple greenwashing does not wash anymore. Consumers want real progress and they are getting it. The entire business of Champagne – viticulture in particular – requires a different approach adapted to the new and ever-changing conditions. What we witness at Bollinger is thus something happening across the region. As far back as 2010, a lighter version of the heavy Champagne bottle was introduced – weighing less while still withstanding the enormous carbon dioxide pressure trapped in the bottle that makes the wine sparkle and foam.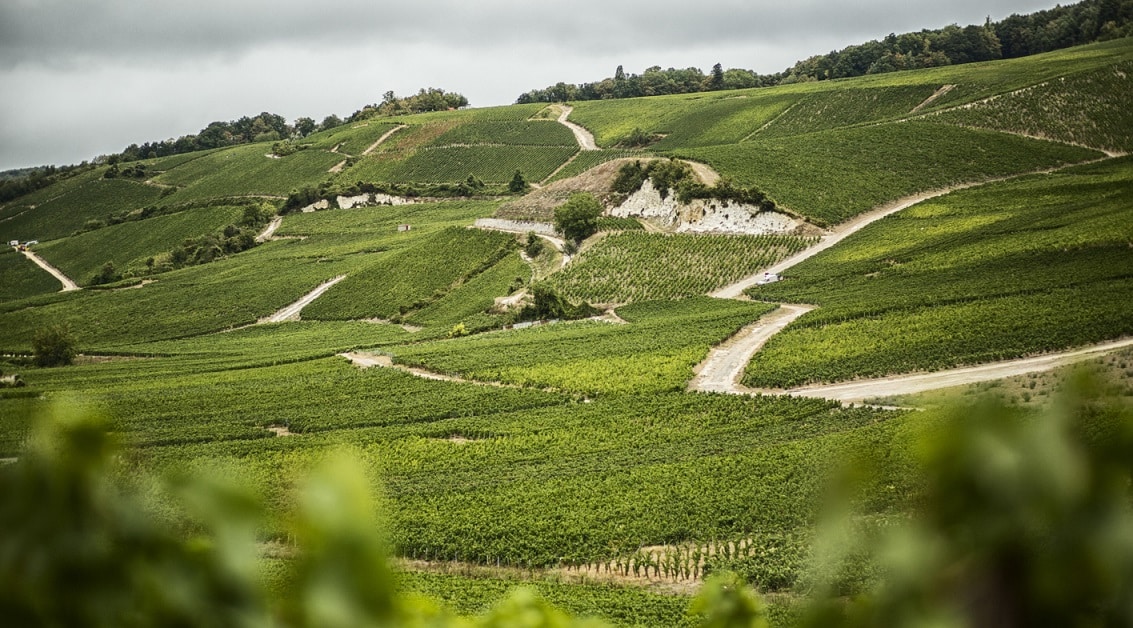 Bollinger's vineyard La Côte aux Enfants was acquired by Jacques Bollinger himself between 1926 and 1934.
The region as a whole is in the middle of a 50-year plan to reduce its environmental impact. Louis Roederer's visionary cellar master Jean-Baptiste Lécaillon speaks of "fighting for freshness" and has revolutionised the house's non-vintage cuvée. Ruinart developed fully recyclable paper-moulds to envelope its signature bottles, replacing previously wasteful packaging. Various other houses are on similar trajectories affecting all areas of production. Clearly, some are more enlightened than others – and Bollinger takes a lead role. Bollinger also knows that these changes must be made tangible for today's wine lovers. Seen in this light, all of Bollinger's numerous commitments – according to the three pillars of environmental, social and economic sustainability – make sense. The ambitious plans are not mere showpieces but thought-through, calculated and measurable deliverables aimed at improving the entire business in numerous respects, including the bottom line. The 5,000 barrels are not just for show, no, they are for winemaking.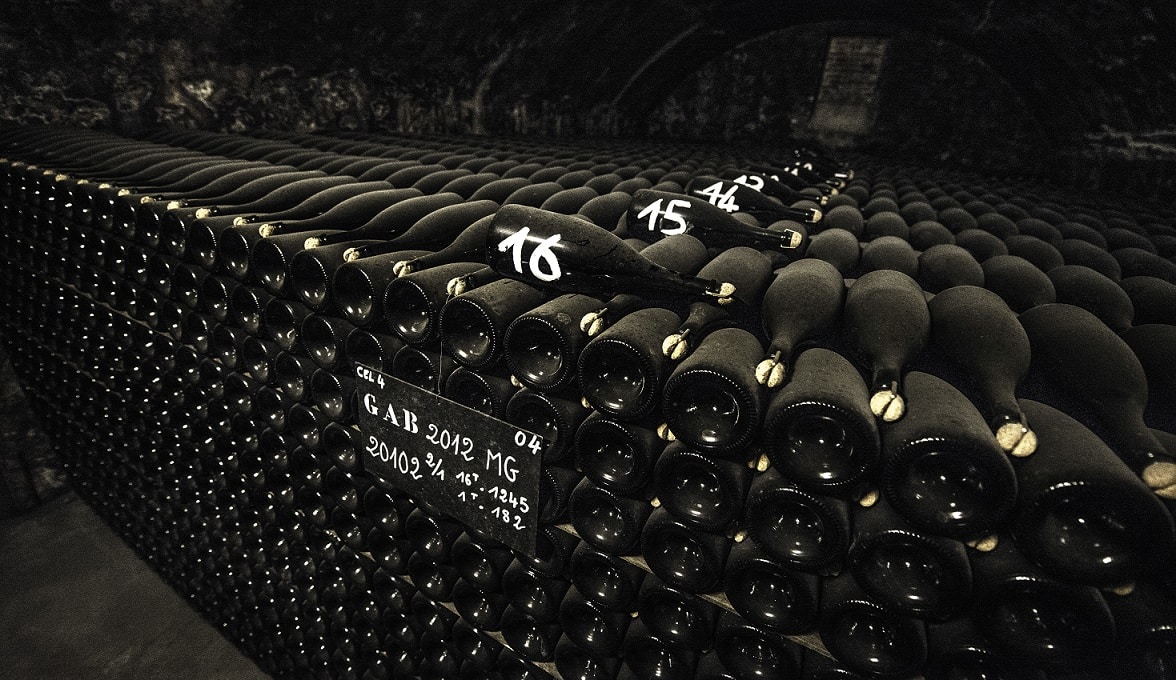 Made in 2012, La Côte Aux Enfants Champagne is being released just now, in time for the season festivities.
Like an open kitchen lays bare all the foodprep in a fine-dining restaurant, winemaking will be laid bare in the newly recreated and enlarged winery, enshrining artisanal credentials in a workspace that is also a showroom. But there is more than that. In the past, blending obscured origin, today it highlights it. And everyone can taste it. Bollinger initially spelled out its renewed focus on vineyards with a series of limited editions highlighting singular villages and vintages, beginning with the release of the excellent and delicious VZ 15 in 2020 – a move that had started years earlier and could only be debuted after years of lees-ageing in the cellars. Now we know that all this started even earlier. The debut of a completely new single-vineyard Champagne from a hillside in Aÿ called La Côte aux Enfants, a site assembled from numerous parcels into a four-hectare monopole by Jacques Bollinger over eight years from 1926 to 1934, is proof positive. Made in 2012, it is being released just now, alongside the stupendous 2013 vintage of Bollinger's iconic Vieilles Vignes Françaises.
La Côte Aux Enfants Champagne is made of 100 percent Grand Cru pinot noir, from the single eponymous plot. This champagne has been aged in the cellar with natural cork for much longer than required by the appellation.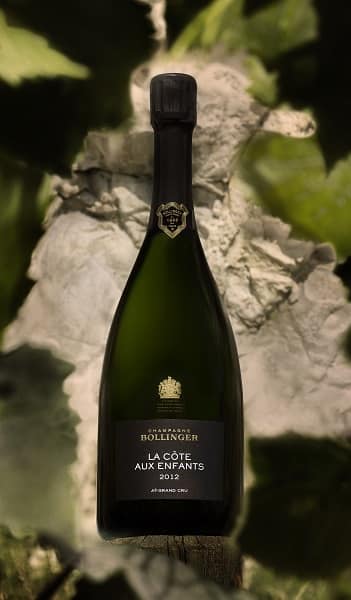 "We are on a long-term perspective, never, never short-term. We try to think 50 to 100 years ahead. To have 200 years of history is a privilege," says Bollinger's managing director Charles-Armand de Belenet. Then he invokes Lily Bollinger: "We have plenty of letters from Madame Bollinger," he says. In defining the future-proofing plan, "the first step was to dive into the archive, into Lily Bollinger's life."
"We are on a long-term perspective, never, never short-term. We try to think 50 to 100 years ahead…"

–  Charles-Armand de Belenet
Lily, who died in 1977, led the house for 30 years, from 1941 to 1971. She was just 42 years old in 1941 when her husband Jacques, just five years her senior, died. Times were grim. A year earlier, the Nazis had occupied Champagne. "The first aim she had was to make the house sustainable," de Belenet says. "It was extremely difficult: parts of the vineyards were destroyed; part of the cellar was empty. Her aim was to survive. What she decided was to stay true to what Bollinger was in the past: wood vinification, a dedication to Pinot Noir. She decided to stop the growth of Bollinger, she thought let us focus on a smaller number of bottles but let us do it right." To prove his point, de Belenet presents a 1947 Champagne from Lily Bollinger's personal cellar, a wine that she had had a hand in making. It is a marvel of mature Champagne, still exquisitely fresh, layered and ageless. It speaks even more eloquently of Champagne than Lily herself did.