Rebecca Jackson lives her life to the full in every aspect of her life and that hasn't changed after becoming a mother. She is a businesswoman, racing driver and also a presenter, so one could say that Rebecca dons more heads than Worzel Gummidge.
I-M Intelligent Magazine caught up with Rebecca, who spoke to Jeremy Webb very quietly, while her six-month-old twins were sleeping.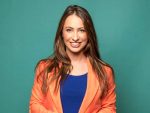 Rebecca has achieved plenty in her life but she says the most rewarding thing she has ever done has been becoming a mother. That says a lot from a lady who has progressed from Novice Racer to driving a full LMP3 car at Le Mans. She is proud of her business and racing achievements but just listening to the joy in her voice when she speaks about her boy and girl, I get the feeling she is as happy tucking them in at night as she would be driving at Spa. During our chat, I got to know about how driven Rebecca is, so much so that she speed walks with her double pushchair to make sure it is a workout and not an amble. This streak was initially developed from her love of horse riding, then wanting to go faster she discovered cars. Speed is what she always desired.
I-M: Did you play with cars as a child?
R.J: Growing up, I was a bit of a tom boy. My dad loved his motor racing and cars. He took me to my first race at six weeks old so I have grown up around cars and seeing my dad working on them. I played with cars but also dolls and other girl's toys.
I-M: When did you properly get into cars then?
R.J: My true passion growing up was horse riding and I did this until I was sixteen. Then cars took over as they are faster and I love speed.
I-M: What was your first car?   
R.J: I had a Peugeot 205 1.4 in Sapphire Blue.
I-M: Could you tell us about your journey into broadcasting?
R.J: I set out with the goal of becoming a presenter as I wanted to talk about cars. I obtained a degree in Business and set up a used-car service, where I would make Youtube films showing the vehicles. I was fortunate that Dennis Publishing saw these films and asked me to start working on Car Buyer, then, ITV came along and I got work on ITV 4. Since, I have presented several shows and I have some new ones in the development stage.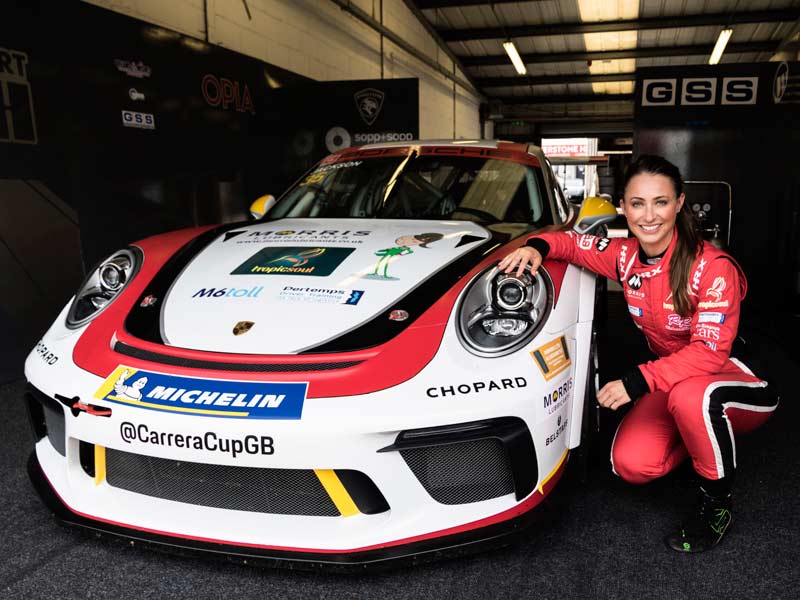 I-M: Best driving experience?
R.J: Driving down the Mulsanne straight at Le Mans in an LMP3 car.
I-M: Favourite car you have driven? 
R.J: This is very difficult to answer as I have been fortunate to drive many lovely cars. I would say though that, my Porsche 924 race car, which I first started racing in, could be my favourite.
I-M: Most desirable car?
R.J: Another tough question! Recently I have driven the Ferrari 488 Italia and it is gorgeous; the sound, the experience of top-down driving is hard to beat. Yes, I desire one.
I-M: Favourite circuit?
R.J: Alton park with its undulation, technical sections and fantastic treeline.
I-M: What is your favourite motoring event?
R.J: I have two as I can't separate them. Goodwood Festival of Speed -driving up the hill is very special and the setting is lovely, and Le Mans because, well it is Le Mans.
I-M: What is next for you? 
R.J: Now the twins are six months old I am getting back into work. I have several projects lined up. I took three months out of work completely to spend time with the babies, turning off all social media and not even opening emails. I just wanted total immersion into motherhood. After the three months, I had a routine that included some time to look at other things. The future looks busy work-wise but I will always put the twins first. There will be some more ambassador work for the brands I am partnered with, some presenting and some racing, which I have missed very much. I am also starting a new business called "One Woman Owner" which will be aimed at women, helping them choose a car and all aspects of purchasing.
I-M: Are there any other sports that you would like to present?
R.J: Anything extreme and not conventional, such as Red Bull Soap Box racing or something along those lines.
I-M: And outside sport?  
R.J: I would love to do something in fashion as I am a girly girl at heart. I love to dress up and have my makeup and hair done. I am connected with Belstaff, which have produced lovely women´s garments over the last few years.
I-M: What do you do to relax?
R.J: I love to do yoga, I find it very therapeutic; it is also good to keep in shape, as is mountain biking, which I will get back into soon, as I love the speed going downhill. I love spending time with my children, I find it relaxing, and cuddling them is so very soothing. I regularly take them to the park, set out a picnic blanket and let them lie there, taking in nature. I like to go to spas and have a massage to relax and pamper myself. Another interest which relaxes me is Salsa dancing, as you have to focus on the moves and nothing else.
I enjoyed speaking to Rebecca and wish her all the best for the future which looks very busy and promising. The drive inside her will probably see her on Strictly Come Dancing, which she confesses is a dream of hers. I will be meeting up with her again when she returns to racing, doing some Hot Laps events.