Riverfront homes in London have been desirable since the creation of the city. The historical demand for a residence close to the Thames has meant opportunities to purchase a property are extremely rare. Chelsea Waterfront is the first development of its kind in this sought-after area for a hundred years.
Imagine being on your balcony, overlooking beautiful landscaped gardens, sipping on cocktails watching the surface of the Thames glitter as the sun comes down,. The highest risk of disturbance being the concierge, informing you that they have sorted your laundry service for tomorrow and that they will call you when those deliveries you are expecting tomorrow, arrive.
This type of living is available in London at the newest housing development on the North bank: Chelsea Waterfront, a concept of luxury living that involves all the services you'd expect in a five-star hotel. Basically, it is more buying into a lifestyle than into a real estate development. Not to mention what a safe investment this kind of purchase is. Luxury estate agents Knight Frank have seen a constant raise of demand in the capital's waterfront market, with their very won Q4 2021 Waterfront Index showing the average premium uplift for London waterfront property was 10 percent versus comparative property not offering waterfront living, with sales up 36 percent in 2021 versus 2020… and people looking to buy increasing by 138 percent over the same period.
Chelsea Waterfront will include two towers, three riverside buildings arranged around landscaped gardens and the redevelopment of the historic Lots Road Power Station.
New Homes Partner at Knight Frank, Christopher Jones, says, "Despite the recent rebalancing of values across some London markets, the premium buyers are willing to pay to be by the water is still very much there. Throughout the pandemic and today, transactional activity and demand for waterfront property remain high… For homeowners at Chelsea Waterfront, accessing the Thames path and walking along the Southbank has been hugely popular."
Chelsea Waterfront is the vision of internationally renowned architect Sir Terry Farrell with the gardens designed by leading landscape architect Randle Siddeley Associates. The development includes three large houses and two residential glass towers covering six hundred metres of riverside. East and West Towers stand on either side of a landscaped creek framing the former Lots Road Power Station, one of Chelsea's most well-known buildings and the last of London's great three power stations to be repurposed.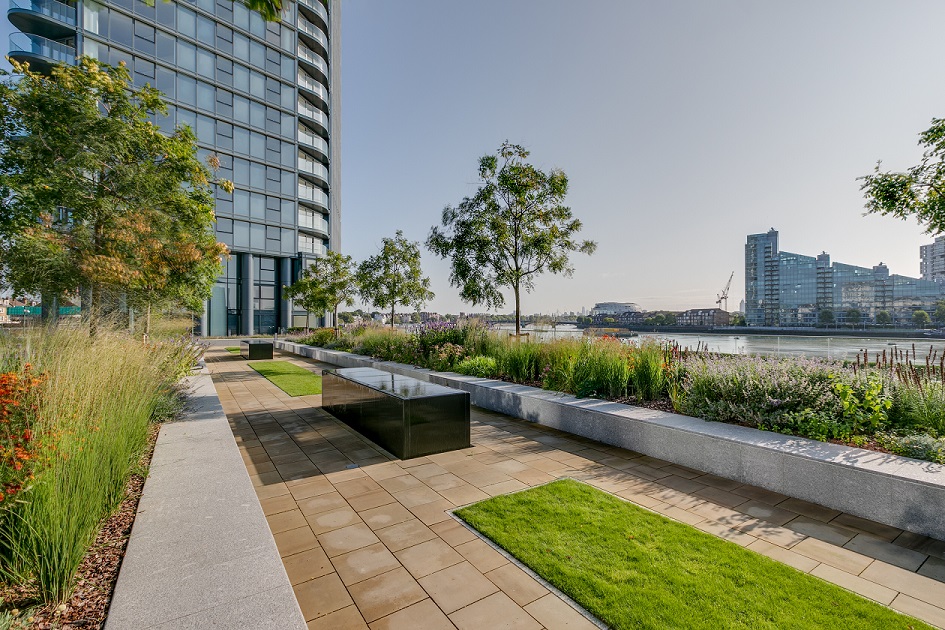 The ground level gardens have integrated planting and feature lighting designed by a specialist landscape architect.
Jones continues, "We have seen a shift in buyers at Chelsea Waterfront; pre-pandemic, it proved popular with international buyers and investors; however, more recently, we have seen a big uptick in domestic purchasers trading up and moving for its Thameside location; buyers come out of big apartments in areas such as Knightsbridge to be near the river and enjoy all that living in a modern home has to offer. This increased local demand is all down to location and lifestyle offering of the water's edge."
Chartwell, Claydon and Compton Houses
The three houses on site are named after large country estates across the UK with impressive gardens. They all feature superior accommodation from two to four-bedroom apartments. Exquisite kitchens are fitted with bespoke modular cabinets with high gloss lacquered doors to standard units. Top-of-the-range appliances are included. Standard pieces include fridge/freezer, dishwasher, oven, microwave and combined washer/dryer.
In the luxury bathrooms, walls are fully tiled with polished natural stone and complementary honed stone tiles to the floor. Luxury touches such as mirror demisters and under-floor heating are standard. Brassware is polished stainless steel or chrome – generally by Dornbracht.
Chelsea Waterfront has a heat and power plant which supplies all the buildings with metered hot water. As you would expect from modern living, the apartments are energy efficient and use all the latest technology to save money and reduce carbon emissions. All apartments have a Home Automation System, a central touch screen, and a separate local scene setting controls for principal rooms. The system operates lighting, heating and cooling (where applicable) and interfaces with the door entry intercom, security access and panic alarm systems.
The development also boasts underground parking and a 24-hour security service on-site.
Tower East and Tower West
The towers will host restaurants combined with residential luxury apartments, which match the styling of those in the three houses.
The views from the towers' apartments make Chelsea Waterfront one of the most desirable residential developments in our capital.
All residents can use the facilities within Chelsea Waterfront: a health and fitness suite with a sculptured pool, spa, sauna, steam room and state-of-the-art gym, all a short walk back to your superb residence.
Location, location, location is key to Chelsea Waterfront. From stunning parks and fabulous shopping to the most remarkable museums such as the Victoria & Albert and National History Museum, Chelsea has always been the beating heart of London, hosting many events like the Chelsea Flower Show, Salon Privé and Masterpiece.