As the world celebrates 60 years of 007 films with all kinds of events across the globe, we opted to pay a visit to a few spots in Europe that played a key role in the lives of the real and imaginary characters involved in the epic saga of the world's favourite secret agent. In the same way that Bond pursues his adversary across the world, I was chasing down the secret agent across some of his favourite places to be.
First, I visited the elegant resort of Le Touquet, on the Opale Coast in northern France. Le Touquet was the location chosen by Fleming for the start of his book, On Her Majesty's Service. In the movie, George Lazenby played James Bond, with the lovely Diana Rigg as his wife, Contessa Teresa di Vicenzo, who would become Tracy Bond. In the original Fleming story, 007 is thinking of quitting MI6 while driving along in his Bentley, when he is overtaken by a woman. As Fleming says in his novel, "If there was one thing that set James Bond really moving in life… it was being passed at speed by a pretty girl." So he puts his foot down to catch up with her… unsuccessfully. In order to emulate such an achievement, I chose an elegant BMW M850i xDrive in opal green (officially called Sanremo green). With a 4,395cm3 V8 engine and 530bhp, this feline beauty takes you from 0-60 in 3.7 seconds. In the right hands – mine for example – it can leave anyone behind, including Mr Bond.
My BMW M850i xDrive (Sanremo green) could leave behind anyone, including James Bond.
Le Touquet became popular in the early 20th century, as an easy destination for Parisians that wanted a weekend by the sea and for Brits looking at experiencing a bit of French glamour. Long wide beaches, boutiques with the best of Parisian fashion, a great offer of restaurants and a famous casino, all appealed to the wealthier classes both sides of the channel. The resort came to the zenith of its fame in the late 1950s and 1960s, when the rich and famous would fly here with their cars via Silver City Airways, or to and from Boulogne or Calais by ferry. Sir Winston Churchill, Noel Coward, Marlène Dietrich, Serge Gainsbourg, Sean Connery, Charlotte Rampling, the Aga Khan III and Jacques Chirac are just a few examples of the kind of crowd Le Touquet used to attract… and most of them stayed at Le Westminster hotel (now part of Le Barrière group).
Ian Fleming himself stayed at this hotel on several occasions. He spent a lot of time in this charming little town. In fact, legend has it that he met his wife in the casino, which was the inspiration for his first James Bond novel, Casino Royale (1953). The town that is the setting for the story, Royale-les-Eaux, is directly inspired by Le Touquet and the Splendide Hotel, where 007 resided, is no other than Le Westminster. In fact, it was here that Sean Connery signed his contract to become 007 and where Roger Moore frequently stayed.
Hotel Barrière Le Westminster was the Splendide Hotel, where 007 resided at Royale-les-Eaux (inspired by Le Touquet) in the original Casino Royale novel.
There are many reasons to come to Le Touquet. Its fine white sand beach spans almost four miles, from the Thalassotherapy Centre to the wild Bay of Canche. There are a myriad of spas and specialised centres offering all kind of wellbeing treatments, and in rue Sean-Jean, an exquisite selection of independent shops and boutiques where to indulge your shopaholic impulses. Sport lovers will find plenty of options, from golf to horse-riding on the beach or sand-yachting, a really fun and exciting sport that is easy to learn and gets your adrenaline pumping like crazy, as you feel the wind in your sails and the water spray on your face as you pick up speed along the beach. If you prefer quiet endeavours, there is a golf course to practise your swing against a beautiful natural backdrop.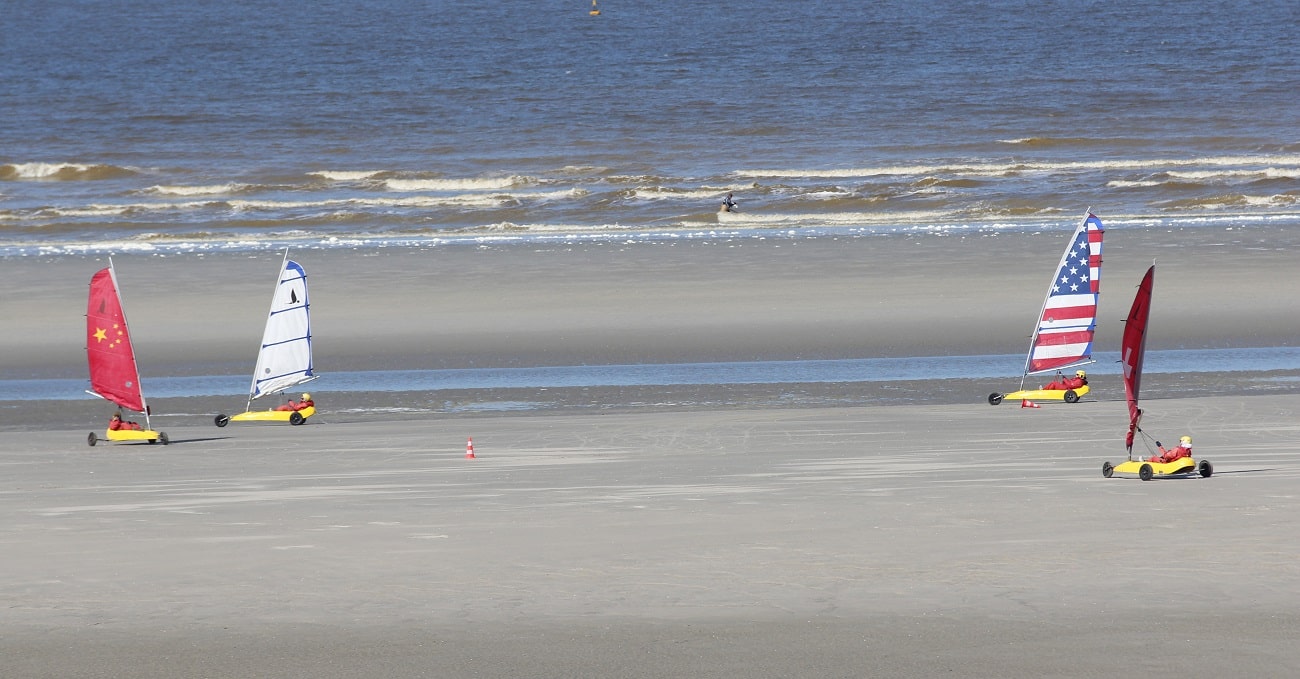 Le Touquet is a global centre for sand-yacthing, an exhilarating sport, easy to learn and apt for all ages.
Le Touquet is small enough to go everywhere either walking or cycling. You can rent bikes in many places but if you stay at Hotel Barrière Le Westminster, you just have them at your disposal any time you want. That was my choice to go to the beach, not to attempt suicide like Contessa Teresa di Vicenzo, but to watch the sunset from the best spot in town: the terrace of the Thalassa Sea & Spa, which enjoys unparalleled views of the beach and sea.
It was somewhere on the beach of Le Touquet that Contessa Teressa di Vicenzo was rescued by James Bond when she attempted to commit suicide.
You can't possibly visit this part of the world and not enjoy a succulent plateau des fruits du mer (a seafood platter). I recommend Perard Traditions, in the very centre of town, whose soupe de poissons (fish soup) earned internationally fame in the 1960s, and which serves the most succulent seafood you could imagine.
The only hotel for this trip had to be Le Westminster, as you can't get any more James Bond than that. The sublime Art Deco façade, impressive high ceilings and understated luxurious elegance blends history and modernity, always considering the comfort of the guests. Their indoor pool is beautiful, surrounded by decoration that mimics a tropical garden. The pool is completed with a spacious sauna and a hammam. Next to it, the Spa Nuxe offers a wide variety of treatments. I went for a special one-hour signature care that has been created to celebrate the 110 years of the Barrière group. The first 15 minutes are devoted to your face and the remaining 45 are dedicated to complete body modelling with the Prodigious Oil by Nuxe (I have been using it for 20 years and I absolutely adore it).
Nuxe Spa at Hotel Barriere Le Westminster offers a wide variety of treatments for face and body.
As you can very well imagine, the food here is fabulous as is the wine. This hotel has a cellar to die for, with some of the rarest and most valuable wines in the world, such as Pessac Léognan 1er Grand Cru Classé Château Haut-Brion 1999, Margaux 1er Cru Classé Château Margaux 2004, Romanée Saint Vivant 2015 Domaine Folin Arbelet and Château Mouton Rotschild 1996 to name but a few. Le Barrière Westminster boasts two restaurants, La Table du West brasserie and Le Pavillon, led by Michelin-starred Chef William Elliott. Elegantly decorated in shades of purple velvet, black and ochre, Le Pavillon also boasts a terrace laid out to showcase the view of the famous Le Canche lighthouse; the ideal atmosphere for a romantic rendezvous with Mr Bond.
Michelin-starred Chef William Elliott leads the team at Le Pavillon, which offers an ideal atmosphere for intimate dinners.
A Bond style evening at Le Westminster couldn't finish without a drink at Le Bar du West. The cocktail menu is truly impressive, but I couldn't help but choosing a Vesper Martini, which according to Ian Fleming is made with three measures of Gordon's, one of vodka and half a measure of Kina Lillet. Shake it (never stir) very well until it's ice-cold, then add a thin slice of lemon peel. You can choose to stay inside or have your drink on the terrace overlooking the park. You can still sense the presence of the many legendary stars that have partied here, enjoying rare vintage champagnes, refined ports or one of the special cocktails that feature at least one regional product.
Le Bar du West at Le Westminster has hosted many stars over the decades, including Sean Connery and Roger Moore.
After a spending the night at the James Bond suite, with its plush decoration and 007 memorabilia, I woke up feeling very chic myself and ready to put my BMW M850I xDrive through its paces to make it to my next Bond destination, the Swiss resort of Bürgenstock (coming very soon).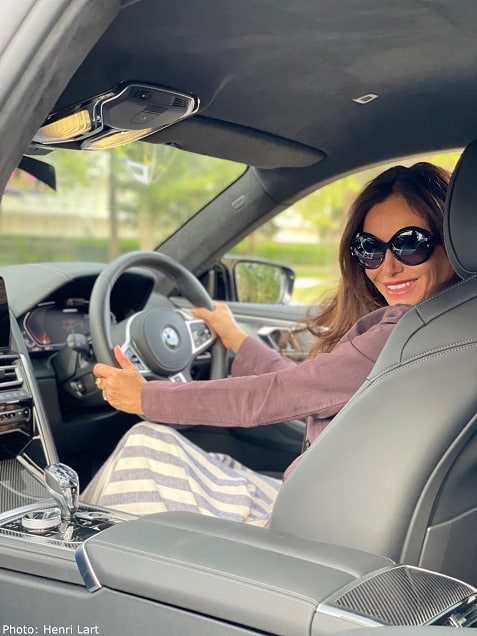 The interior of my BMW M850i xDrive balances elegance and driving pleasure, combining individual luxury and modern aesthetics with driver-oriented dynamic performance.