Laura Donnelly made her on-screen debut in 2005 in the Emmy Award-winning comedy drama Sugar Rush and hasn't stopped working since. From internationally acclaimed plays such as The Ferryman for which she won an Olivier Award to blockbuster TV shows such as The Fall and The Nevers. Back in London after filming Werewolf by Night (Disney+/Marvel) alongside Gael García Bernal, Laura spoke to our Editor Julia Pasarón about her passion for acting and how she has become a superhero like you've never seen before.
Laura was born and raised in Northern Ireland and graduated from the Royal Scottish Academy of Music and Drama in 2004. It was thanks to an Irish dancing teacher she had in school that she decided to pursue a career in acting. "I was just seven or eight. She really encouraged me and kept saying I was destined for the stage," she shares, "and I don't know if I would have contemplated becoming an actor if it hadn't been for her." From her early participation in amateur productions, she developed a love for the theatre, "that first feeling of being backstage and getting ready for a show, that really got me."
I seek out women who are complex. I want to have to investigate my characters and I want them to be well-rounded…
Once she had made up her mind, she realised that a lot of her life would probably involve living in London, so she went to study in Scotland to spend time elsewhere. "I've always loved Scotland so it was an easy decision. The school was great and I had a wonderful three years there." The same summer she graduated she did her first professional play, David Mamet's A Boston Marriage, in Dublin. From there she went to Edinburgh to do some more theatre before moving to London where her career on TV took off significantly. From Emmy Award winning Sugar Rush (Channel 4), BBC's Merlin and The Fall, with Jamie Dornan and Gillian Anderson, Golden Globe nominated Outlander and BAFTA award-winning drama Occupation to many more. Recently she can be seen in HBO's hugely popular fantasy series, The Nevers (available on Sky and Now TV).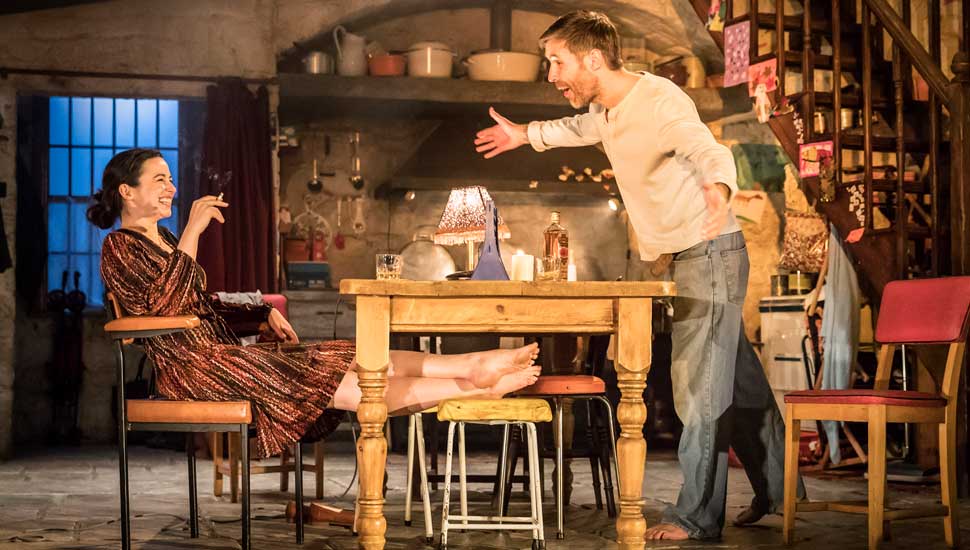 Laura Donnelly and Paddy Considine in the original cast of The Ferryman. © Photo Johan Persson.
Set in London in the last years of Queen Victoria's reign, The Nevers focuses on the "Touched": people – mostly women – who suddenly develop abnormal abilities, some more charming than others. Among them is Amalia True (Laura Donnelly), a mysterious, determined widow and Penance Adair (Ann Skelly), a brilliant young inventor. They are the champions of this new underclass, making a home for the Touched to make room for those whom history as we know it, has no place. The series also stars James Norton, Eleanor Tomlinson, Olivia Williams and Nick Frost.
Having seen Laura in several of her TV roles, I think her projects encompass a lot of strength. Despite her small physical frame and delicate features, there is a power in her that comes out in every one of her characters. "I believe that most actors bring a natural kind of something with how they act, so casting directors who have previously seen your work will think of you when they need to cast for a similar role. I think in my case it may be the direction you point out, but I try to diversify and present my characters differently. You have to be careful or you can end up playing the same roles all the time."
Laura Donnelly as Elsa Bloodstone in Werewolf by Night, exclusively on Disney+. Photo courtesy of Marvel Studios. © 2022 MARVEL.
Amalia True is a very good example of the kind of character Laura likes playing. "I seek out women who are complex. I want to have to investigate my characters and I want them to be well-rounded. Amalia is strong and determined, but also vulnerable. The same with Caitlin. She has strength but there's huge vulnerability there, a struggle to deal with what is going on." Laura is referring to the role she plays in The Ferryman, written by her partner Jez Butterworth and directed by Sam Mendes. The play was inspired by a true story. Several months before Laura was born in Belfast, her 26-year-old uncle, who was involved with the Irish Republican Army, vanished. Three years later, his body was found in a bog. Laura told this story to her partner and he made it into The Ferryman. It was the fastest-selling play in Royal Court Theatre history and won Laura an Olivier Award for Best Actress in 2019, a nomination at the Evening Standard Theatre Awards and a nomination for the Tony Award for Best Actress for the Broadway production. It is not just for The Ferryman that her theatre work has been lauded. Critics often praise her performances. For example, her role as "other woman" in Butterworth's The River opposite Hugh Jackman was described as graceful and convincing by The New York Times, and she also received acclaim for her work in The Wasp, Philadelphia Here I Come, Romeo and Juliet and many more.
She admits that when it comes to acting, theatre is her first love. "I think any actor who does theatre tends to give that answer," says Laura. "There are many reasons for it and it is difficult to summarise but, if I had to pin it down to just one, I'd say is the connection between you and the live audience. It feels like a much more profound experience than television or cinema." As an example she adds, "In a cinema, a film will keep running whether there is anyone on the room or not, in a theatre the actors need the audience to perform, it is kind of a shared experience. On the other hand, you get to do the story from start to end, which feels very satisfying to me as an actor." Another thing that fascinates Laura about theatre is the depth in which you get to know a character whilst playing them for a prolonged period of time. "Especially with very good writing, as you get to know better a play and a character, you discover more and that allows you to develop your role progressively, in a way that feels natural."
With long-running TV shows there is a bit of this too. "It is not only that the actor gets to know their character inside out but the different writers that usually come in for long-running shows often have a different interpretation of the character but, at the same time, draw inspiration from the actor and write to play to their strengths until both actor and character practically merge. In theatre, the play is already there in complete form. You can bring elements of yourself, but you have to find out who that person is, as conceived by the playwright."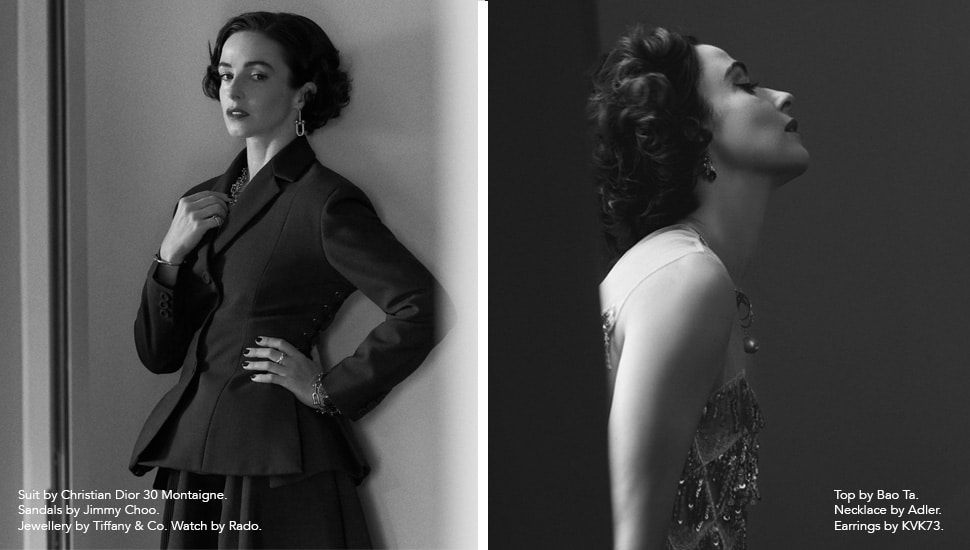 Laura loves the contrast between TV, cinema and theatre. That's why she admits, "I always look forward to going back to screen work. On TV or in cinema you can get away with a lot more; editors can chop how they want, make a bad performance appear decent … and the other way around. In theatre you are always exposed."
In Outlander she had the chance to once again show how much she brings to her characters. In this case as Jenny Fraser, sister of Jamie Fraser, a Highland warrior from the Clan Fraser of Lovat, who becomes embroiled in the Jacobite uprising. The protagonist of the story, Claire Randall (played by Caitríona Balfe) is a former Second World War military nurse in Scotland who, in 1945, finds herself transported back in time to 1743. There she encounters, falls in love with, and marries Jamie Fraser (Sam Heughan). The show is based on the eponymous series of best-selling books by Diana Gabaldon. The TV series was as successful as the books, critically acclaimed and recipient of many accolades, among them several Critics' Choice Television Awards and People's Choice Awards as well as multiple nominations from BAFTA, Golden Globe and Emmy Awards." I hadn't had any expectations," Laura comments, "I had just done my job to the best of my ability and hadn't thought much further, so it wasn't until after the second season that I realised what a big deal it was. I was in New York doing a show in Broadway and people would stop me in the street about Outlander."
I wish to work until I am at least 80…

– Laura Donnelly
The characters Laura has played in her career are testament to the evolution of female roles in fiction, who have often been underrated and very limited. Even in superhero movies, women are no longer just girlfriends or 20-year-olds in sprayed-on catsuits with vertiginous cleavages. From Pepper Potts, Iron Man's clever wife who manages to defeat the villain Killian without any superpowers, to the mighty Okoye, a skilled warrior leader of the Wakandan armed forces. "There is much work still to be done in terms of gender equality in the industry, but things have certainly improved significantly," she says. "For example, Marvel has changed a lot the female characters whom we see in their films. There is more diversity of backgrounds and ethnicities, women of different ages and there is less tight clothing and catsuits."
Laura has recently joined the MCU as Elsa Bloodstone, a monster hunter in the Marvel-Disney+ television film Werewolf by Night, opposite Gael García Bernal. Elsa has been raised by her more-or-less immortal father, Ulysses Bloodstone, also a monster hunter. Although the original character created by Dan Abnett and Andy Lanning in 2001 was quite the stereotype – highly sexualised body, superhuman abilities and a tendency to shoot first and ask questions later – for Michael Giacchino's film adaptation, Marvel gave the director and the actors plenty of freedom in terms of how to interpret the characters. "Filming Werewolf by Night felt very experimental, almost like an indie movie in terms of how creatively free it was," Laura states, "for example, Elsa doesn't start as a fearless, fully proficient monster slayer, there is a journey for her to have," She explains. "As a Marvel fan since childhood, it excites me very much the possibility of playing her again in the future, be part of the journey along which the character will fully develop."
I must admit that, knowing the way the Marvel "universe" is connected, I would have expected them to be very rigid about things, but Laura insists that to her surprise and everybody else's, they were not. "Gael and I would be working off each other," she explains, "sitting with the writer and the director, reworking the scenes even just before shooting them, trying to make them a bit better, a bit more in line with the idea we all had of the movie. And Marvel was ok with all of it."
From where I stand, I think Laura is particularly excited about how unusual the shape and form of the superhero she plays is, especially for a female, which goes back to our conversation about gender equality. "It will take time before conditions are truly equal but I believe it is an irrevocable process. However, we need to make sure that change starts at the grassroots and that education is available. For example, programmes in inner-city schools that might allow kids to try out acting." It is evident she is quite passionate about the subject. Her eyes light up and there is a kind of stern tone in her voice. "It is only now that little girls are seeing on screen women of all colours, ages, shapes and backgrounds, which will hopefully encourage them to think they can do it too."
She then tells me about Geena Davis and her work at the Institute on Gender in Media, an organisation of which she is founder and chair, and whose slogan is "If she can see it, she can be it". With a frown – which makes her look very serious – Laura adds, "This is crucial stuff. I am hoping that in 20 years' time, when those kids are grown up, they won't have to worry about these barriers, that they will all be gone."
I don't  dream of directing or producing,
but I still dream of acting…

– Laura Donnelly
The barriers go beyond the battle for characters or equal pay. We are talking about truly basic stuff. Laura gives the perfect example, "Sometimes it happens to me, when I am playing a lead role like in The Nevers and I have to be on set more or less all the time, that I get asked about who looks after my daughters in the meantime. My partner is never asked that question." I find interesting that she refers to The Nevers for this, so I asked her why. She doesn't hesitate to answer, "I think the show somehow reflects how people who are not part of the power structure feel in a society. Yes, these are very unusual people but that is not the point, their struggle is not limited to the Victorian set up of the TV series, it is still a very real struggle in our time. I am not saying things haven't changed at all, I am just saying they haven't changed enough." Maybe this parallelism resonated with audiences and it is part of the reason why the show has been so successfully. Personally, I couldn't agree more. Between The Nevers and Werewolf by Night, Laura has been busy, so she decided to take this year off and spend it with her family, a decision not taken lightly, as she works in an industry with a very short memory.
"The pandemic made all these projects run over," she comments, "and like I assume happened to everyone else, the circumstances got me thinking more than usual about what was important in my life and what I really wanted to do. Hence the decision to take time off to be with my girls. Professionally, my thoughts are going towards the theatre."
The pandemic definitely made all of us reassess our lives, our choices and our options. As a mother, Laura hopes her daughters "will find a path that makes them happy, maybe not in acting as it is a much harder business than it looks, but if that is what they want to do, I'll give them all my support." For herself, she just wants to keep acting.
"I don't dream of directing or producing, but I still dream of acting. I love it and I hope to have the chance to explore even more interesting characters as I get older. In the past, women over the age of 40 would simply not find work but now society is changing and there are exciting roles for women of all ages. I wish to work until I am at least 80."
Having watched her on the screen many times and seeing her metamorphosising in front of my eyes during our shoot for this feature, I have no doubt that Laura Donnelly will have her wish come true and we'll be able to enjoy her performances for decades to come.

We'd like to thank Grosvenor House Suites for their hospitailty.
Opening picture:
Laura Donnelly wears dress by Bao Ta.
Jewellery by Adler.
Order your copy of our new issue HERE.