With a career that extends over four decades, Kelly Hoppen is one of the most celebrated interior designers in the world. Over the years, she has put a lot of heart and passion into inspiring women in business and supporting young entrepreneurs.
Furthermore, Kelly is a committed philanthropist, giving her time and attention to causes as diverse as the Government's GREAT campaign, anti-bullying initiatives, the Diana Award and most recently, the Prince's Trust, Cool Earth, and Future Dreams.
I-M: Your father was in the fashion business and your mother is in the art world. Is there a connection here with your choice of career as an interior designer?
K.H: I have definitely been inspired by my parents. They gave me the free reign, as a child, to explore my creativity and love of design, which fueled my passion for interiors. It was fantastic to be surrounded by art and design from a young age. My father was a wonderful man and incredible businessman, and my mother continues to inspire me – she is a force of nature. Both of my parents instilled a sense of fearlessness in me and always encouraged me to believe in my ability.
I-M:  Your style of clean lines and neutral tones inspired by Eastern simplicity has become globally recognizable; by now your portfolio extends to hotels, offices, restaurants, and even yachts and jets. Which have been your favourite projects over the years?
K.H: There have been so many fantastic projects over the years, I genuinely couldn't choose one and I love them all for different reasons. Working on Mickey Mouse's 90th anniversary collection for Disney this year has been incredible and the Celebrity Edge ship I designed with Celebrity Cruises was an extraordinary but exciting challenge. I can't wait for it to set sail later this year.
I-M: What is the worst job that you remember?
K.H: Probably one of my own properties, I'm my own worst client! In all honesty, I couldn't say I've had a bad job, each project has been amazing and unique, some have been more challenging of course, but I love a challenge. My first job was when I was 16 and believe me, everything that could have gone wrong went wrong, but I finished it and it was a huge learning curve.
I-M: Where is your heart as a designer? What inspires you everyday?
K.H: My incredible team, my close friends, my family – I am inspired by anything and everything. Travel is definitely a huge source of inspiration for me, experiencing the uniqueness of new landscapes and cultures. Music also inspires me and art. There is honestly no one thing and it can come to you when you least expect it.
I-M: Fortunately there are more and more women climbing up the ranks in the business world, but as Sandi Toksvig often points out, there are more CEOs called John in the FTSE 100 companies than women. Do you think there is still gender discrimination in the business/corporate world?
K.H: Women have taken massive strides as entrepreneurs and leaders since I started out in business over forty years ago. It's incredible to see more and more women in top CEO positions and building their own businesses from the bottom up. We hear a lot of negatives about gender divides at work, pay gaps, disparity in the number of male to female CEOs, unbreakable glass ceilings, but now we are aware of it, we can begin to change it. It's important not to lose sight of the positives. Women are talking openly about their talents and achievements and it's so refreshing. 
Encouraging confidence in women doesn't mean castigating men. To me, that's a waste of energy. What we need is to recognise that female sensibilities can bring a lot to business.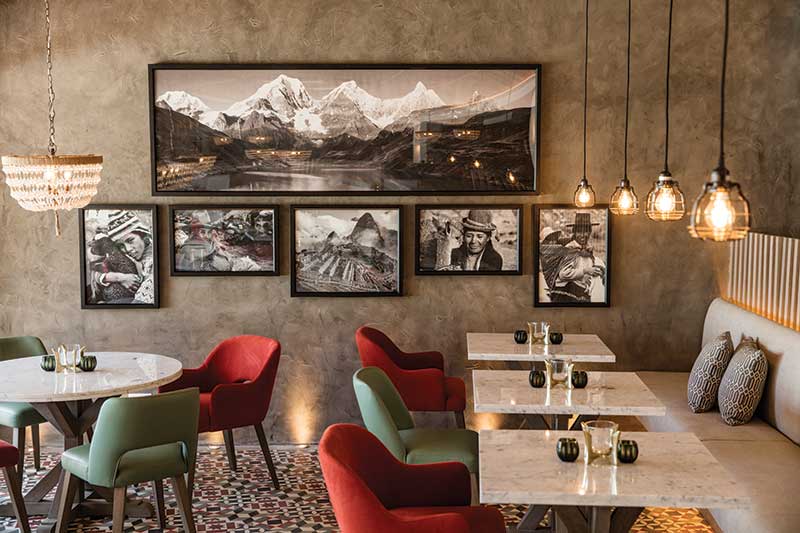 I-M: Do you think women are taken as seriously in business as men? 
K.H: I think if you are good at business, you are good at business, and that is how it should be – there should be no reason for women not to be taken seriously in the boardroom or anywhere else. There is an archaic notion that in order to be taken seriously within business, women need to power dress or be more aggressive. Personally, I think that as long as women are confident in their ability, there is nothing that can stop them succeeding in the corporate world.
I-M: Your success has inspired many women and many young entrepreneurs, not to mention those you invested in through BBC's Dragon's Den. Do you feel a responsibility to inspire? 
K.H: It's not that I feel a responsibility to inspire as such, but definitely I have a desire to encourage the next generation of entrepreneurs. With so much fresh talent emerging it is very important for me to mentor young people to think big and convert their biggest passions in life into business ventures. I try to offer as much advice as I can on my social media channels, and have recently started running competitions on Instagram to win a live business advice session with me. More and more, I find I'm using the platform to connect with my followers and channel everything I've learned.
I-M: Alongside your career as an Interior Designer you have also written nine books, created an e-commerce business of affordable design products, and produced a range of jewellery and home products with QVC. Why such a wide range of businesses?
K.H: Why not? After more than forty years in the business of design, I love a new challenge. Everything I have done has happened organically and I've never put limits on anything. For me, one thing that became a priority was to expand my product range and make it accessible to a wider audience, which is why I launched kellyhoppen.com and my "K by Kelly Hoppen" collection with QVC.
I-M: You've just done a collaboration with Disney for Mickey Mouse's 90th anniversary. Wasn't it a bit daunting to 'play' with such an international and multigenerational icon? 
K.H: I wouldn't say it was daunting, just incredibly exciting – Mickey Mouse is one of the most loved and recognised characters in the world. For me, to be able to put my own spin on such an iconic image, was a true honour and I am very pleased with the outcome. The wallpapers and murals with Graham & Brown were released in September and have been very well received; I can't wait for the rugs with Essie and bedding with QVC to launch later this year.
I-M: Everybody in your family seems to be very successful… and very busy. When and how do you find time to be with your loved ones?
K.H: They are, and I'm so proud of them all. I always make time to see my family and close friends. It's the best way to unwind and have a good laugh! At the weekends I love to get away to the countryside to see my daughter and grandson. I became a "glammy" for the first time last year and it is like nothing else in the world, I just adore him. When I have some downtime, I love nothing more than jetting off on holiday with them all.
I-M: What would you like your legacy to be?
Professionally, I would like to be remembered as a pioneer in interior design and business. I'd love to be an example for young people who wish to become designers or entrepreneurs, so that they can achieve whatever they set out to be. I would hope my legacy would encourage people to constantly strive for more and believe that hard work and an innovative mindset can impact the world.
Personally, I would like to be remembered as somebody who was passionate and cared deeply about many things, and also someone who was always up for a good laugh and didn't take life too seriously!