You have to be a hi-fi snob to appreciate the gap between fanatical audiophiles and "normal" people. The latter are happy to enjoy their music in the low-fi bliss of tablets, smart phones and earbuds, wallowing in the convenience of streaming – all the world's music at the touch of an app. For hardcore music lovers, the ones who want to hear music which sounds real rather than canned, only hi-fi separates will do. Until recently, that has meant suffering the sacrifice of convenience.
Maidstone-based KEF, which is celebrating its 60th anniversary, knows that proper speakers are the only way you can approximate the sound of real music. Over the decades, the company has provided speakers for the BBC, and separate drive units – the woofers and tweeters about which hi-fi geeks enthuse – to more manufacturers than we can list. What it has never done is compromise, even with dinky "lifestyle" models like its wireless Muo, no larger than half a baguette. But how do you provide all the sound of a high-end system, with the freedoms afforded by wireless connectivity?
Whether old-school hi-fi hobbyists like it or not, wireless operation – where you simply walk into a room and the system instantly connects to your smart phone or tablet – is here to stay, and it is cherished by those who despise the thought of wires all over the place. But until recently, there's been a major issue with wireless connectivity. In short, the sound quality sucked.
The sleek speaker cabinets are finished in three matte finishes: Titanium Grey, Mineral White and Royal Blue, all of which feature tone-matched drive units.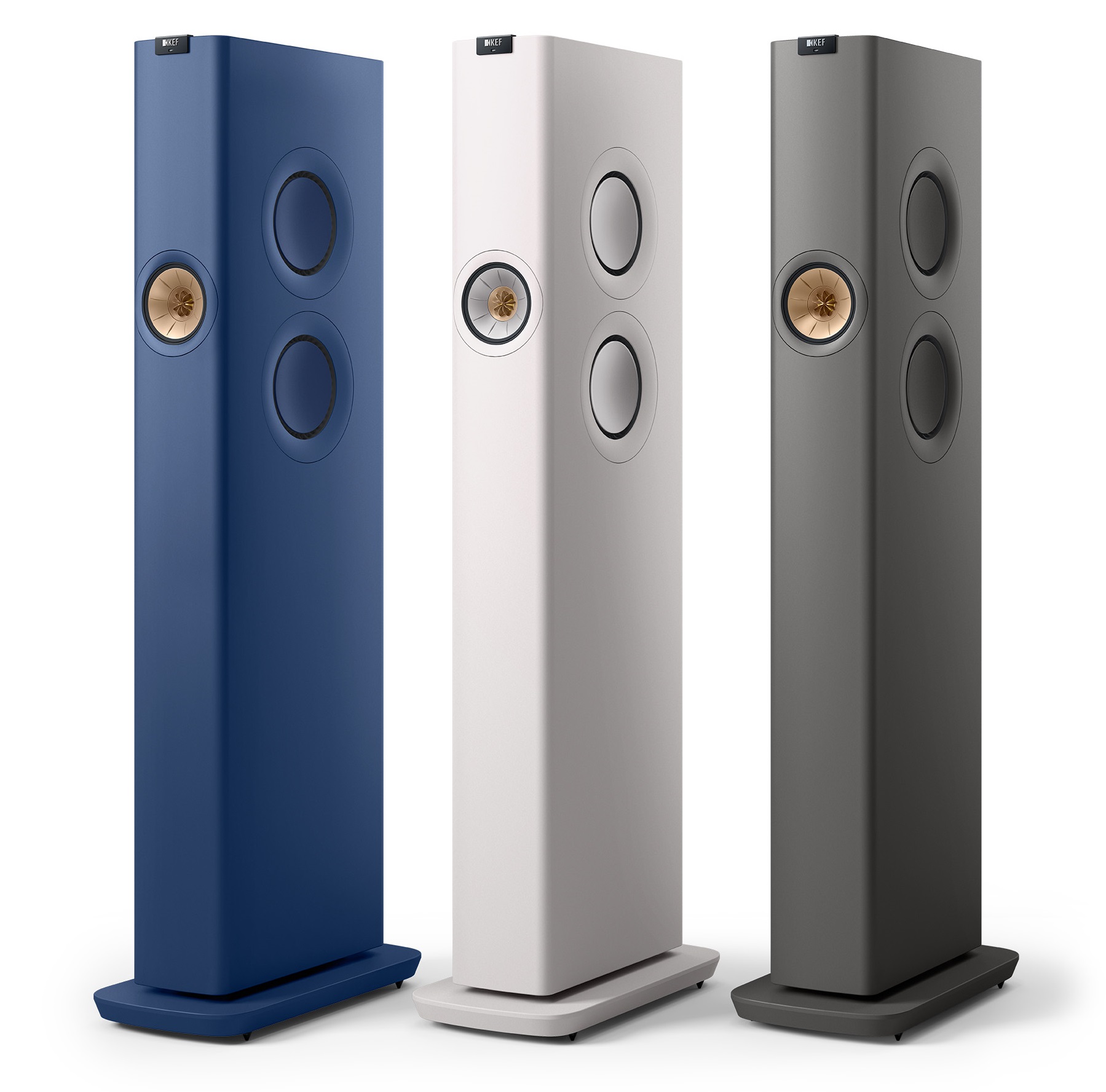 Driven by recent improvements to Wi-Fi, faster internet connectivity and the concomitant growth in voice operation – think of the spread of Alexa and Siri – KEF felt the time was right to apply true wireless operation to a no-compromise, floor-standing, audiophile-acceptable loudspeaker. With built-in amplifiers and immediate connectivity, though, the appeal to the no-cables generation is paramount.
To marry high-quality loudspeaker performance with wireless convenience, KEF has created what they term "the world's first Single Apparent Source wireless system." At its heart is the 12th generation Uni-Q loudspeaker. Among Uni-Q's strengths is the ability to focus the sound for the most convincing recreation of the musical space, crucial when listening to, say, a live performance recorded in a familiar concert hall. The latest version features the award-winning Metamaterial Absorption Technology, revolutionary Uni-Core bass drivers and other refinements.
Employing the W2 wireless platform, the LS60 also features a wide range of wired inputs – essential for any legacy equipment like CD players or high-end streamers with digital connections, as well as accommodating a turntable, games console or TV. Its main attraction, however, will be the out-of-the-box wireless compatibility, addressed through the clever KEF Connect app, which enables listeners to stream music and podcasts without fuss.
LS60 Wireless delivers robust, high quality streaming using any format you can imagine, thanks to the same class-leading W2 wireless platform KEF introduced on the LS50 Wireless II.
Unlike far too much hi-fi equipment, which can be so jarringly ugly as to upset domestic bliss, and with predecessors including the gorgeous Muon and Blade systems, the LS60 is svelte enough to merge with any décor. Its slim cabinet is offered in three elegant matte finishes: Titanium Grey, Mineral White and Royal Blue. Priced at £6,000 per pair, all you need to add is what you already have: a smart phone, smart TV, tablet, or anything else that deems wires as so last century.
The Geeky Bits
• Plays all major music services and supports all major audio formats
• Wireless both from source and between the speakers
• Comprehensive connectivity including WiFi, Bluetooth 5.0, HDMI eARC, optical, coaxial, RCA
• Works with Apple Airplay and Google Chromecast
• Personalised listening experience via the KEF Connect app
• Single Apparent Source technology for coherent, immersive sound
• 12th Generation Uni-Q with Metamaterial Absorption Technology (MATTM) for
exceptional acoustic accuracy
• 4 x 5.25″ Uni-Core force-cancelling drivers to maximise bass performance
• Music Integrity Engine for rich, full-bodied sound
• PCM up to 24bit/384kHz, DSD and MQA
• System power of 1400W with dedicated amplifiers for HF, MF and LF