By Lavinia Dickson-Robinson
The Christmas season is the best time to inspire people's imagination to acquire a lifetime gift for their beloved. In the last few years, the world of watches has risen to even dizzier heights with the introduction of unusual and innovative materials, such as graphene, ceramic, bronze and even carbon fibre!  This, together with more advance complications and expert craftmanship than ever before, is giving haute-horlogerie a whole new meaning.  Immaculate timing one could say.
Christopher Ward's C60 Trident Bronze Ombré COSC Limited Edition
The new watch is the latest addition to Christopher Ward's growing Bronze Collection which also includes the C60 Trident Bronze Pro 600 (available in 38mm and 43mm), the C60 Trident Bronze GMT 600 Limited Edition, and the C65 Trident Bronze SH21 Limited Edition.
Since the brand's first bronze timepiece in November 2017, Christopher Ward has seen tremendous success with its collection of bronze watches. The increasing popularity of bronze may have to do with its retro allure, and the authentic and rugged look that it gives to watches,
in stark contrast to the high-tech materials that are used in modern watchmaking.
The feature that makes bronze watches so special is that once bronze is exposed to atmospheric moisture, it develops a matte, corrosion-resistant coating, known as a patina. The patina of bronze is loved by watch owners for its thrillingly personal visual effects, as the patination process gives each timepiece its own unique appearance. Limited to just 300 pieces. £995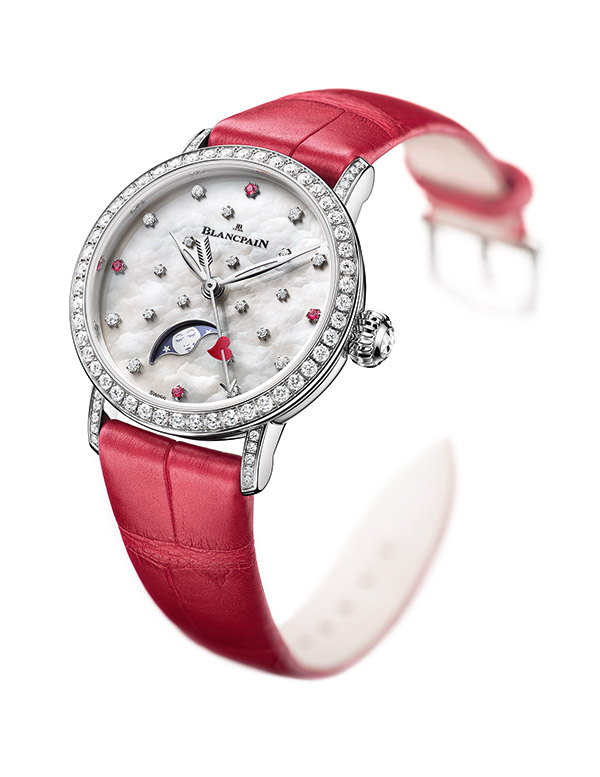 The totally ravishing Villeret Mouches Ruby by Blancpain will be on any woman's wish list this Christmas.  This utterly magical timepiece comes in a limited edition of just 99, all of which will be individually numbered.  If I was lucky enough to wake up on Christmas Day and found this under my tree I would be twirling round the room well into next year.
Artisitcally crafted with a mother of pearl face as the sky sprinkled with nineteen brilliant cut diamonds and four rubies.  To enable for the diamonds and rubies to be secured a metal base is used for the face and a "star Cutting technique used." If that wasn't enough, an exquisite sapphire crescent moon is at 6'clock at a gentle sloping angle. Its face is obviously feminine with its little coquettish smile as if its flirting with you.  There is a reason for that.  It is a little nod to history. A mouche was worn by the ladies of the French court in the 1880s as little beauty spots.  Its meaning and message depended on where the mouche was placed, and was a way to send messages to their amours.
The moon phase is a horological complication that had almost vanished from the scene until Blancpain reintroduced it in the early 1980s, and it has become a symbol for their watches. The depiction of the lunar cycle on the dial of this watch evokes the ancestral ties between watchmaking and astronomy.
At the heart of this model beats the self-winding 913 L movement, equipped with a glucydur balance wheel fitted with gold micrometric regulating screws and a balance spring in silicon. This material recently introduced within the watch industry offers several important advantages. Firstly, its low density makes it lighter and thus more shock-resistant. In addition, it is impervious to magnetic fields. The resulting balance spring is ideally shaped, thereby ensuring improved isochronism performance of the movement and resulting in enhanced timekeeping precision. £12,340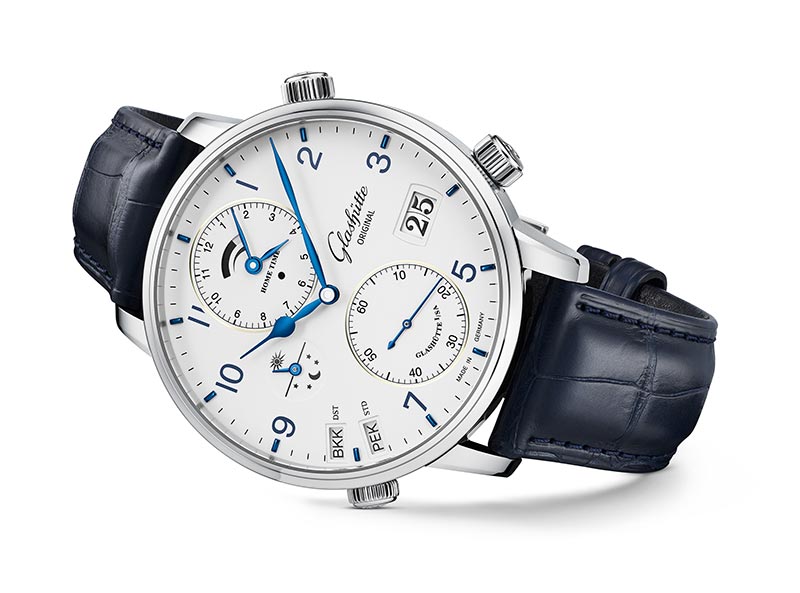 Senator Cosmopolite by Glashütte Original
Multi-facetted and borderless, the Senator Cosmopolite by Glashütte Original. As richly facetted as an ice crystal, the Senator Cosmopolite proves the perfect timepiece for every journey. The watch represents uncompromising precision, wherever you may be in the world. Its sophisticated mechanics display the time of day in two time zones at once – taking Standard and Daylight-Saving Time into account.
At its heart is the manufactory's 89-02 automatic movement, a 4-Hz masterpiece assembled by hand from more than 400 individual components, with an off-centre rotor and a 72-hour power reserve.  This year's new stainless-steel model with dark blue Louisiana alligator leather strap is the latest version to join the Senator Cosmopolite line, which debuted in 2015. Executed in the characteristic style of Glashütte Original, the clear design is reduced to its most essential elements.
Wintry colours – dark blue and white with detail accents in black – determine the overall look of the watch. An auxiliary dial framed in silver at 12 o'clock presents the home time and integrated power reserve. The characteristic Glashütte Original Panorama Date is at 4 o'clock, while two narrow windows at 8 o'clock are set harmoniously within the curve of the dial.
They use IATA international airport codes in three colours to indicate the traveller's destination. The 24 time zones that deviate from GMT by a full hour are each represented by an IATA code in black; an additional 8 with half-hour deviations present codes in blue, and the remaining three, each with a three-quarter hour offset from GMT, show an IATA code in red. Positioned at 9 o'clock is the newly designed day/night display with a small sun and stylised starry night sky. £16,100
PanoMatic Luna
The sparkling PanoMatic Luna, also by Glashütte Original, is another heavenly watch to be added to this Christmas's wish list. Its details are so ice-like with its mother of-pearl dial, which resembles a frozen lake mirroring the clear winter sky. Its many exquisite features only add to the PanoMatic Luna's fascination. The beguiling, shimmering face of the watch is the product of elaborate hand-crafting in Glashütte Original's own in house dial manufactory in Pforzheim, Germany. The Panorama Date at 4 o'clock and the intriguing moon phase at 2 o'clock, in which a diamond-cut silvery moon and stars shine from the night sky, also reveal the hand of the artist. The big date, although a characteristic feature of Glashütte Original, remains a rarity in a mechanical ladies' watch.
83 diamonds totalling 1.09 carats lend the PanoMatic Luna the brilliance of ice crystals in the winter sun. Precisely 64 white brilliant-cut diamonds adorn the finely polished, 39.4-mm stainless steel case. An additional 18 brilliant-cut diamonds on the dial's rod indexes take up this brilliance in an elegant fashion. The glittering ensemble is topped off by a large, 3 mm brilliant-cut diamond on the winding crown. A light blue Louisiana alligator leather strap with pin buckle echoes the heavenly blue of the dial and rounds off the timepiece, which features the manufactory's 90-12 automatic movement, with subtle grace. £13,500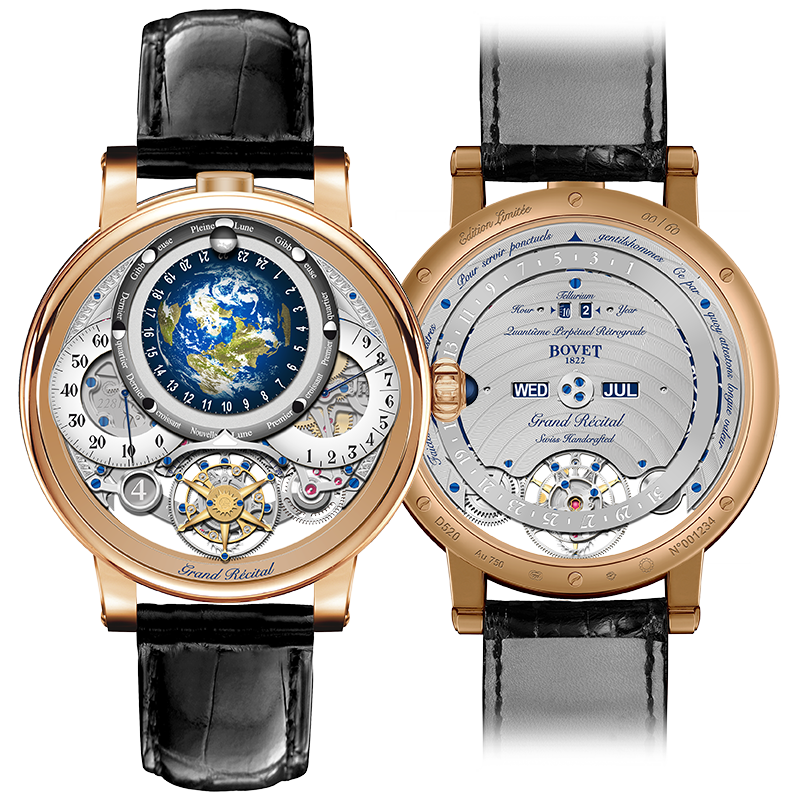 Bovet Recital 22 Grand Recital
Declard by the jury of the GPHG "the greatest watch in the world," this celestial time piece dazzled us at the recent Salon QP. The Récital 22 Grand Récital tourbillon forms the third chapter in the poetic watchmaking narrative begun by Pascal Raffy and the Maison's artisans two years ago. Together, they now invite us to observe the three heavenly bodies that set the pace of our lives: the sun, earth, and moon.
This grand astronomical theater has been presented by BOVET in a Tellurium-Orrery, with the sun represented by the flying tourbillon, whose carriage bridge evokes fiery rays. The striking hemispherical earth rotates on its own axis and shows the hours on a natural 24-hour cycle. Finally, a spherical moon orbits the earth according to the exact length of its synodic period, i.e. 29.53 days. £386,700
Vertex MP45
Vertex debuted a new mono-pusher chronographer at SalonQP, based on a watch originally commissioned by the Ministry of Defence in 1945 and developed in partnership with Lemania. The first iteration of Vertex was unable to deliver that watch because of post-war restrictions on how many movements it could import, but 75 years later, current CEO Don Cochrane,
Vertex debuted a new mono-pusher chronographer at SalonQP, based on a watch originally commissioned by the Ministry of Defence in 1945 and developed in partnership with Lemania. The first iteration of Vertex was unable to deliver that watch because of post-war restrictions on how many movements it could import, but 75 years later, current CEO Don Cochrane, great grandson of founder Claude Lyons, has made it happen, with a brand new movement by Sellita (SW510MP). The timing Chronograph will be available as either a manual or as an automatic (both limited to 200 pieces). £3,750.