(Opening photo by © Dan Kennedy)
Katie Piper was a normal girl living in a normal town in Hampshire when suddenly, one day in 2008, her life changed forever. Her ex-boyfriend, Danny Lynch, orchestrated an attack in which sulphuric acid was thrown at her face and almost killed her.
Although Katie survived, the severity of the burns meant she had to be placed into an induced coma for 12 days and undergo more than 250 operations to restore her face and vision. For the aspiring young model and actress, the world as she knew it had come to an end.
However, thanks to her courage and determination and the love of her family, Katie overcame all the obstacles in her path and today, 11 years after that heinous attack, she is a leading campaigner for burns victims and mental health awareness, has a successful media career, is the author of nine books and the proud mother of two beautiful girls.
Just a few days after her 36th birthday, Katie was interviewed by our Editor Julia Pasarón. She spoke about her inspirational journey, the dangers of social media and how she believes in living in the present.
I-M: In 2009, you founded the Katie Piper Foundation for people affected by burns and desfigurement, of which Simon Cowell and the surgeon that treated you through your recovery, Dr Mohammad Ali Jawad, are patrons. What have been the main achievements of the Foundation so far?
K.P: We've gone through so many stages of growth over the past decade. One of our initial objectives was to set up a rehabilitation centre for burns survivors in the UK. We're so proud that we have achieved our goal, with the Katie Piper Foundation Rehabilitation Centre opening earlier this year.
We have patients staying there and being treated, which is just amazing. Having walked that journey myself, I felt strongly about what was needed in the UK, and I wanted to help people in a similar position. I've met so many doctors and fundraisers along the way who also felt the same, and we have built a team that really believes in our patients. It's wonderful.
I-M: How is the foundation evolving towards the future?
K.P: It was such a big milestone to open the rehabilitation centre, but we haven't stopped there – we are continuing to fundraise to ensure that the dream stays alive and we carry on supporting burns survivors across the UK.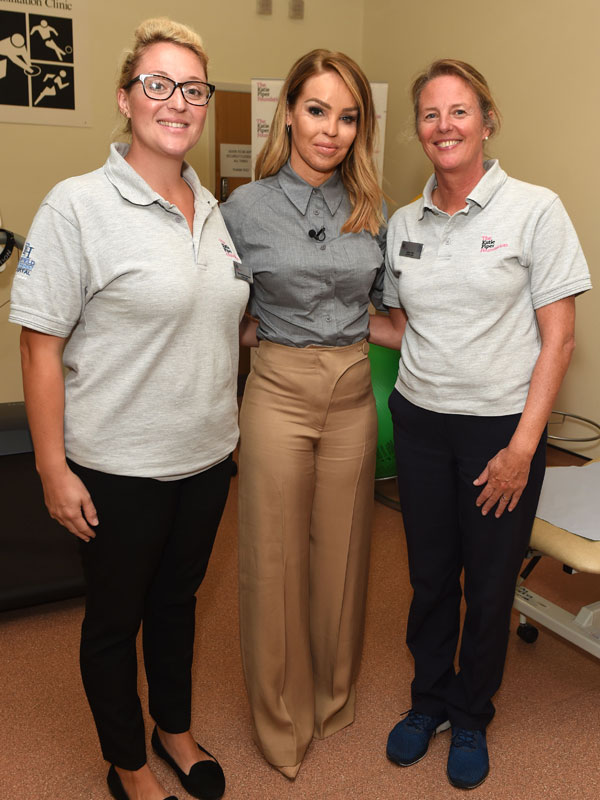 I think it's important for people to be able to discuss openly both the good and the bad, and the world has become more accepting of that in recent years.
I-M: Most of your career on TV has been focused on very hard issues related in one way or another to physical disfigurement. Do you think that your personal experi- ence gives you a special angle with which to approach these matters?
K.P: I think it can give you a certain level of understanding, but everyone's experiences are totally unique, so you can never fully put yourself in someone else's shoes. I also feel it's important to stay factual and not just project your own emotions, which can skew the viewer's opinion – I want to be informative and allow people to form their own opinions.
I-M: What are the current TV projects in which you are involved?
K.P: I am always filming on new projects, but as is the nature with a lot my work, I cannot let you in on them just yet!
I-M: We strongly support gender equality at I-M. Media in general are getting better. However, there is still room for improvement. How do you think equality could be encouraged across the board?
K.P: I think it starts with the younger generation, so more people are educated and empowered by knowing that there are opportunities out there for them if they can work.
I also think it's amazing that nowadays there are such strong role models for young girls to look up to. Just look at the likes of Holly Willoughby and Emma Willis – if I can be even a small part of that, then I'm grateful.
I-M: You have written nine books so far, most of them self-help volumes. Is writing a cathartic experience for you?
K.P: I guess I'm quite old-fashioned in this digital age, and I just love the simplicity of putting pen to paper. For me, writing can almost be a type of therapy – I find getting my thoughts and feelings out of my head and on to a page can help me rationalise any negativity and keep me focused. My most recent book is Confidence: The Journal, which was released earlier this year. I am a huge fan of journaling and find being able to reflect on my day a useful tool.