My lack of coordination is alarming. I haven't ridden a bicycle in years and, despite the apparent assurance that once you learn you never forget, I'm seriously struggling to travel more than a few metres before I have to anchor myself with my toes. The pressure to glide effortlessly along these paths is heightened by the fact that every attempt to start pedalling is watched by a group of housekeepers – all of whom are thoroughly invested in my predicament. Their encouraging smiles are quite clearly laced with amusement, which quickly erupts into genuine joy as I find my balance, push off with one foot and, with a few wobbles, cycle past them. I'm grateful for their compassion but keep my hands tightly glued to the handlebars and don't return any of their happy waves and claps.
I'm staying at Jumby Bay. Sitting around 40km and a seven-minute boat ride from mainland Antigua, this is a resort that was started in the 1980s and has since become one of the world's most exclusive private islands. 300 acres of manicured lawns and palm-fringed beaches, the island is peppered with sea-side suites, villas, and permanent residences.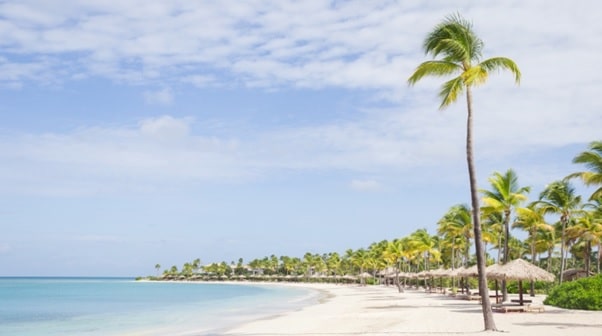 White powdered beaches fringed by palm trees are the common landscape in Jumby Bay.
In its former days, long before being taken over by the Oetker Collection, there was a more stringent process to booking a stay. Guests would have to fill in a lengthy form – apparently detailing everything from yearly income to level of interest from the paparazzi. Rumour has it that Princess Diana was turned away due to the latter and the risk of bringing too much attention to the other celebrities enjoying the island's hospitality. Despite how snooty this sounds, Jumby Bay instead recommended the quiet neighbouring island of Barbuda to the Royal, which became a favourite holiday spot for her and her children, and the reason behind the crescent shaped, strip of pink sand on the southern side of the island, named Diana Beach.
Find your own hammock in a quiet space and enjoy hours of undisturbed reading.
From Royals to Reality TV stars, a peek at Jumby Bay's Instagram reveals a throng of young famous faces. Social media sensations, young Hollywood starlets, strapping NFL players and their dewy-skinned girlfriends. These pictures are exactly how one would imagine an A-Lister to spend their holidays – crisp glasses of champagne are framed against turquoise seas, netted Prada beach bags positioned next to spicy margaritas, and there's always someone looking chic and lithe on a bicycle, which only adds to my insecurities about my own deeply unstylish and minimal abilities, and to my newfound theory that all rich people can ride a bike.
At Jumby Bay there is a complimentary fleet of bicycles available for guests to explore the island.
But these perfectly filtered shots don't tell you that behind the silver service and mildly intimidating wine list, the lofty suites and plunge pools, the seared tuna poké bowls and gleaming dollops of caviar, there are many things about the private island that are simple, pure, and almost nostalgic.
Now, I certainly didn't spend my childhood holidaying on places like this, but there's a magic about Jumby Bay that unearths the same emotions as family summers from decades before.
Nothing soothes the soul like a sunset on the beach. At Jumby Bay, the sky and water seem to turn pure gold.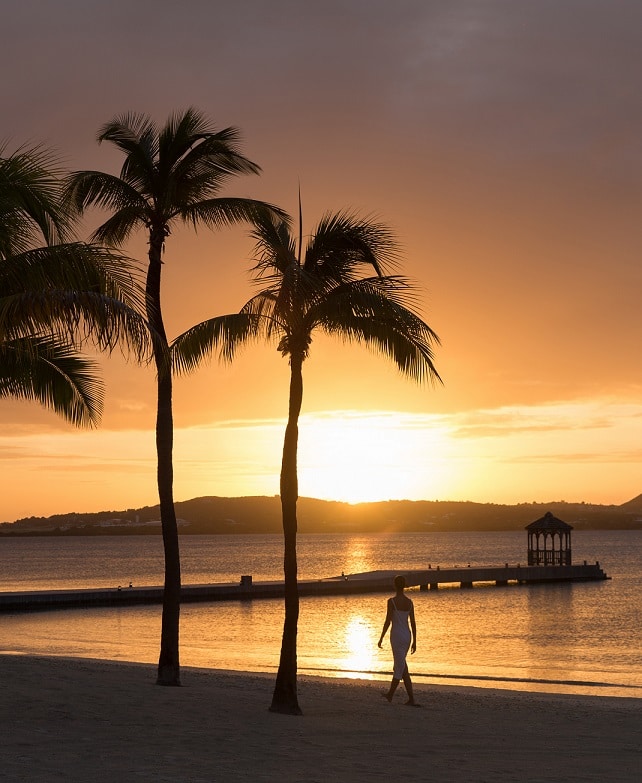 Each morning is spent wide eyed at breakfast, taking in glossy pastries, bowls of mango, baby bananas, dragon fruit, and iced coffees punctuated with candy-striped straws. There's a farm with a kitchen garden: Peter-Rabbit-style rows of beans and tomatoes, fat watermelons sitting alongside misshapen aubergines. Cycling around the island is an adventure past flocks of sheep, over bridges, through pretty gardens, to secret beaches. Afternoons are lazy – swimming and diving off pontoons leaving a familiar feeling of sunkissed lethargy and a towel-wrapped nap in the shade. Each evening, high-heels are hooked onto handlebars and dinner is reached via a bare-foot cycle across the sand. When it's time to sleep, the gigantic beds and egg-shaped bathtubs quite literally make one feel tiny again – a more luxurious feeling than whatever impressive thread count the sheets might be.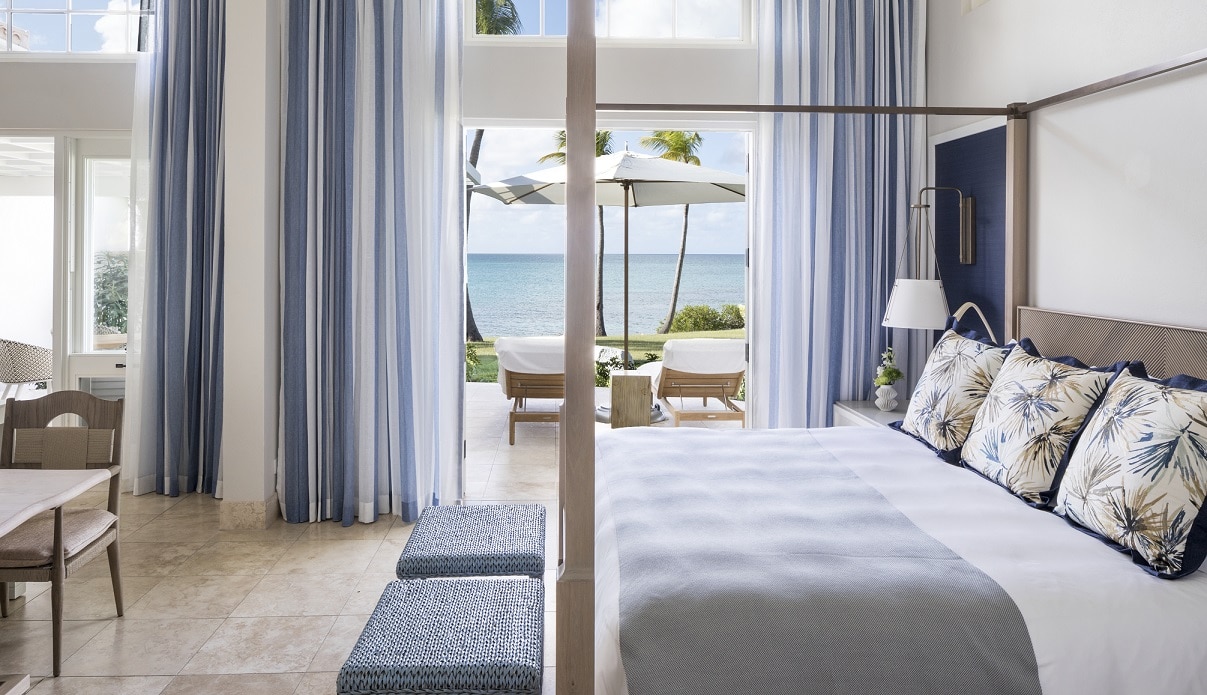 The Beachside Suites are decorated with tropical touches, offering magnificent vaulted ceilings and a sitting area.
With each day navigating between sun-drenched mornings and cathartic tropical downpours, there's no need to plan, to take charge. There is a childish comfort in knowing the island makes the decisions. Moving between the warm embrace of the sun and the soothing rhythm of afternoon rain is the backdrop to each discovery and every new adventure.
Jumby Bay is home to the Hawksbill Turtle Project, the longest running privately funded project of its kind.
It can be disconcerting when faced with a collision of pure glamour along with all the simple things in life that, as a Londoner and an adult, you forget you need. I wonder if the transition from stressed out city-girl to beachy haired doe-eyed layabout will be more seamless next time. Perhaps my shoulders will drop faster, my brow unfurrow, my muted sartorial choices replaced with a suitcase of pastels and prints. I'll know to order the coconut mint smoothie without even having to glance at the menu. Perhaps I'll order two. Not a minute wasted adjusting to island time – my mind and body will already be poised for a stretch of lazy days bookended with snorkelling and sundowners. Every dip in the ocean and every wave buffing away the London shaped chip on my shoulder. I'll be an expert at relaxation. After all, it's easy once you know how. It's just like riding a bike.
Words: Emily Charlotte Olsen