One of the most beautiful smiles in Hollywood, Julia Roberts jumped to stardom after her role as Vivian in the blockbuster romantic comedy from 1990, Pretty Woman. In a career that expands over more than three decades, she has won three Golden Globe Awards and an Oscar for Best Actress in the year 2000 for her performance in Erin Brockovich.  
Roberts was the highest-paid actress in the world throughout most of the 1990s and in the first half of the 2000s. As of 2020, Roberts's net worth was estimated to be $250 million. People magazine has named her the most beautiful woman in the world a record five times. Not bad for a girl born in a small town in Georgia who as a kid, dreamt of becoming a vet.
She debuted on the big screen in 1988, in the film Satisfaction, along with Liam Neeson and Justine Bateman but it was her performance in Mystic Pizza (also in 1988) that brought her critical acclaim. In 1989, she was featured in Steel Magnolias as a young bride with diabetes and received both her first Academy Award nomination (Best Supporting Actress) and first Golden Globe Award win (Best Supporting Actress in a Motion Picture) for her performance. The prolific actress has taken part in more than 50 cinema films besides appearing in several television films and series, including the grand-finale of Miami Vice and the 2018 Homecoming, an American psychological thriller based on the Gimlet Media podcast of the same name created by Eli Horowitz and Micah Bloomberg.
Julia Roberts won Best Actress at the Academy Awards in 2000 for her performance as Erin Brockovich.
She is happily married to cinematographer husband Daniel Moder since 2002, with whom she has three children – twins Hazel and Phinnaeus (16 years old), and Henry (13).
Far from slowing down, Julia is as busy as always. In early March she flew with her family to Sydney to start filming the political thriller Gaslit, alongside Sean Penn and Joel Edgerton. Gaslit is based on Slate's Slow Burn podcast, a modern take on the 1970s Watergate scandal, focusing on untold stories and forgotten characters of the time, from Nixon's opportunistic subordinates, to the deranged zealots aiding and abetting their crimes, to the tragic whistle-blowers who would eventually bring the whole rotten enterprise crashing down. Julia plays Martha Mitchell, a celebrity Arkansan socialite and wife to Nixon's loyal Attorney General, John Mitchell (Sean Penn). Despite her party affiliation, she's the first person to publicly sound the alarm on Nixon's involvement in Watergate, causing both the Presidency and her personal life to unravel.
Also in Australia later this year, Julia will be filming Ticket to Paradise with George Clooney. They play a divorced couple who travel to Bali to stop their daughter from getting married and in so, preventing her from making the mistakes they made in their relationship. The motion picture is set to release in September 2022.
Julia Roberts with Private 1st Class Sowell at Incirlik hospital (2001). ©Airman 1st Class Tanaya M. Harms
Despite her busy professional schedule, Julia has given lots of her time and resources to UNICEF as well as to other charitable organizations. In 2000, she narrated Silent Angels, a documentary about the neurodevelopmental disorder, Rett syndrome. In 2006, Julia became a spokeswoman for Earth Biofuels, as well as chair of the company's Advisory Board promoting the use of renewable fuels. She supported Gucci's "Chime for Change" campaign aimed at promoting female empowerment and in 2014, she was the voice of Mother Nature in a short film for Conservation International, intended to raise awareness about climate change.
In December 2001, she travelled with Ocean's Eleven co-stars George Clooney, Brad Pitt, Matt Damon and Andy Garcia to Turkey, to the Incirlik Air Base, to show their support for U.S. and coalition troops serving overseas.
Considered by many the epitome of an American sweet-heart, Julia was chosen by Lancôme to be the face of the brand back in 2009. Her famous long legs made her the perfect ambassador for hosiery company Calzedonia in 2015. This year, she lent her image to Swiss jeweller and watchmaker Chopard, for the launch of two new limited editions of their celebrated Happy Sport watch.
"The idea of responsible luxury is something that not enough brands pay attention to."
When the innovative timepiece was first brought to market in 1993, Chopard Co-President Caroline Scheufele explained, "I wanted a watch that I could wear all day long: at the gym, in the office or for a dinner in town." With its "dancing" diamonds on the dial and its "pebble-link' bracelet, the watch became an instant success.
The new "Happy Sport the First" comes in a series of 1,993 watches (as in the year the collection was first launched) and a further 788-piece limited edition, graced with a diamond-set bezel and a textured mother-of-pearl dial. Innovations include a new case in Lucent Steel A223 redesigned in a 33 mm diameter inspired by the principles of the golden ratio, as well as the Manufacture Chopard 09.01-C movement with automatic winding and 42-hour power reserve.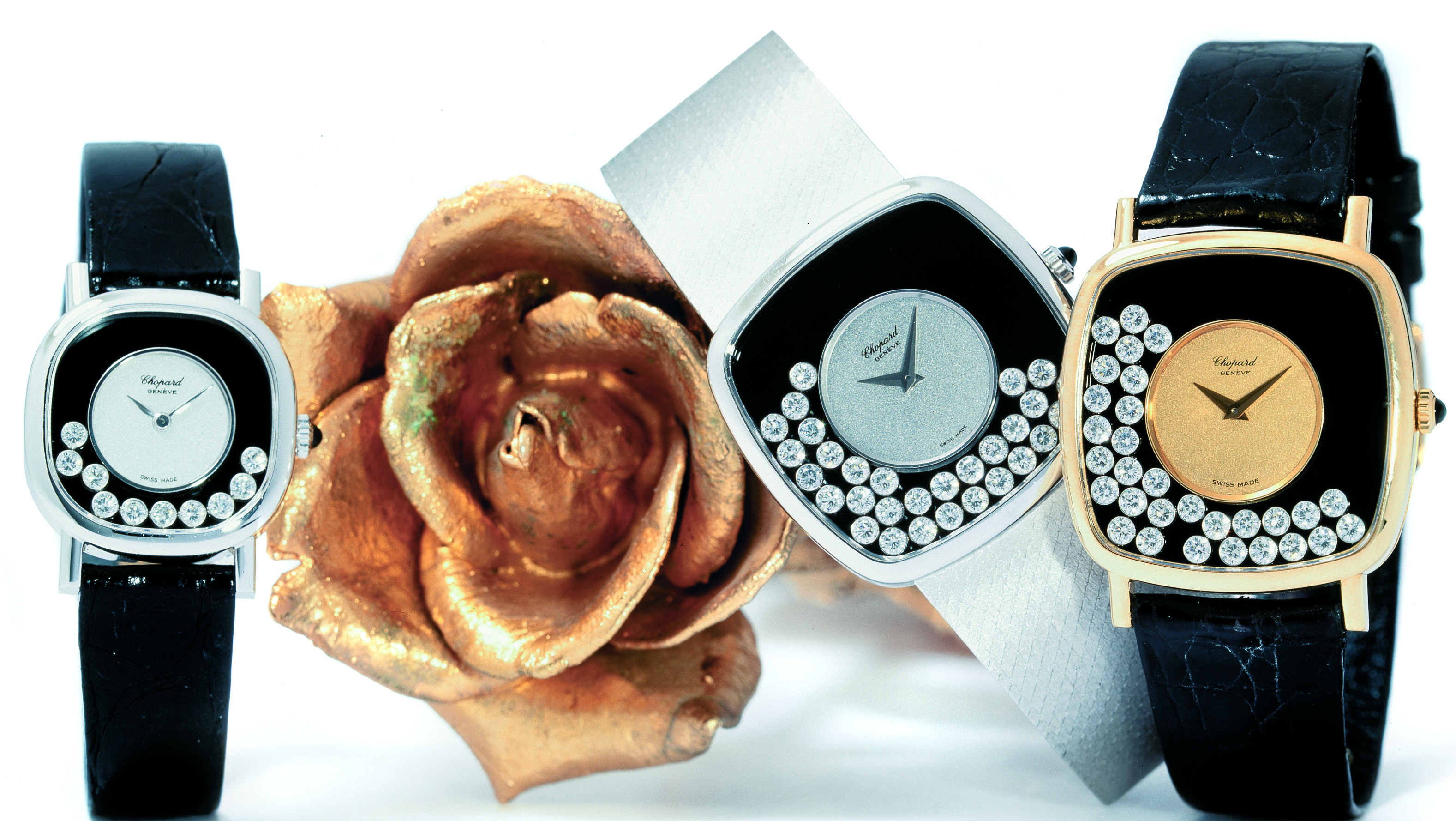 Original Chopard Happy Diamonds watch collections from the 1970s.
Invented by Chopard in 1976, the dancing diamonds adorning the Happy Sport watch collection constitute a technical feat that only a few artisans can achieve, ensuring that each diamond in its spinning- top capsule is arranged in such a way that they "dance" around the dial.
Firmly committed to sustainable luxury, Chopard uses particularly innovative steel for the case of these two new "Happy Sport the First" series. Lucent Steel A223 is an alloy that combines anti-allergenic virtues with the brightness and sturdiness of ordinary steel. It is 70% made from recycled metals in a state-of-the-art workshop located in Austria, thereby limiting the carbon footprint relating to shipping materials to Chopard's Swiss workshops.
The new "Happy Sport the First" 788 is graced with a diamond-set bezel and a textured mother-of-pearl dial.
To celebrate the release of "Happy Sport the First", Julia Roberts speaks about what happiness means to her and her affinity with Happy Sports and Chopard.
I-M : What makes you instantly happy ?
J.R :  The sunrise. Instantly is very specific…
I-M: A movie that makes you happy?
J.R: The Philadelphia Story is a movie that makes me happy, to think about or to watch.
I-M: Which are your favourite qualities in a woman?
J.R: Depth, soulfulness and just a real personal strength.
I-M: Your greatest extravagance?
I-M: What makes you laugh?
J.R: Cleverness; not so much things that are funny, but things that are clever: a thoughtful thread to humour.
I-M: When you think of dancing diamonds, what do they evoke to you?
J.R: Perhaps the idea that something is going to happen!
Dancing diamonds evoke in Julia the idea that something is about to happen.
I-M: How does your Happy Sport watch make you feel?
J.R: There is something about having a watch and every time you look at it seeing all these sparkling diamonds whirling around; it's pretty awesome and truly good stuff.
I-M: What do you think being a free-spirited woman means today?
J.R: Being comfortable in your convictions and sharing your convictions with those around you. Not all women have those liberties and I am very grateful that I have them.
I-M: How important to you is responsible luxury?
J.R: I would say that the idea of responsible luxury is something that not enough brands pay attention to. The thing with a Maison like Chopard is that it has really pioneered the idea of having a conscience, leading the charge and setting an example for other brands to follow.
I-M: What is so special about Chopard?
J.R: Chopard just represents this timeless idea of elegance and sparkle and being ladylike. You kind of think: "When I grow up I want to be having a great time and wearing watches and earrings by Chopard"… and now look at me, I'm all grown up!
I-M: Your favourite motto? 
J.R: The motto that I repeat the most is "no way out but through".
I-M: What's your present state of mind?
J.R: I am really happy right now; it's been such a beautiful day and I have felt such a really great sense of kinship that I had not expected today, so I'm super happy.