One of Scotland's most enduringly popular artists of the 20th century, Joan Eardley became famous for her portraiture of street children in Glasgow and for her landscapes of the fishing village of Catterline and surroundings on the North-East coast of Scotland.
Her artistic career had three distinct phases. The first was from 1940 when she enrolled at the Glasgow School of Art through to 1949 when she had a successful exhibition of paintings created while travelling in Italy. From 1950 to 1957, Eardley's work focused on the city of Glasgow and in particular the slum area of Townhead. In the late 1950s, while still living in Glasgow, she spent much time in Catterline before moving there permanently in 1961. During the last years of other life, seascapes and landscapes painted in and around Catterline dominated her work.  
An outsider to the mid-20th century male-dominated Scottish art world, Eardley frequently broke with tradition as a painter and in her personal life. Eardley's Glasgow, the innocence of childhood and the dignity of human spirit despite the challenges of urban life, are central themes of the exhibition. Also presented in this exhibition by the Scottish Gallery are her works from Catterline, where her powerfully physical and technically innovative works explore the wild coastal landscapes of Northeast Scotland.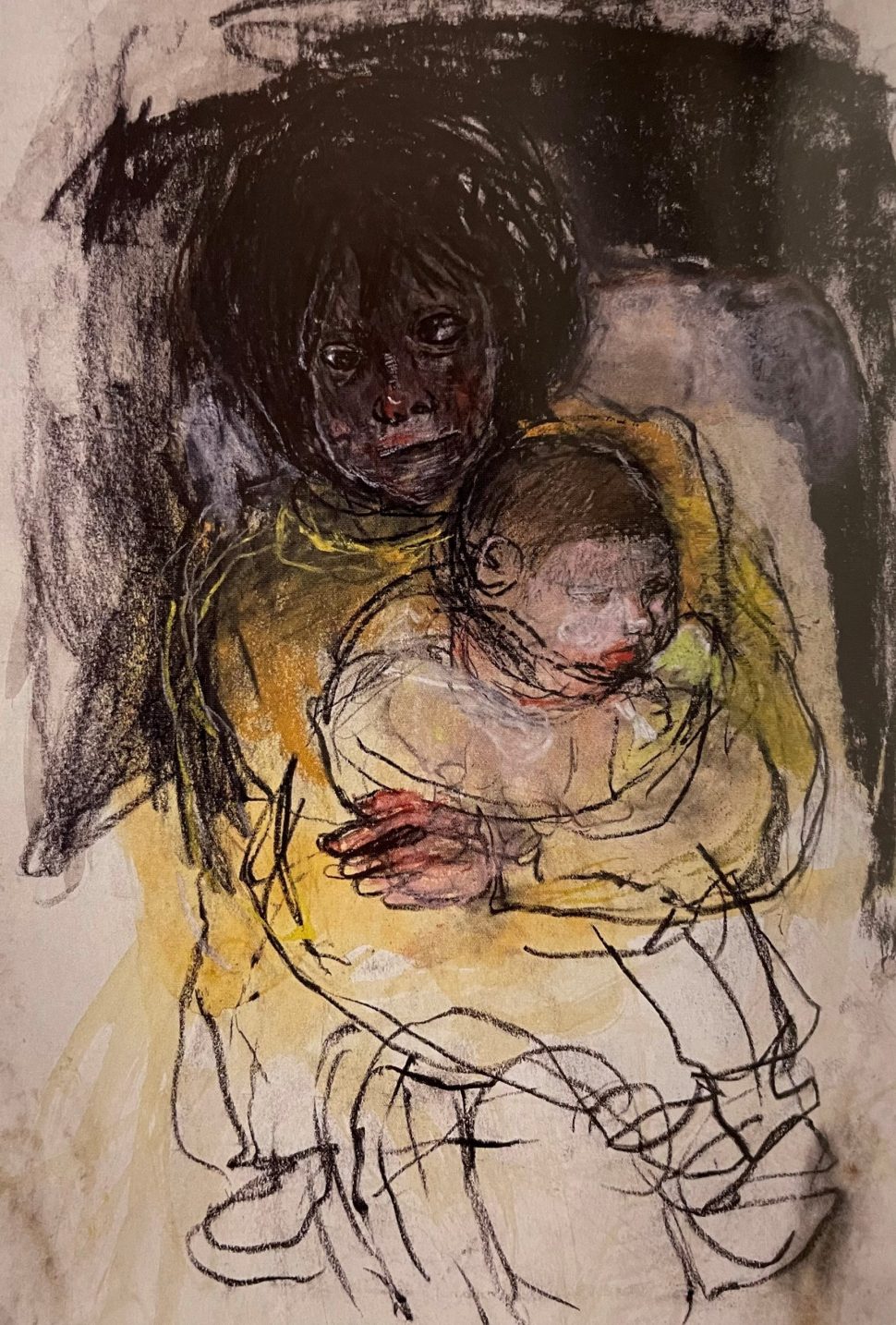 Joan Eardley became very popular for portraiture of street children in Townhead, Glasgow
Girl in Yellow Holding Baby, c. 1959-63, pastel drawing, 62.5 x 41.5 cm.
Unfortunately, Eardley's career was cut short by breast cancer but there is no doubt that she left an indelible mark in the country's art scene.
To accompany the exhibition The Scottish Gallery has created a beautiful, fully illustrated publication including a foreword by Anne Morrison-Hudson, the artist's niece and additional text and insight by Guy Peploe, Lachlan Goudie and Professor John Morrison. Joan Eardley Centenary is supported by a series of online events, films, tours and talks, including the unveiling of a new tapestry in honour of this centenary year created by Dovecot Studios.
The Scottish Gallery.16 Dundas St, Edinburgh EH3 6HZ
Friday 30th July – Saturday 28th August 2021
Joan Eardley Exhibition Tour with Tommy Zyw: Tuesday 3rd August 2021, 11 am.
Words: Lavinia Dickson-Robinson
Opening picture: Grey Beach and Sky, 1962, oil on board, 56 x 107.5 cm.
Pictures courtesy of The Scottish Gallery.