Confident, smart, and with a serious "can do" attitude, Jo Lewis leads the McLaren team responsible for Colour & Materials design across all their products, including Special Operations. She signs-off on everything from the shimmer of the paintwork to the texture of the steering wheel, the softness of the leather… even the colour of the fuel cap.
Her career journey began in textile design, graduating from Central St Martins and Royal College of Arts in 2007, then working in various roles within design industries including Stella McCartney; TWI in Cambridge (a company dedicated to the ultrasonic welding of textiles), followed by the leap into automotive design in 2010, working with JLR and Lotus before joining McLaren in 2016.
Over the last four years, Jo has developed, implemented new CMD processes for 11 McLaren products, with particular focus on redefining "the pinnacle" of Colour & Materials through the customer journey for McLaren's ultimate series: the Hyper-GT Speedtail. With this project, Jo has been first to market with unique and innovative materials design, as well as increasing the opportunity for truly bespoke customisation to a level never seen before at McLaren.
In 2017, Jo was proud to be awarded the winner of the Autocar Women Designer of the year award.
Our Editor Julia Pasarón had the chance to interview Jo at the McLaren mothership in Woking, a spectacular building design by Foster + Partners, considered a benchmark in industrial architecture.
I-M: In the 10 years you've been working in automotive, how have you seen developing the importance of details like textiles, materials and finishes, considering how male oriented this sector has traditionally been?
J.L: The approach to design in the sector has changed a lot in the last decade and become much more emotive. It's not just buying a car anymore. Each brand has a slightly different approach but when you are buying a McLaren, it is definitely and emotional experience. When the customer meets their car for the first time, this is the moment when they can start to think about how they want to make it their own.
Everything you see, touch and feel in a McLaren car has been created, developed and defined by my team and I. So when a customer comes in with their personalisation request, I'll sit down with them and go over all the options and try to accommodate to any of their requests. I believe nowadays any kind of shopping or retail experience is about making it personal and giving the customer that kind of added edge.
Of course, it depends on what product you are going to buy but in something like the McLaren Speedtail, with a very small volume and super high price point, bespoke is at its pinnacle and as a designer that opens some really exciting opportunities to develop cutting edge ideas in terms of application of details, materials, colours…
I-M: McLaren started producing very basic road cars. How did things evolve from there to this moment, when customers can even choose cashmere for the seats?
J.L: It has been a very exciting journey. For example, the new GT family has opened a lot of opportunities for new approaches to what my team does, based on the new kind of customers we think the GT will bring to McLaren. We can get much more into the materiality as part of the emotional side of the purchase. We can talk about how beautiful the leather is, how it feels and smells, things like that.
Many of the ideas we have created could be brought to the GT family. If you compare the Speedtail to the Senna, it is obvious that the latter is stripped back, quite raw; it is about track driving and therefore the approach to materials is very different and gives me a different challenge. I actually see cars as characters, almost as people, and I can see what they're about and my job is to make sure their personalities stand out and are identifiable.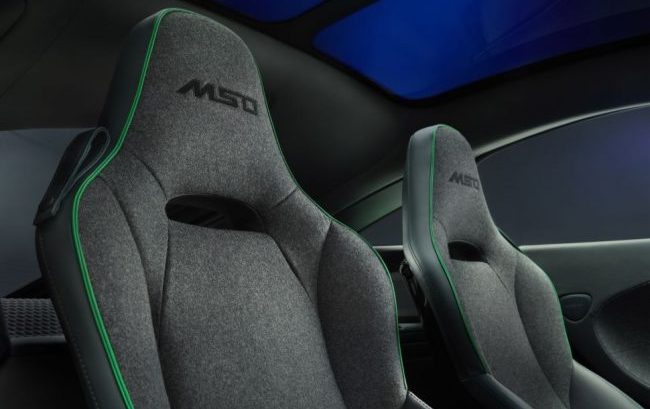 I-M: How does the differentiation by materials and finishes contribute to the personality of a particular car?
J.L: Every new project takes around three years from conception to launch. For each of them we try to challenge the norm, we try to create something that is unique and suits the car. Once I know where the product sits in the McLaren family and what we want to say with it, then it is time to choose the materials that will give it its character. The choice is influenced by many factors. For example in a higher volume car, we'll use different materials to those we offer in a Speedtail, but we always aim at giving the customer the best and most purposeful materials.
I-M: What is the balance between luxury and purpose? I guess that sometimes, the most luxurious material is not necessarily the most appropriate?
J.L: You are right. I think that is what's different at McLaren and it's something that I've never experienced in other roles. Here, we don't just go for the most beautiful or the most expensive, we also look for functionality. As an example, by carefully stripping layers off and rethinking how to apply it, we developed a very lightweight paint for the Senna (eight kilos lighter than the standard), giving the car an extra edge of functionality and performance. Whether I am designing for a track car or for a GT, I always start with a similar brief: reduce weight, improve performance. This can be a real challenge. How can we make carbon-fibre even lighter? What is the next technical textile lighter than Alcantara or any of the other materials we currently use?
In a way, with track cars, it's easier to work out what to put into them. The GT on the other hand was a great challenge because it was all about luxurious materials, but they still had to speak McLaren. For example, some of the lightest leathers we created were based on our most luxurious and we worked with our supplier to make them 30% lighter but still keeping the integrity of the material.
I-M: How close do you work with other departments at McLaren?
J.L: As we are a relatively small company, it is very easy to work with other departments and everybody has the same goal, from the engineers to the marketing team. Personally, I like to push the boundaries and challenge everything, so I have to negotiate a lot with other teams but the fact that we are all next door to each other definitely helps and makes everything much quicker. We are a closely-knit family and we have a great relationship between departments. I particularly love the brainstorming and the problem solving that goes on in the engineering departments. I find it really exciting. It's very different from being super creative.
I-M: In the decade you've been in the automotive industry, what are the things you've done that you're the proudest of?
J.L: I think the Speedtail. I know I talk about it a lot but this is a project that as a designer, you'd die to work on. On my first day at McLaren almost four years ago, I walked into the design studio at the time of the kick-off of the project. I went straight into a meeting –an executive review- and thought it was incredible.
Of course, it takes a long time from the concept design to the moment the car goes into production but it is all worth it. The level of detail, the amount of new materials… all the things that nobody else has done that we managed to put into this car, all of it makes me very proud. For example, the Speedtail features "Titanium Deposition Carbon Fibre", which is when a micron-thin layer of titanium is fused directly onto the weave and becomes an integral part of the carbon fibre's construction, as well as Thin-Ply Technology Carbon Fibre (TPT), which consists of countless 30 micron thick layers of carbon fibre.
There are still challenges ahead but I can confidently say that the Speedtail has been the pinnacle of my career so far and it has led me into lots of different areas of design and development that I would have probably never touched if it wasn't for the Speedtail.
I-M: In what direction do you think supercar design is going?
J.L: I think that in terms of materials, functionality is key as well as sustainability, a factor that we take very seriously here at McLaren. I certainly do when I talk to my suppliers. It may not be something that we outwardly promote, but as a designer and in the world that we live, we need to be more eco-conscious and I have no doubt that it will become increasingly prevalent in the future. There is also growing concern about sustainability on the side of the customer. I realise when I talk to them. For example, when we speak about leather, this is as traditional a material as you get, but vegan movements are pretty much against it. However, leather is a very resistant and sustainable product when produced and treated properly in which case energy can be generated from its production and fed back into the grid.
I like looking into the future, not just at what is round the corner. I like thinking of all the possibilities that will be open to us in 20-30 years and looking at the many interesting things that are happening now, like rapid prototype technology that allows the building of materials through different ways than traditional methods and how that can be applied to all kinds of things.
I-M: Have you ever reconsidered your choices?
J.L: A lot of it is a personal preference. Before we go into production we have a series of virtual prototypes built during what we call pre-production and it is in them that we try stuff out and if it doesn't work, we change it. As much as you can use digital visualisation these days, nothing compares with the reality of what material feels to the touch. A good example is when we use a new colour on a huge scale or a material applied on different surfaces, or even things like a reflection of if a certain stitch is in the right place. An interim prototype gives us the opportunity to adapt a design if necessary. So yes, things do not always work the way you want and I have had some whacky ideas that haven't always flown but I like to try.
Detail of the stitching on the seats of a McLaren.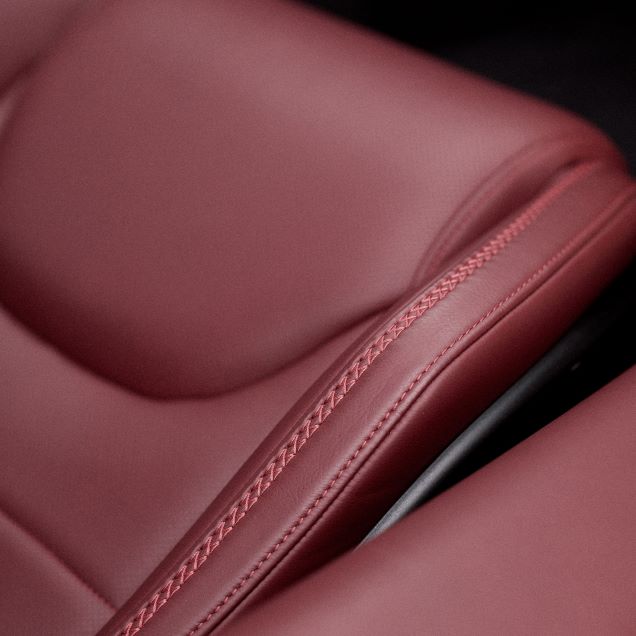 I-M: What if the whacky ideas come from the customer?
J.L: Most customers let us guide them but there are always some who are super creative and have some really crazy ideas that they want to try out and that's cool with us if we can make them happen, but there's always a limit. I remember a guy who wanted to trim the whole of the exterior with Alcantara leather.
Another passion of mine is people so I love the interaction with clients. Due to the nature of what we do, this is where customers get to put their own mark on the car and the process can be fascinating.
We have done many "firsts" here at McLaren, like interweaving TPT carbon fibre with gold, which is something normally only done by high-end watch brands like Richard Mille.
The 30-micron layers of TPT carbon fibre interwoven with gold or other crystallised material are then shaved down to 10 microns what creates a kind of wood-grain effect. This innovative material can be applied to different surfaces in the car, from the control panels to the paddles both sides of the steering wheel. We can add a polymer colour to it to create almost any tonality the client may desire. I call it carbon jewellery. In the Speedtail I wanted carbon fibre to look less "tracky", less raw and more "tailored suit" so with my background in textiles I went back to the drawing board. We changed the production method to make the fibres thinner, so we could have up to 1,000 strands per yarn and interweave it. The result is a much more refined and lighter material and effectively, the first-ever carbon fibre fabric. This gives clients the opportunity to have their names and signatures interwoven into the carbon.
We have also managed to apply a wool-cashmere blend to the interior of a GT. We actually work with the only British supplier, Abraham Moon & Sons, up in Leeds. They buy the raw product and weave it right into the end fabric.
I-M: What do you do in your spare time?
J.L: As a lover of all things Porsche, in my spare time, I enjoy driving my 1982 911 Porsche Targa: Guards red exterior with original black leather interior, a classic and sporty combination and amazingly fun to drive. His name is 'Arry' and I bought him after falling in love with a similar model at a classic car show. I recently added a 996 Carrera 4S Cabriolet to my collection called "Penny"; I think she is a classic in the making!
Based in Essex and living by the River Cam, ducks have become another passion of mine. Not happy with the standard drakes and mallards that wander around the garden, I decided to breed and rear my own more interesting varieties.
Opening picture: Jo Lewis photographed by Cat Garcia in a McLaren 425-SE.