Despite flight cancellations disrupting travel all over the world, most of us remain determined to make the best out of this new season of freedom. However, most of our travel apparel hasn't seen much action over the last two years and is probably looking awfully pre-COVID. Our editor Julia Pasarón is a seasoned globetrotter, so we asked her to share with us her most beloved travel essentials.
Travelling can be extremely wearing on your skin, so it is vital to keep it well moisturized, especially when flying. I usually apply Dr. Hauschka's Hydrating Cream Mask (£39.50 for 30ml) before the start of my journey. It is packed with nourishing almond, avocado, and jojoba oils that hydrate the outer layer of skin and rose wax to soothe and protect my face from the inclemency of frequent flying. Buy Here
This mask provides a significant moisture boost and is the perfect remedy if your skin is feeling dry, sensitive and in need of renewal.
Just before arriving to my destination, I use La Prairie's White Caviar Essence Extraordinaire (£346), an illuminating and firming lotion that leaves my face feeling refreshed, plumped and moisturised. Infused with Swiss Golden Caviar Extract and Swiss Golden Caviar Water and enhanced with La Prairie's Exclusive Cellular Complex, their signature age-defying ingredient, this essence will make your face look as if you had just come out of the spa instead of a grueling flight. Buy HERE.
White Caviar Essence Extraordinaire instantly hydrates and diminishes the appearance of age spots.
Last, a touch of No1 de Chanel lip and cheek balm (£38). Enriched with red camellia oil, this smooth and nourishing balm melts onto the skin, plumps the lips and cheeks, and adds a touch of colour. My favourite is Healthy Pink but there are other five shades available. Buy HERE.
No1 de Chanel lip and cheek balm offers concentrated hydration and comfort. Here shown in shade 1- Red Camellia.
As important as moisturizing is a good cleansing routine when on the move. I love La Mousse OFF/ON (£36), part of Dior's new skincare line: Les Démaquillants au Nymphéa Purifiant. The main ingredient is Water Lily extract, a plant capable of boosting its own endogenous detoxification path by 43 per cent. With this core ingredient, La Mousse OFF/ON eliminates impurities – including heavy metals and pollution residue, preserves the skin's pH and natural barrier while maintaining hydration. Buy HERE.
This facial cleanser combines the texture of a cream with the efficacy of a cleaning mousse.
I travel a lot for work, mostly short trips, and for these, I like packing as light as possible, and I like doing it in style. Working in collaboration with British luxury car and Formula One manufacturer McLaren, Tumi has created a range of super sleek luggage with McLaren's signature Papaya colourway and CCX6 carbon fibre accents. I take everywhere with me their Aero International Expandable 4 Wheel Carry-On (£1,245), made of super tough Tegris (a composite used in racing cars), the Halo Backpack (£645) – where I can fit everything I need for a whole day on the trot – and the Teron Travel kit (£235), which doubles up as a handbag and toiletries case. BUY HERE.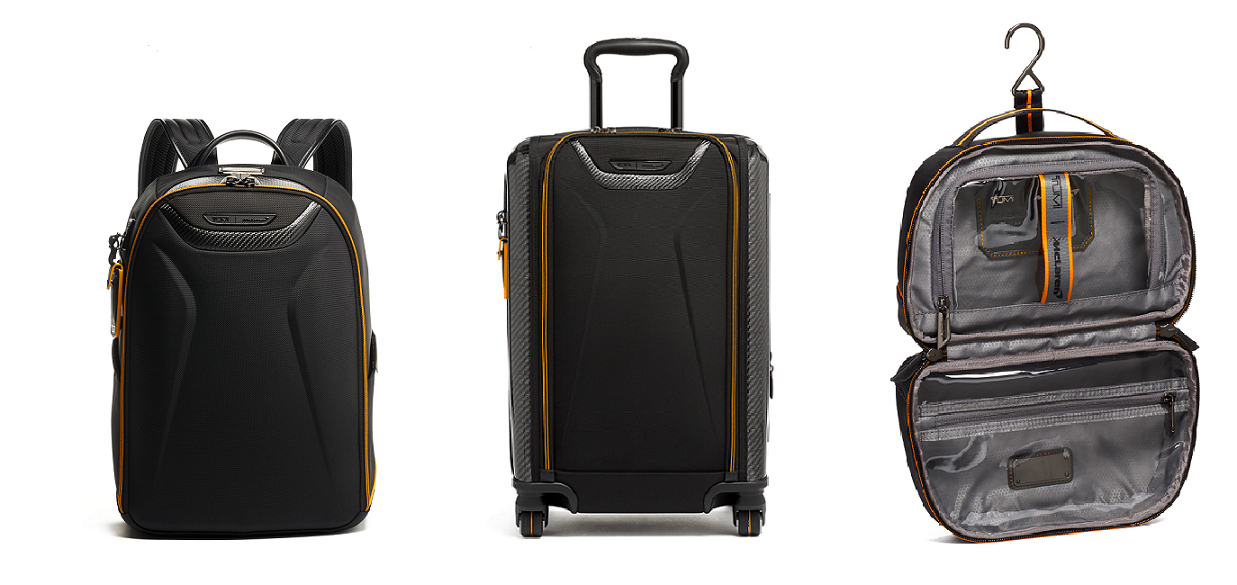 The luggage ranged developed by TUMI for McLaren is not only stylish but also as tough as one of McLaren Formula 1 cars.
If I am taking a proper holiday (two weeks), I know I am likely to indulge in some serious shopping, so it is time to use my full luggage allowance and take with me a couple of suitcases. I am loving Antler's Stamford set (£607): these hard-shell suitcases are light, resilient and super easy to manoeuvre, exactly the qualities I look for when choosing my luggage. You can add their Mini Crossbody (£49) instead of subjecting one of your designer bags to the hardships of travel. A cross between a clutch bag and a case, the Mini is perfect for popping in all those skincare travel basics mentioned above and other bits and pieces. It comes with a removable strap and two zipped compartments to prevent your things from spilling over. Buy HERE.
Antler's Stamford set is very easy to storage as each piece fits inside the next one up.
Opening picture by Dariusz Sanskowski for Pixabay