Boom for Real – Barbican Art Gallery, London
Until 28 January 2018
American artist Jean-Michel Basquiat (1960-1988) is, undoubtedly, THE painter of the post-punk generation. He came of age in the late 70s underground art scene in New York and first caught the media's attention at just 17 years of age, when he teamed up with his classmate Al Diaz to graffiti enigmatic poetic statements across the city under the collective pseudonym SAMO© (a contraction of 'same old shit'). Although graffiti was already very much around, it hadn't been yet connected to art, let alone identified as such.
A famously self-taught artist, in the studio, Basquiat used to surround himself with all kind of source material: books spread on the floor, pieces of paper, the sounds of the television or boom box… anything worth of his trademark catchphrase 'boom for real'. He would draw in his own blood, collage baseball cards and postcards and painting on clothing, architectural fragments and improvised canvases. Basquiat was indefatigable, his energy partially drug-induced, a habit that will eventually cost him his life.
He starred in the film New York Beat with Blondie's Debbie Harry (written by Glenn O'Brien and produced by Maripol), appeared in nine episodes of O'Brien's cult cable-television show TV Party, and performed in his experimental band Gray. He collaborated with other artists, most famously with Andy Warhol, with whom he was completely obsessed, and created murals and installations for notorious New York nightclubs including the Mudd Club and Area and Palladium. By 1982, he had gained international recognition and was the youngest ever artist to participate in Documenta 7 in Kassel. His vibrant, raw imagery, abounding with fragments of bold capitalised text, offers insights into both his encyclopaedic interests and his experience as a young black artist with no formal training. In 1983, he produced 'Beat Bop', a classic hip-hop record with K-Rob and Rammellzee.
Since his tragic death in 1988 of a heroin overdose, Basquiat has had remarkably little exposure in the UK; not a single work of his is held in a public collection. It may be because for many years after his death, his art lost appeal and recognition by the establishment. However, in the last decade his art has become highly desirable again, with many celebrities buying his work –John McEnroe, Johnny Depp and Leonardo di Caprio among many others- and his works going through the roof in auction. His painting Untitled (LA Painting, 1982) sold last May for £85million, the highest amount ever for an American artist at auction.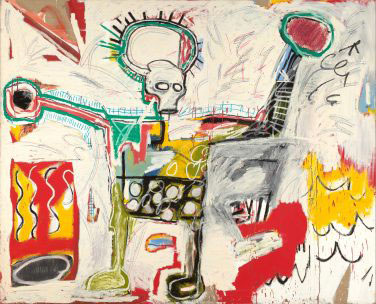 Boom for Real is the first large-scale exhibition in the UK of his work, with more than 100 works drawn from international museums and private collections around the world. This exhibition offers a real insight into the artist's relationship with music, writing, performance, film and television, placing him within the wider cultural context of the time. Paintings, drawings, notebooks and objects are presented alongside rare film, photography, music and archival material, capturing the range and dynamism of Basquiat's practice over the years. Jane Alison, Head of Visual Arts, Barbican, says "We are truly thrilled to be staging the first show on Basquiat in the UK in over 20 years. The creative brilliance and emotive power of Basquiat continues to have a huge impact and influence. This is a rare opportunity for visitors to see a body of some of his most famous and also little-known works in one place, and to see those works in the context of the New York scene of the 1980s."
Highlights of the Barbican's exhibition include a partial reconstruction of Basquiat's first body of exhibited work, made for Diego Cortez's watershed group show New York / New Wave at P.S.1 in February 1981. Fifteen works are brought together for the first time in over 35 years, allowing visitors to understand how Basquiat so quickly won the admiration of fellow artists and critics. The exhibition continues with an exploration of his energetic, often collaborative work as the prodigy of the downtown scene; from the birth of SAMO© to his relationship with Warhol, who he met after having the courage to sell him a postcard in SoHo in 1978 and with whom he made a series of collaborative paintings in 1984.
Downstairs, the exhibition goes through all these references, from early cinema to black cultural history to jazz. As the writer Gleen O'Brien wrote following Basquiat's death in 1988: "He ate up every image, every word, every bit of data that appeared in front of him and processed it all into a bebop cubist pop art cartoon gospel that synthesized the whole overload we lived under into something that made an astonishing new sense."
"Believe it or not, I can actually draw"
Jean-Michel Basquiat
Basquiat: Boom for Real is curated by the Barbican, London and organised in collaboration with the Schirn Kunsthalle Frankfurt.
The exhibition will be presented from 16 February to 27 May 2018 at Schirn Kunsthalle, Frankfurt.