Slowly but steadily watch brands have realised that women care about their wristwear. Gone are the days when you could just make a smaller version of your best-selling men's watch, stick a few diamonds on it and sell it to the ladies.
As women become increasingly independent and wealthy, take more space in boardrooms, on the screen, behind the cameras, in cockpits, operating theatres and courts of law, so they are developing a taste for luxury products previously considered mostly men's territory. Cars are a good example, watches is another.
This year's edition of Watches & Wonders saw an exciting parade of watches targeting informed – and deep pocketed – females. The new 40mm Hublot Classic Fusion Orlinski Alternative Pavé (£37,400) is a good place to start. Made of polished titanium with a white dial (also available in black), certain facets on the case, bezel and bracelet are adorned with 486 brilliant-cut diamonds, totalling a weight of 3.79 carats.
The new Hublot Classic Fusion Orlinski is powered by the self-winding HUB1100 movement, with 42h power reserve.
This new timepiece was only possible thanks to Richard Orlinski's unique sculpting skills (inspired by Pop-Art and neo-futuristic styles), and the expertise of Hublot's engineers, who made a watch with an extraordinary architecture, faceted in titanium and made of 83 parts. As a result, the chamfered forms in this new integrated bracelet play with the reflections of its mirror-polished facets. The H- shaped links recall the Hublot logo. Read more HERE.
From avant-garde to timeless elegance. Patek Philippe's Ref. 7130R-014 36mm Ladies' World Time watch in rose gold is exceptionally refined (£44,630). Paying homage to Ref. 7130, which in 2011 represented the very first World Time model for women, this year's version reinterpretates the original by featuring a modern and elegant olive-green colour. This is a master lesson in how to give a contemporary twist to a classic look. The centre of its dial is adorned with a hand-guilloched old basket weave décor (not an easy one to do) and the olive-green shade is picked up on the city disk on which the white-printed names stand out in an extremely legible manner. The effect is highlighted by 62 diamonds that adorn the bezel.
The heart of this watch is the ultra-thin self-winding Caliber 240 HU. Thanks to its city disk and its 24-hour disk (divided into day/night zones distinguished by colour and by sun/moon symbols), this calibre simultaneously and permanently displays the time in all 24 time zones. The strap is made of olive green, hand-stitched calfskin with a Prong buckle. Read more HERE.
If anyone still doubted how serious Chanel is about haute horlogerie, the watches the presented this year in Geneva will dissipate any hesitation left in even the hardest sceptic. Designed by Arnaud Chastaingt, Director of CHANEL's Watchmaking Studio, their new 38mm J12 Diamond Tourbillon Calibre 5 (£132,000) is proof of their technical prowess and their unquestionable mastery when it comes to aesthetics. This is the first Flying Tourbillon movement made in-house by Chanel and it is a true technical tour de force, with a solitaire diamond positioned in the centre of the flying tourbillon cage. Precisely cut to maximize its brilliance, the diamond turns around to the rhythm of the seconds, creating quite a hypnotic effect
The J12 Diamond Tourbillon is available in matte black ceramic and steel or in glossy black ceramic and 18K white gold, each limited to 55 pieces.
The exposed mechanism is adorned with a lion's head, the signature of Chanel Haute Horlogerie Manufacture movements. The bezel, hands and crown are set with diamonds (34 baguette-cut and 49 brilliant-cut). Read more HERE
For star gazers, Jaeger-LeCoultre has invented an entirely new complication that captures the romance and unpredictability of shooting stars, the 36mm Rendez-vous Dazzling Star (£67,000). A blue aventurine dial evokes the night sky, with multiple layers that conceal and reveal the shooting star; an outer bezel of griffe-set diamonds makes the display even more resplendent. Activated by the movement of the wrist, the shooting star appears on the dial at random moments, usually four to six times per hour. Which may seem like wizardry is actually the work of their new automatic Calibre 734, which reconciles the randomness of this celestial body with the precisely calibrated rhythms of timekeeping. If you want to command the heavens, the star can be summoned on demand by turning the winding crown several times.
The bezel forms two concentric rings. The airy quality to these glittering circles is achieved by the prong setting of the 36 stones in the outer ring.
The watch comes with a shiny blue alligator strap with a folding buckle, or by a sumptuous, fully-set pink gold bracelet, whose links are grain-set with 436 diamonds. Read more HERE.
Understanding women's growing interest on watches with complications, Vacheron Constantin has launched the Traditionnelle Perpetual Calendar Ultra-Thin (£74,500), with ladies in mind. With its 36.5mm 18K white gold case, diamond-set bezel, blue-grey tinted mother-of-pearl dial, and blue-grey alligator leather strap, this watch is a show-stopper. At its heart lies the Maison's calibre 1120 QP, which displays, days, dates, months and years on a four-year cycle, including a leap-year indication, without any need for correction before 2100 (so maybe your granddaughter will be the first to adjust it). The display is completed with a moon-phase indication at 6 o'clock.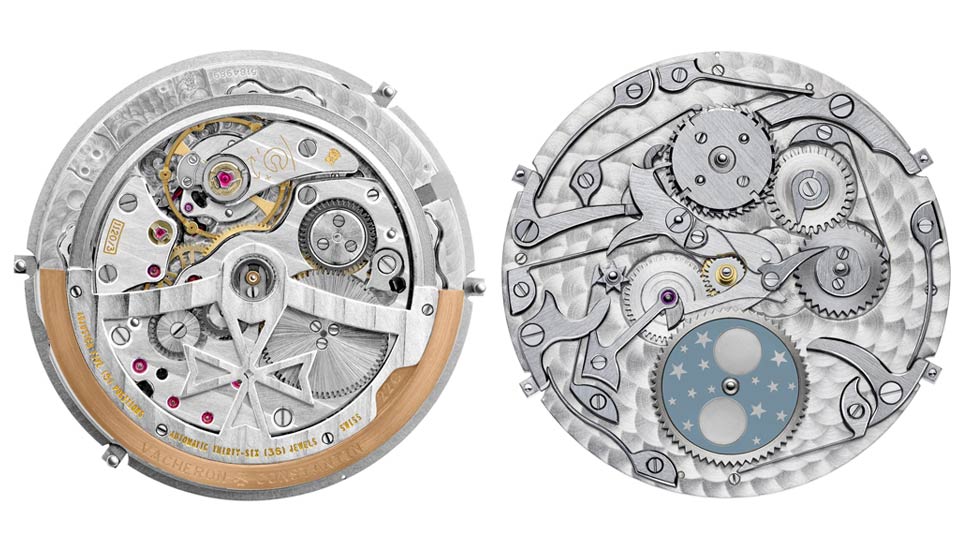 Vacheron Constantin's calibre 1120 QP is only 4.05 mm thick. Its 276 components are visible through the sapphire caseback as is its meticulous finishing.
The watch is embellished with a few special features such as the stepped lugs and case, fluted caseback, as well as Dauphine- type hands flying over a railway minutes track punctuated by baton-type hour-markers.
This Traditionnelle perpetual calendar ultra-thin watch is equipped with an interchangeable strap that can be fitted at the touch of a push-button…
The moon-phase disc bears the same colours as the dial, while the depiction of the moon and the stars features the same shade of gold as the case, complete with an opaline finish. In a final touch of elegance, the bezel and top of the lugs are delicately set with 76 round-cut diamonds, while the crown is adorned with a round-cut diamond. Read more HERE.
Inspired by the spectacular rock crystal and diamond bracelet created in the 1930s and worn by actress Gloria Swanson, Cartier presented Libre Morphosis, an entirely reversible jewellery watch. Entirely reversible, it can be turned over thanks to a flexible elasticated strap: on the front, it is a watch and on the back it is a bracelet. The exquisite craftsmanship and character of this hybrid jewel/watch creation consists of a series of triangular links with motifs in the same shape running through it to enhance the geometric aesthetic of the piece. This continuously repeating sequence of forms allows the colours to infinitely diffract light.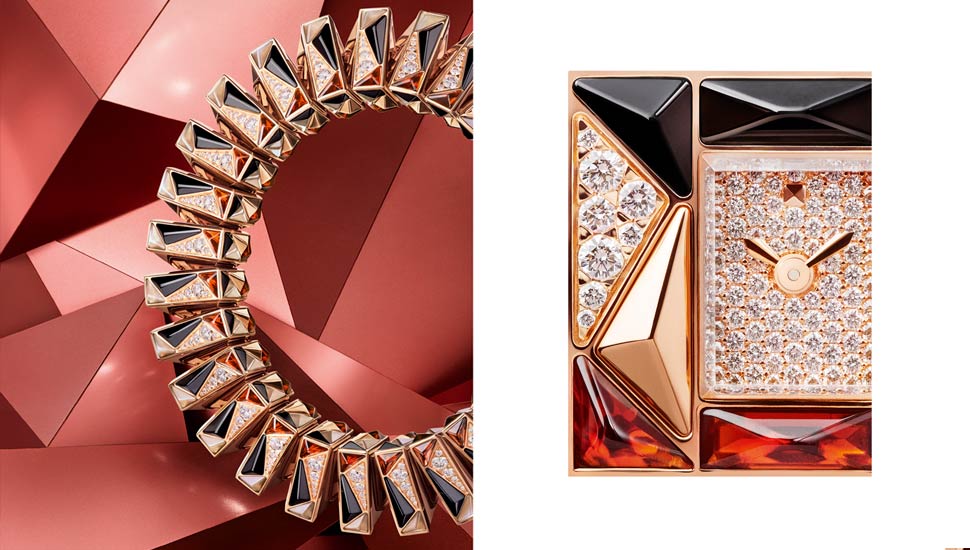 The Cartier Libre Morphosis comes in three versions based around Cartier's iconic colour palette. Here in rose gold, with the case and bracelet set with 711 brilliant-cut diamonds, 54 sapphires, 81 black spinels, 50 chrysoprases and 50 red coral stones.
In case you are wondering why is the Morphosis in an article about complications, let me tell you that this intricate design required Cartier's watchmakers to scratch their heads in order to find a way to allow the case to fully twist around. The solution came in the form of a specially developed spring and by integrating the redesigned time-setting system at the side, to avoid distorting the triangular effect of the watch. Read more HERE.

For the same reason, I have included the new Happy Sport by Chopard. This year's model comes in a 33 mm-diameter ethical 18K rose gold case, with five diamonds spinning around its gilded satin-brushed dial, which is complemented by an equally satin-brushed bracelet to achieve a total-look in which gold reigns supreme. The dancing diamonds are set between the two sapphire crystals topping the dial. Invented by Chopard in 1976, this is a technical feat that only a few "choreography" artisans can achieve, ensuring that each diamond in its spinning- top capsule is arranged in such a way that its dance is never hindered.
The 33mm case of the Happy Sport is inspired by the rules of the golden ratio and dictated by the size of the Chopard 09.01-C movement that powers it from its heart…
Fitted with an ethical 18K rose gold bracelet, the Happy Sport beats to the rhythm of the Chopard 09.01-C in-house movement and guarantees a 42-hour power reserve. Read more HERE.
I've been keeping for last a watch that literally made my jaw drop, Van Cleef & Arpels Lady Arpels Heures Florales Cerisier. This superlative example of haute horlogerie and haute joaillerie working in perfect harmony draws inspiration from the floral clock concept developed by Carl Von Linné in his 1751 book, Philosophia Botanica. In it, the Swedish botanist evokes a hypothetical garden where flowers open and close at specific moments of the day to show the time.
The time is displayed by the number of flowers open on its dial (the hours) and by a marker on the side of the watch that indicates the minutes.

Each flower has a diamond at its centre and no two are the same. Its 38mm rose gold case and bezel contain an exuberant mother-of-pearl dial speckled with precious gems and populated by flowers and butterflies of different colours and sizes, adorned with diamonds in a variety of cuts. In terms of mastery, the Cerissier is a real show-off, which explains why is part of the Maison's Poetic Complications collection. In this piece we can appreciate highly skilled gem-setting, mother-of-pearl marquetry, miniature painting, sculpted rose gold branches and much more. In fact, I'd recommend you watch this video to fully appreciate this extraordinary timepiece.
The self-winding mechanical movement (Valfeurier) that powers this watch is equipped with a flower-opening module for the hours and lateral minutes display, with a 36-hour power reserve. The watch (£217,000) comes with two interchangeable straps and one interchangeable pin buckle set with diamonds. Read more HERE.


Words: Julia Pasarón
Opening picture: Astronomical clock by Hermann (Pixabay)