This is definitely the season to be merry and no drink expresses joy better than champagne. The famous beverage is thought to have been invented by the French monk Dom Pierre Perignon in 1697 when he applied his "methode champenoise" to the wines produced at the abbey of Hautvilliers.
By the late 17th century, as champagne makers gradually came to grips with the process of effervescence, the monks lost their traditional hold on production and champagne became the wine of choice for festive occasions. Almost 325 years later, the opening of a bottle of champagne still conjures up images of celebration and special occasions. So for this Christmas, these are our bubbly suggestions:
Ruinart has worked with David Shrigley to create two limite eco-designed "Second Skin" editions exclusively for the UK market, one Blanc de Blancs NV and one Rosé both featuring label by David Shrigley 75cl.
The intensity and simultaneous lightness of Ruinart Blanc de Blancs is achieved by using a blend of 100% chardonnay, mainly from premiers crus in Côte des Blancs (69%), Montagne de Reims (31%) and 20-25% reserve wines. The chalkiness of the soil allows for a pure expression of the grape's flavours whilst ageing in the crayères develops its aromatic richness. Its Rosé cousin owes its elegance to the marriage of the maison's signature grape chardonnay (45% from Côte des Blancs and Montagne de Reims) and pinot noir (55% from the Montagne de Reims and the Vallée de la Marne), mostly sourced from Premiers Cru vineyards. The blend includes 20-25% of reserve wines and 18-19% of lightly extracted red wine, resulting in a sublimely fruity blend of an intense golden pink. RRP, £76. Both available exclusively at Clos19.com. Click HERE to purchase.
Louis Roederer's newest champagne, Collection 241 launched a few months ago after 20 years of research into climate change and sustainability. The result is magnificent and has been widely praised by international critics. The champagne is elegant and rich with an incredible core of saline energy, and from magnum it is the perfect champagne to get the festive season off to a good start. RRP, £110. Available at Harrods. Click HERE to purchase.
The blend in Collection 241 hails from the House's "Coeur de Terroir" plots which focus on sustainable growing practices…
Dom Pérignon and Lady Gaga, two iconic creators, have come together to celebrate the power of creative freedom through an artistic experiment including the release of the limited-edition Dom Pérignon Rosé Vintage 2006 and Vintage 2010. The perfect gift for champagne lovers looking to celebrate in a more avant-garde way.
The Rosé Vintage 2006 has a RRP starting at £315 and its Vintage 2010 counterpart retails from £190. Available at Clos19.com and other luxury retailers like Harrods.
Krug brings as this Christmas a sensational experience for champagne and music lovers alike with Krug Grande Cuvée 169th edition. In addition to the bubbling flavours of citrus fruits, almonds and gingerbread, drinkers will also be treated to a "Binaural Sound Experience" —created by 3D music pioneer Ozark Henry that tells the story of Krug Grande Cuvée 169th edition and showcases the unique craftsmanship of the French maison.
With the 169th edition Krug has achieved a distinct and elegant expression…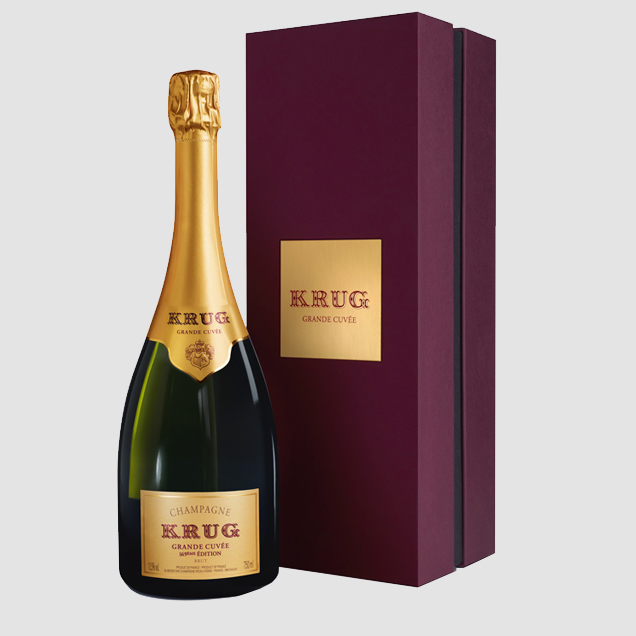 Blending new wines from the year 2013 with reserve wines from the maison's large collection has enabled Krug's cellar master to accentuate the fullness and aromatic elegance of Krug's different vineyard plots.The 75cl bottle and gift box retails at £174 and it is available at Clos19.com. To purchase, click HERE.
Words: Julia Pasarón
Opening picture: Conger Design, Pixabay.