Intelligent looking and always impeccably dressed, Torsten Müller-Ötvös has been Chief Executive Officer at Rolls-Royce Motor Cars since 2010, after building a top career in the automotive sector that includes the stellar re-launch of MINI (2000) and the global marketing and brand management of BMW (2004). In these 12 years, Torsten has turned around the – possibly – most famous British luxury brand, bringing their sales from 300 to 5,500 cars and keeping the orders book fat and healthy We need to add this sentence: New Phantom Series II promises to take the legendary company even further.
The luxury sector has changed dramatically over the last decade. Many brands have moved into this space and have invested heavily, which has forced even a company like Rolls-Royce to step up their game in order to keep being the ones that define luxury. Torsten doesn't hesitate when asked which are the key factors to stay at the very top: "Number one, not to rest on your laurels. Number two, I would say is to regularly reinvent yourself and to be open when it comes to new client groups, to understand the desires and trends in the market. Luxury is about understanding desire." Rolls-Royce are in an enviable position to do so. "We are constantly listening to what our clients are telling us, not just about what they want from a Rolls-Royce, but about their way of life."
"We are constantly listening to what our clients tell us, not just about what they want from a Rolls-Royce, but about their way of life."

Torsten Müller-Ötvös
At Rolls-Royce, it is more about evolution than about dramatic change, although some of their decisions in the last few years can be considered pretty bold. Black Badge was one of them, kind of Rolls-Royce's "badass" alter ego that introduced slight modifications to all their models, enhancing torque, power and control. Another brave decision was to commit to launch a fully electric car by 2023. "We are the first ones in this segment to do so," Torsten comments proudly, "and if we hadn't done so, I believe the brand would have been at risk of coming to a grinding standstill." He is referring to the need to adapt not only to the needs of the planet but to the demands of an increasingly younger customer base. "In these 12 years the demographic profile of Ultra High Net Worth Individuals has changed a lot," he shares, "they are much younger and there are far more women than there used to be." Rolls-Royce's clientele has gone from practically no female owners to about 15 percent. US, China and the Middle East are the regions where most of this growth is occurring as more women gain their own personal wealth. "What we have achieved is great, but I'd like to see 50-50 ownership."
Another big change is the purchasing behaviour. Extremely wealthy people are far more casual when it comes to spending their money. "We realised we had to take our brand off its own pedestal a bit but without ever compromising our standards," Torsten comments.
The highly skilled craftspeople at Bespoke create true works of art for Rolls-Royce's customers.
Personalisation and bespoke services have become the differentiating factor for many luxury brands and Rolls-Royce is no exception. "Without Bespoke, Rolls-Royce would not exist," states Torsten without hesitation. "We realised this earlier than most of the other players in this sector and invested heavily in it. As a result, beyond the dedicated team of Bespoke designers and engineers, each of our highly skilled craftspeople working in Goodwood is involved in creating Bespoke commissions to make sure we fulfil all of our customers' wishes." For Phantom Series II, Phantom owners had clearly communicated to Rolls-Royce that they loved the car as it was and didn't want the new one to introduce any dramatic changes, so very few modifications were introduced. By way of example, a subtle geometric change to the Pantheon Grille makes the "RR" Badge of Honour and Spirit of Ecstasy figurine more prominent when viewed from the front. The grille itself is now illuminated, while the headlights are graced with intricate laser-cut bezel starlights – enhancing Phantom's night-time presence. There are new options for the wheels: milled stainless steel finish or a 1920s-inspired disc version. The rest is up to each individual owner who are involved in the design and build of their car from the very beginning.
The 1920s-inspired wheels milled in stainless steel add to the "Great Gatsby" feel of Phantom Series II…
At the global launch in France, we were able to admire eight Phantom Series II, each one completely different from any of the others. For example Phantom Platino, named after the silver-white finish of the precious metal, which echoes the marque's formative days. Its front seats are finished in fine Rolls-Royce leather, and those in the rear upholstered in luxurious fabric. The other one, Great British Phantom, represents a playful nod to the marque's more patriotic clients, finished in striking Magma Red and featuring a bespoke artwork in the gallery, inspired by the Union Flag.
Detail of the bespoke gallery in Great British Phantom (left) and of the wing panel (right).
Listening to Torsten speak about Rolls-Royce cars and their clients, I almost feel as if I was speaking to the CEO of an architectural firm or an interior design studio. He laughs when I say so and comments, "You are not far off. Rolls-Royce is not really an automotive company." As my eyebrows shoot up, he adds, "Yes, our products have four wheels and a chassis, so they are technically cars, but the reason for acquiring a Rolls-Royce is not the need to go from A to B. It's about fulfilling the dream of crafting a luxury item that will carry your own signature and which will be completely unique to you, and to your own personal story."
The history of Phantom perfectly summarises Torsten's explanation. Dating back to 1925, the first Phantoms already had several elements of personalisation. Customers picked the chassis and running gear of their choice before selecting a coachbuilder to form the body of the car. This model was eventually substituted by Phantom II, then Phantom III (famously featured in James Bond's Goldfinger) and eventually Phantom IV, considered by many the most exclusive Rolls-Royce ever. Only 18 were made and all of them were destined to royalty and heads of state, including Queen Elizabeth II. Phantom V and VI followed, with the latter being in production till 1991. After a 12-year hiatus, Phantom VII Limousine was launched, resurrecting the Phantom name and becoming their most successful Phantom model to date with several thousand units sold over the years. Several editions of Phantom VII were produced, paving the way for the advent of Phantom Series II.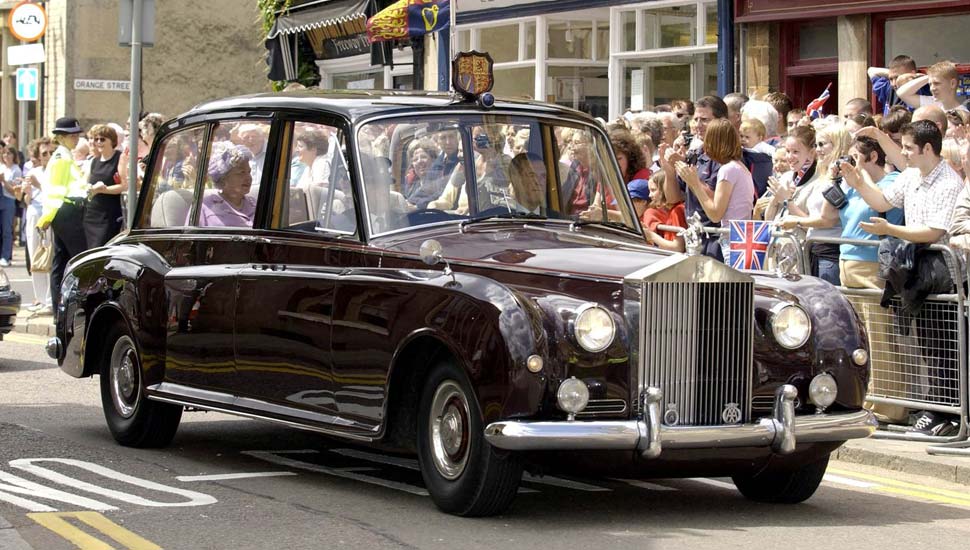 The Queen's bespoke Rolls-Royce Phantom VI limousine served as her No. 1 State car from 1978 until 2002.
Rolls-Royce reported record sales in 2021, but with the current international climate, it is impossible not to ask Torsten how the situation in China, the war in Ukraine and the sanctions to Russia have affected their bottom line. He slightly shrugs his shoulders before answering. "We always balance sales volumes amongst regions to avoid that we are dependent any individual market. In addition, our flexible production system allows us to reallocate cars to different regions if we see that demand in one individual region, like China, changes. The Middle East market is flying extremely high, the US market is growing strongly together with Europe, particularly the UK, so I can confidently say that our order book is stronger than ever and reaches well into next year.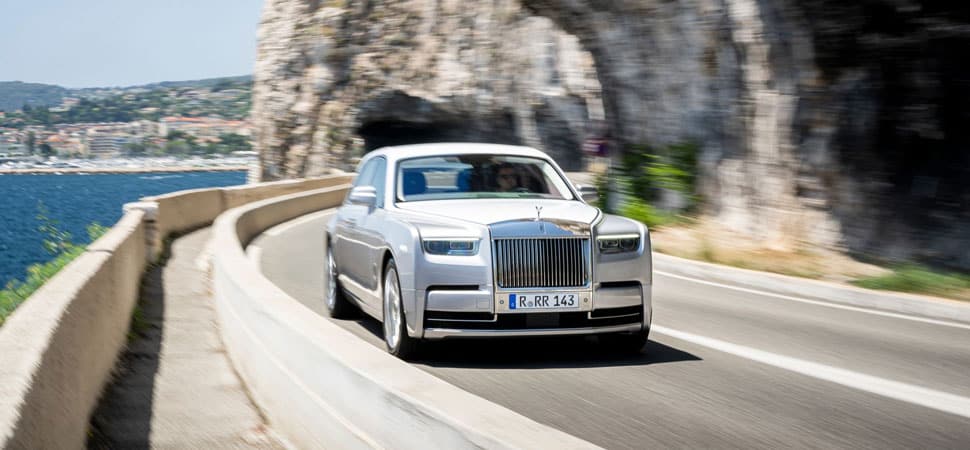 Phantom Series II Platino featuring the modified Pantheon Grille making the "RR" Badge of Honour and Spirit of Ecstasy figurine more prominent.
Sustainability is another factor that Rolls-Royce and its clients are taking very seriously. The reality of our compromised planet is taking consumers of luxury goods to demand from manufacturers a sustainable ethos and processes that are ecologically viable. "We are definitely on it," states Torsten with conviction. "Electrification is one step into this direction but not the only one. Our customers want to know what the brand stands for, who are the people behind it – who creates these wonderful cars… I believe that's why so many of them are so eager to visit us at Goodwood, where the cars are built and where they can soak up the company's culture."
Prime Minister David Lloyd George with his Rolls-Royce Phantom I (1933).
But at the end of the day, as Torsten says, luxury is about understanding desire and not all desire has to do with material things, a lot is about emotional, intangible feelings and experiences. He is a well-known fan of fly-fishing, hobby-cat sailing, travelling and spending time with his family. Torsten sees luxury as "a lovely round ball, comprising things we can touch and things we can only feel, time and love". This may sound a bit too romantic but it seems Rolls-Royce clients agree with him. "In an overwhelming number of cases, our customers' choices of materials, patterns, motifs, engravings… all have to do with moments of love, times they've spent with their partners, families and friends, rather than with moments associated with business." After halting for a few seconds, he adds, "I think that Covid taught us how quickly things can change. Many customers realise that you only live once, so you better enjoy it when you can, rather than postponing everything for later in life. I most definitely believe so."
Watch our Editor, Julia Pasarón, introducing new Phantom Series II Aristocrat.
If you'd like to see the new Rolls-Royce Phantom Series II in the flesh, you have the chance at Salon Privé Concours d'Elégance, 31st August to 4th September. For more information and tickets, click HERE.
Opening picture: Rolls-Royce Great British Phantom. All exterior pictures of Rolls-Royce Phantom Series II by Luke Strudwick.