Without any doubt, Ingmar Bergman is one of the best film directors of the 20th century and PERSONA is considered one of his most creative and possibly enigmatic pieces of work. Our Editor Julia Pasarón had the chance to speak to Olivier winner Alice Krige, who plays Sister Alma in this Production, just as the rehearsals started at the new Riverside Studios in London.
In the story, a famous stage actress, Elizabet, has suffered a psychological breakdown and relapsed into silence. She is sent with Sister Alma, the nurse assigned to her recovery, to a remote summer beach house. Can Alma coax Elizabet out of her silence? Truth, lies, manipulation and identity, PERSONA deeply explores the meaning of reality and consciousness.
Paul Schoolman brings his unique vision to create a new theatrical adaptation of this deeply unsettling and iconic film, adding the character of The Narrator and using Bergman's unseen notes and words for a fresh take on this enigmatic masterpiece.

Alice and her husband Paul are big fans of Bergman and have watched PERSONA many times. "It is one of the greatest films of all times,' Alice told me, her voice full of admiration, "The original script was neither a play nor a film format, more like a manuscript, totally idiosyncratic.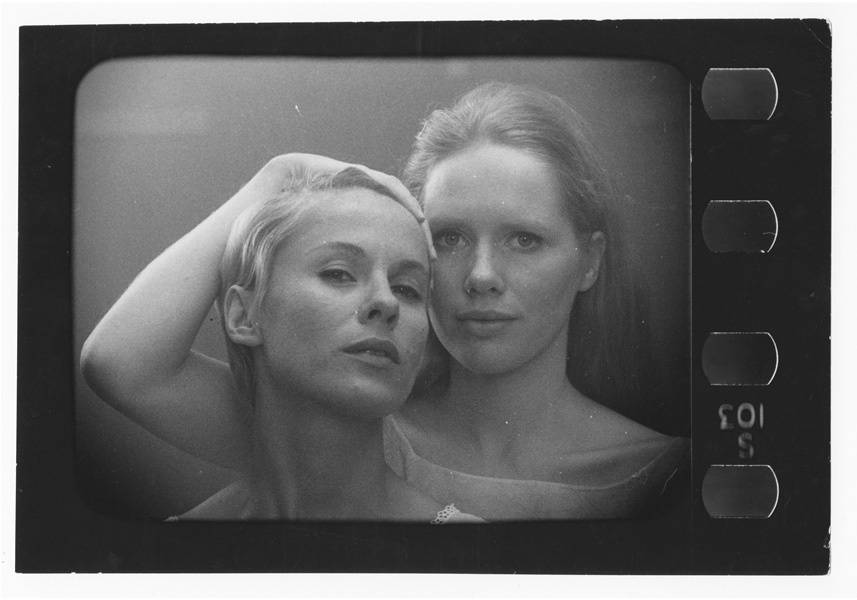 He doesn't name the characters when they speak, you figure that out as you follow the thread of the story. What was extraordinary about the manuscript is that there is this kind of stream of consciousness commentary on the creative process, which was Bergman's voice in the manuscript. These were Bergman's thoughts and musings, he's both telling the story and giving stage directions. They weren't meant for public consumption. They were moving the story forward, but also being a kind of mediation on the creative process."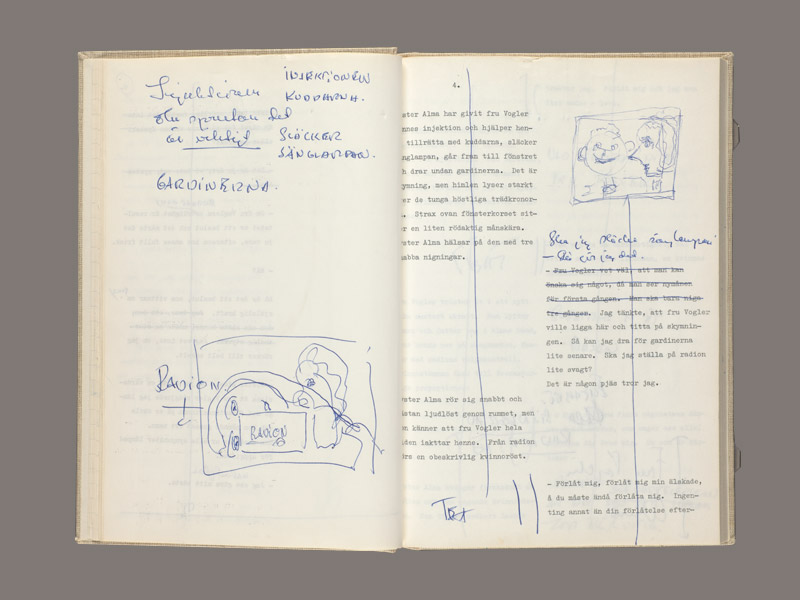 In order to understand PERSONA, one needs to understand how it got to be created. Bergman wrote the script in hospital, high on pharmaceuticals. It seems that he had a script deadline to write something else, but he was admitted to hospital with pneumonia and in his sort of semi delirious state caused by his illness and the drugs, he wrote PERSONA. Alice shared that at the beginning of his manuscript, it says, "I don't know what I have written, play with it."
In the film, one starts to experience shifted states of consciousness. In fact, Alice felt that at certain point, Sister Alma seems to be astral projecting, almost as if she had an out of body experience. "This marks a pivotal moment in the middle of the manuscript, where it's as if you shift into a different dimension," explained Alice, "this is when sister Alma genuinely begins not to know whether she is Elizabeth or Alma; the two characters in the manuscript really fuse, and by the end, they are speaking each other's lines. It's almost as if these two women, provoked by the silence, tear each other apart."
I haven't had the chance to see the film script of course but Alice has, and she said that those altered states of consciousness don't show as markedly in the film script; and what happens between Alma and Elizabet in the manuscript is not what happens between them in the film. "Here, sister Alma is back in uniform, back to normal," described Alice, "but in the manuscript she is coming apart; and at the very end, Elizabet goes back and Alma is left in the house. She says, "I come here and learnings in loneliness every day, trying to write a letter I know it will never be written." Then she tries to make sense of a reality that has completely shifted. Elizabet's pain has been transferred to Alma."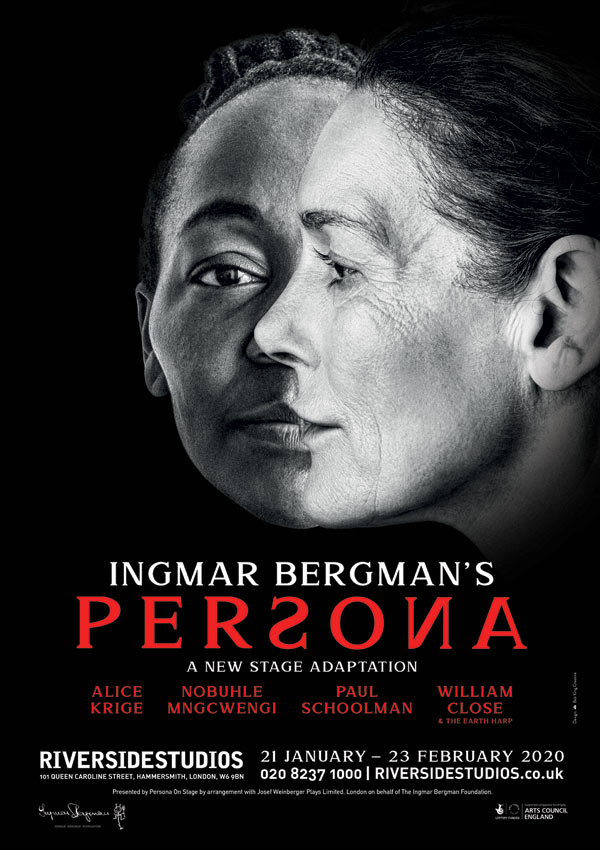 Paul Schoolman's version of PERSONA goes back to the original manuscript. "We followed the manuscript faithfully rather than trying to recreate the film," Alice said proudly, " there would be no point in doing that. The film is a masterpiece as it is." Bergman used music a great deal, so in this production, Paul and Alice asked his friend William Close, a very talented installation artist, musician and composer to work with them. Alice is a big fan of his: "He is an extraordinary musician and builds his own instruments.
His signature instrument is the earth harp. So in the play, the base of the harp will be on stage with the strings fanning over the audience and Wiliam's and the earth's harp will be the fourth voice. The voice of the harp will shift from scene to scene. Hopefully it will work."
PERSONA
Presented by Persona Onstage by arrangement with Josef Weinberger Plays Limited, London on behalf of The Ingmar Bergman Foundation.
21 january – 23 February 2020
Riverside Studios London.
Tickets: from £12.50 Concessions Seniors/Unwaged/Disabled
Box office: 0208 237 1010