Known for their adventurous approach to design, Hublot characterises itself through the "Art of Fusion" philosophy and as such, they are big supporters of young artists from all walks of life. The Hublot Design Prize gives the designers of tomorrow a chance to make a name for themselves. The Prize's objective is to enable young talent to establish themselves through their creations, as well as expose them to a wider public.
Born from the on-going friendship between Hublot's Chairman Jean-Claude Biver and Pierre Keller (former director of Lausanne University of Art and Design), the Hublot Design Prize was created in 2015 to celebrate the ten-year anniversary of the launch of their iconic Big Bang model. Ricardo Guadalupe, CEO at Hublot said about this initiative, "For us, the Hublot Design Prize is a reminder of where we have come from, the reasons for our success and a tribute to the designers and artists with whom we have worked. For a brand, a watch, a creative talent, there is always a key moment, an instant which provides the spark, which changes everything. The Hublot Design Prize is precisely this: a catalyst for talent, an opener of doors. For Hublot, design, and its transmission, is what drives us. The thing that makes sense, the thing which makes us."
John experiments with Chinese materials and craftsmanship that he translates into contemporary design…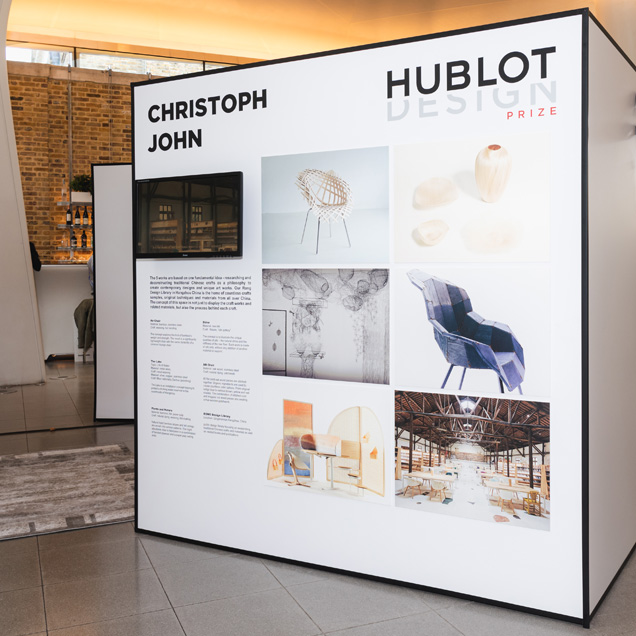 The Hublot Design Prize is open to designers from across the world whose work can be described as furthering innovation in design: experimental, pioneering, and integrating avant-garde techniques and materials or new technologies, whilst working towards an environmental and social goal.
A total of 20 entries were submitted by the member of the jury: Marva Griffin Wilshire, Hans Ulrich Obrist, Alice Rawsthorn, and the duo behind FormaFantasma. In a second round, eight finalists were selected: Ben Ganz –Isolarii Studio –Switzerland, lives in NYC; Christophe John – Germany, lives in China; Eva Fedlkamp – All in Awe – Germany; Federica Fragapane – Italy; Mohammed Fayaz – USA; Irakli Sabeka – Georgia; Thebe Magugu – South Africa; and Archibald Godts & Theresa Bastek – Studio Plastique – Belgium.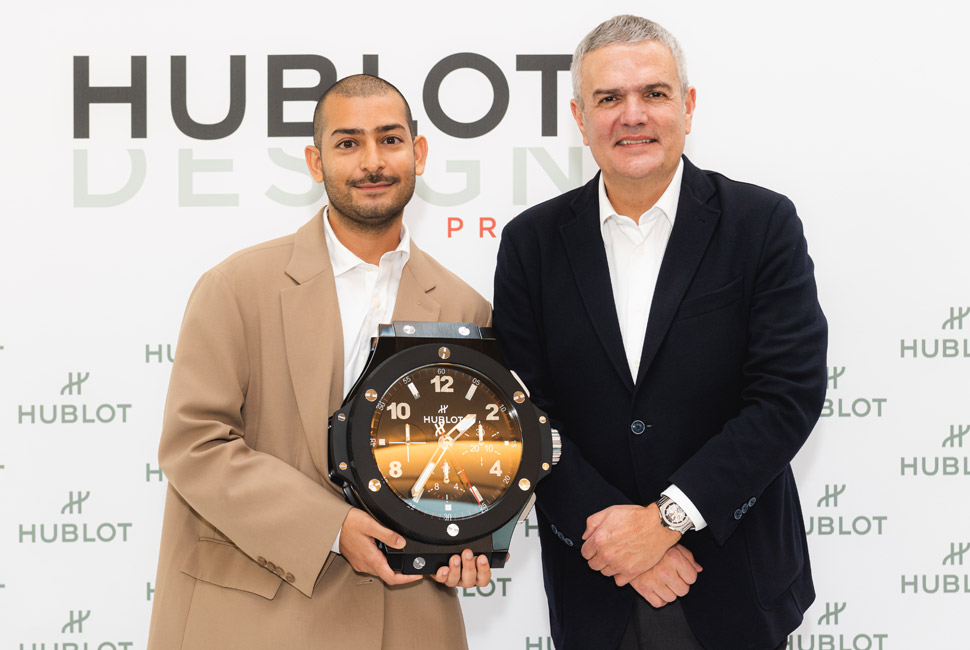 After a very difficult judging process, the prize was awarded to Mohammed Iman Fayaz for his work, Independence of expression & cultural diversity and gender.
The "Pierre Keller Award" (doted with CHF15,000 for each winner) went to Eva Feldkamp and Federica Fragapane. The "Pierre Keller Award" goes both to Federica Fragapane and to Eva Feldkamp. Federica's design process is characterized by a constant research into new ways of visualising urgent social, political and ecological issues. Eva's work "All in Awe" is a catalyst to generate creative opportunities for social and environmental impact. Its mission is to design a system that connects creative professionals to charities, non-profits and the public sector.