With a Swiss dad and an Indian mum, Maximilian Busser's childhood was not a walk in the clouds. Solitary and by his own admission weird, it wasn't until he turned 20 that he accepted and started to love who he was. The seed was planted for the birth of MB&F 18 years later, a company with which Max has created some of the most advanced and insanely original pieces of horology of this century, culminating in his most recent creation, the Legacy Machine Thunderdome, in collaboration with Eric Coudray and Kari Voutilainen, the craziest, most cinematic three-axis tourbillon ever.
During the week of the Grand Prix d'Horlogerie de Genève 2019, in which MB&F's Legacy Machine Flying T received the Ladies' Complication prize, our Editor Julia Pasarón had the chance to speak to Max at their MAD Gallery in the centre of town, where MB&F share a space with kinetic artists with whom they collaborate.
I-M: The Flying T is the very first ladies watch by MB&F and I believe a very special one for you. Why?
M.B: It took four years of doubt and insane turmoil to create the Flying T, the most difficult piece I've ever created because I did it for the women I love. At the beginning I got completely blocked because I was thinking of what they would like, which was the wrong question. What I ended up doing was creating a 3D kinetic sculpture that embodied what I love in them. Suddenly things became a bit easier. My mum and my wife are two formidable women who on one side are extremely enthusiastic, energetic, even a bit lunatic; and on the other, they are very elegant. This is a rare combination. I realised I had to do something crazy – that was the easy part, and elegant, and had to have a message, tell a story.
The initial inspiration came from my seven years old daughter. She's wanted to be a ballet dancer since she was three. She's got a jewellery music box that when you open it, reveals a ballerina which twirls around with the music. The movement in the Flying T is de facto, a ballerina turning in on the scene. We created this flying tourbillon movement as a little column, took all the bridges out.
The sun on the back of the watch represents the four women in my life. They are my suns and I gyrate around them. The dome represents life, with a parallel to femininity and the dial is at seven o'clock so only the woman wearing it can see the time. I wanted to give my wife Tiffany the gift of time, just for herself.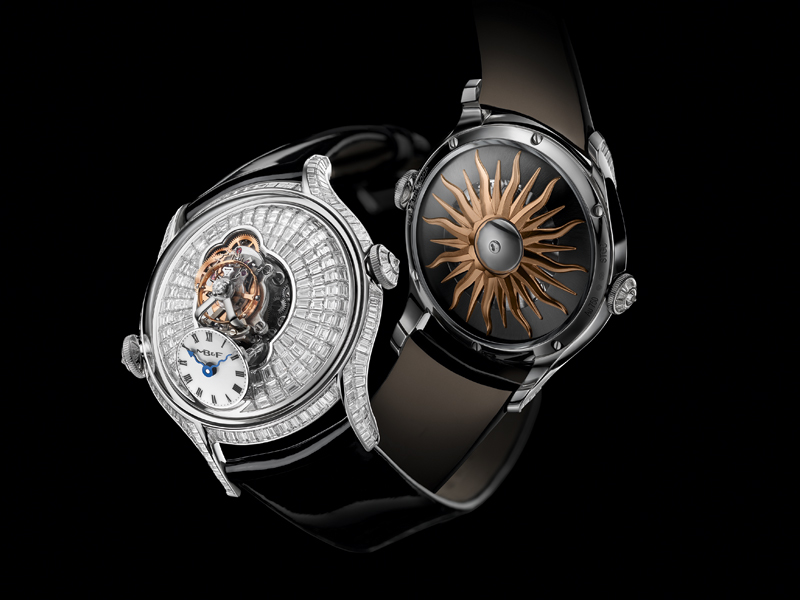 I-M: Recently you met again with François P. Journe. What are your reflections on the Opus 1, the watch that in a way started it all?
M.B: We started working together 19 years ago. The story of the creation of the Opus One hasn't been told much, maybe because at the time we weren't yet in the Internet era. Everybody has credited me for creating this incredible concept which changed the world of watchmaking. However, I have to be very clear, I just started it to help a friend. It was for Baselworld 2000. François was just launching his brand. He was telling me how difficult it was because retailers wouldn't take his watches. They liked them but they didn't know who F. P Journe was, and François couldn't tell them all the brands he had worked with because he had to sign NDAs with all of them.
The last day of the fair I told him we should do something together (I was at Harry Winston at the time). There was no NDA so I could tell the whole world how great I thought he was… and on a selfish note… have access to his movements.
When we launched the Opus One, nobody understood what we were talking about. It wasn't until Opus Three that the press and the retailers finally got it. Drastic change distils fear in human beings. We are genetically adverse to radical change so it takes a long time for humans to accept and assimilate it.
It was the same with our Horological Machines. It wasn't until HM3 or HM4 that the public understood what we were doing. We have come a long way; we just launched our 17th Machine. Sometimes I feel I created MB&F yesterday, but it was 14 years and 17 calibres ago!
We are what we have done and what we dream of doing.
The same with Opus. When I met again with François-Paul, it felt as if it was only yesterday that we had started to work in the Opus One but in fact, we are both 20 years older.
I-M: How do you see the collectors market? Do you think it has divided between vintage and artisan? Are artisan independent brands the future of collectibles?
M.B: Vintage and modern are two completely different worlds. The people who buy vintage are usually not the people who buy modern and the other way around. It's very unusual to find a collector that does both.
Some auction houses like Phillips are trying to explain to vintage collectors the beauty of artisan watchmaking. Although being a small independent watchmaker doesn't automatically make you a great one. There is a real process of curation. Phillips do that very well. They spend an extraordinary amount of time explaining independent watchmaking to collectors and we're all very grateful to them.
Too often nowadays, the vintage collector is not so much interested in the movement but in some little details that makes the watch unique and valuable as an investment: a particular word on the dial, something unusual on the bezel…
On the opposite side of the spectrum you find artisan watchmakers. We're all about the movement. We are not limited to the engineering, on the contrary, we pay a lot of attention to details, the hand finishing, the hand engraving… So when we see people spending £200,000 on a Paul Newman Daytona, which is nice, but it is an industrially made steel tool watch, we often shake our heads in disbelief.
For much less you could get a work of art from Kari Voutilainen or F. P. Journe, or our Legacy Machine perpetual calendar… and all these are intrinsically immensely more important pieces in the history of watchmaking. Of course you can't generalise but, I'm seeing that kind of "trophy" collecting more and more and it's a little bit scary. Status is taking over from real watchmaking.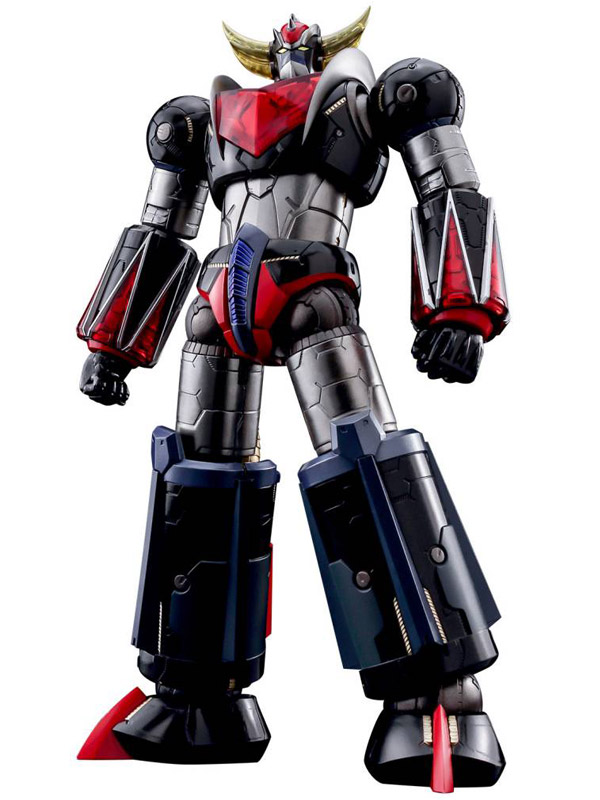 I-M: I've observed that Japanese cartoons and animation seem to have played a part in your design influences. How far is the success of the HM machines like eight and nine a reflection of those influences? Do you think the Japanese culture is experiencing a revival? Getting a little more pervasive?
M.B: I had a very lonesome childhood. I was the weird one. Grendizer was my childhood hero. I avidly watched the TV series everyday after school, watched Grendizer save the world every time. I wanted to be him. I wanted to be a super hero, the one that saves the weak from the bullies. I think I still have that super hero complex. I have very few triggers but bullies are one of them.
When I launched MB&F, for the first time in my career I started creating for myself. For 14 years I'd been creating for the market, and suddenly I was creating my own piece, which was an extension of me. It was very difficult because the process was very much about finding myself. MB&F has played an enormous part in my life therapy and in discovering who I am. I had been all over the place and what brought me back was my childhood. I think that may be because when you're a child, everything is larger than life; when you're happy, you're thousand times happier than an adult and when you're sad, you're thousand times sadder.
Everything becomes more contained as we grow up. We are told we have to be contained. This is why our baseline is "A creative adult is a child who survived." I myself was a very creative kid who became a super boring young adult. I tried to blend in, have friends, act normal… It took me the better part of 15 years to understand that, actually, that was not who I was, not who I am.
When I started MB&F, I had HM1 and HM2 and a drawing of HM3, that was all. I had no idea what I was going to do, but I went for it anyway. And so the journey started. Still I have no idea what I'll be doing in five years, but I love the fact that I don't know.
For example, if when I created MB&F someone had told me I was going to create a round watch I would have said "no way" but, eight years later, the Legacy Machine was born. I actually had to battle with my whole team because they didn't want to do it. I didn't know myself why I wanted to do it. I often do things by gut reaction and much later discover why. In this case, it was a tribute to the people that made me love watchmaking, a homage to 19th century watchmakers.
I-M: I believe cars are also an influence in your designs. Did that influence comes from your internship at Rolls Royce?
M.B: I wanted to be a car designer my whole youth. From the age of four to the age of 18, I was drawing cars. When other boys started looking at girls I was drawing cars. When I was 19 I got offered an internship at Rolls Royce. I spent six weeks in Crewe, which was an incredible experience… that taught me I probably didn't want to work in cars. I enjoyed the idea of people making something amazing but the way car companies are or were structured at the time didn't work for me.
However, something happened during that internship that changed my life. One day I went to Blackpool to visit the TVR factory. TVR was the ultimate brand for true petrolheads, no electronics, no gimmicks… and I thought I wanted to be like those guys.
Finally, when I was 36 I managed to buy my TVR, a Griffith 500. In 2011 I sold it and bought the only other car that for me is in the same league, a Wiesmann. This car puts a smile on my face the moment I sit in it. Wiesmann are now bankrupt but they used to craft around 150 cars per year, a little similar to us who craft 210 watches per year.
So yes, definitely cars are an influence in my designs. The HM5, HM8 and HMX are based on car designs from the '60s and 70's. The HM9 FLOW has definitely a 40's and 50's car inspiration in it too. What I love about cars from those decades is that before you had marketing directors and CFOs, the owner of the brand was usually the engineer who actually not only designed his own car but also made it. Real works of art were created this way. They didn't think of selling 100,000 units, or making more money, they just thought "Let's make the greatest car ever." Passion was far more important than anything else. Unfortunately 90% of these independent brands are now gone.
When I got my first job in the watch industry with Jaeger LeCoultre 28 years ago, the sector was going through severe difficulties. We were all on the verge of bankruptcy, there was no money, no glam… But we were talking to people like us, we were crazy geeks talking to other crazy geeks, who were the clients. We were not making any money but we were having a ball.
Now that the industry has grown exponentially, probably 80% of people working in it don't actually like watches. The soul of the industry now remains with a few artisan creators, people who are making watches because this is the only thing they want to do, not because of money. When they look at themselves in the mirror, they are proud. That's why the biggest part of innovation, creativity, beauty and hand finishing is still done in small artisanal brands. Arguably they've got much higher prices, but this is because we're talking about a completely different set of processes.
I often think we are like Asterix's village or like a lonely dolphin in the middle of the ocean, emitting a signal that millions of fish don't get but from time to time, reaches another dolphin who does.

I-M: Maximilian Busser certainly has many friends as it proves all your collaborations so far. What do you enjoy so much about working with other creative minds?
M.B: There are different ways in which I collaborate with other creators. On my MB&F pieces is about finding the right people who can transform my ideas into reality. Then, there are co-creations, like what we do with L'Epée for whom I have created concepts like the Balthazar, Sherman or Medusa clocks and they make them. Finally, there is what I call performance art, which are the real collaborations, like the Moonmachines or the Silberstein pieces. These are very interesting processes in which I let go of my "babies" and allow other creator to modify them. It was very difficult at the beginning but we enrich ourselves by working with other talented people who share our values and want to create together the best products ever.
I think I have two assets: one, I think differently from others; second, I have developed a talent for aggregating great people around me. I am not sure how I manage it, but it works. Each of our watches takes around four years from conception to execution so everybody involved is in for a long ride.
I-M: Does that talent have to do with age?
M.B: Well, I think with age you realise better which are your assets and your shortcomings. You learn to exploit the former and protect yourself from the latter.
When I created MB&F, I knew from the beginning that it was going to be a very small company, even if it was incredibly successful, because I hate managing people. I've always had an auto centred engine; I don't need people to make me go further. I have my own accelerator. So, I do not understand people who need to be cajoled, motivated and inspired to keep moving forward. I try and surround myself with people who've got their own engine.
Also, I want to keep the company as small as possible because I just want to create and to love. I don't care about the rest. If I can be with my family and create what I believe in, then I consider that 95% of my life is done, I don't need anything else.
I-M: Your latest creation, the Thunderdome, inspired by the third Mad Max movie, is that right?
M.B: Yes, the name was. I was a cinema usher between the ages of 17 and 24 to make a living. I wasn't very happy then and movies were my escape, cinema was my life. The Thunderdome is the most insane 3D escapement in watchmaking history co-created with two of the greatest watchmakers of our time: Eric Coudray and Kari Voutilainen, two wonderful friends I have had the chance of knowing for one to three decades.
The star of the movement is the largest and fastest three-axis tourbillon ever, which necessitated umpteen world-premieres to come to life. The first flying cage, the first spherical balance wheel, the first time in 130 years a Potter escapement is used (and a first in a wrist watch), etc… The Thunderdome is the ultimate 3D piece of watchmaking kinetic art and usually one cannot stop gazing at it whirlwind around.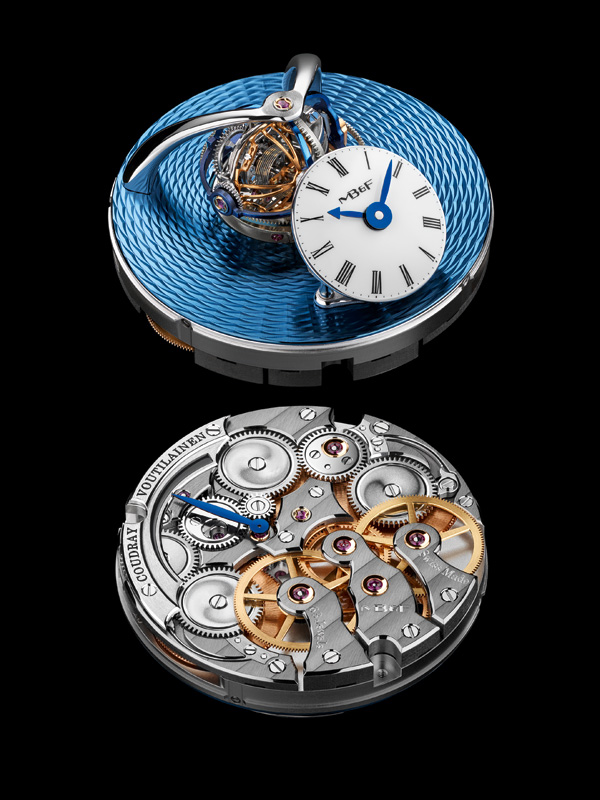 I-M: What does Maximilian Busser dream of?
M.B: At the beginning of this year, after 14 years of MB&F being in business, I thought that maybe it was a good idea for my team that we worked on a strategy. We never had one. It was all about creating crazy cool products. My team made them work and you guys [the press], made people know about them.
However, I realised it is important for the team to have some sort of anchoring in what this company wants to do. And so I took on a coach who I've known for many years. We're having lunch, and I was explaining what kind of questions we were searching answers for, etc and he said, "All that is very well Max, but, what do you want for the company going forward?" and I answered, "I want to be happy."
Of course, what I consider happiness now is not the same than 10 years ago. At the time, I'd work 18 hours a day, go around the world for six weeks predicating the creed of MB&F for people to understand what I was trying to achieve and then come back home and collapse. I wasn't happy. It felt as if I was angry and battling the world all the time. I don't want to do this anymore. I don't need to go bigger, faster or further.
I am very grateful for what we have achieved so far. Now I feel happy and a little scared of losing it. I want to see my two daughters grow up and be a family with my wife and the two of them, and at the same time of course, I want to keep creating cool stuff. I have so many calibres in the pipeline, so many ideas!
So to answer your question, I'd say my dream is to be as happy as I am today.