What if your passion for the world's most beautiful classic cars could help change lives? What if spending a weekend with friends could help support some of the most isolated and vulnerable children on earth? 
Welcome to the Hope Classic Rally, an event like no other that raises funds to transform the lives and futures of children in some of Africa's toughest and harshest environments. In this, its third edition, the Hope Classic Rally will again feature guests driving classic Aston Martin, Ferrari, Jaguar, Mercedes and Porsche cars through the countryside of Southern England. The weekend will begin with a stunning gala dinner at Mercedes-Benz World followed by a night at the luxury Brooklands Hotel. The following morning, the Rally will set out from the historic Campbell Curve at Mercedes-Benz World along a carefully chosen route through the rolling hills of Surrey, making a pit stop at a gorgeous country pub, before heading back for afternoon tea at Brooklands Museum.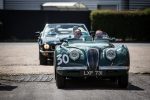 The beauty of these extraordinary cars, the passion of enthusiasts and the generosity of owners fuse together to support the charity WeSeeHope. Over the last three years, the Hope Classic Rally has raised more than £500,000 to support their work in changing the lives of orphans and other vulnerable children living in extreme poverty in Southern and Eastern Africa. Across the region, many thousands of children are orphaned, isolated and dehumanised by devastating poverty, which threatens to rob them of their future. But there is enormous hope in the extraordinary resilience, tenacity and human spirit these children show.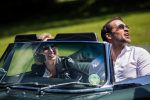 From rehabilitating isolated children back into their communities and defending children's rights, to educating young people and training them in vocational and business skills, WeSeeHope focuses on delivering tangible and sustainable impact. It achieves this by working with expert local partners, combining their cultural understanding and local networks with WeSeeHope's technical support, mentoring and knowledge-sharing to make a real difference to the lives of 88,000 children and guardians every year. The team at Hope Classic Rally want to help WeSeeHope grow that number to 150,000 children supported every single year, by 2020.
From a weekend drive through the rolling hills of Southern England to transformed lives in the communities of Southern and Eastern Africa, The Hope Classic Rally is the essential event of 2017.
For more information about taking part in the Rally, donating a car for the race or making a financial donation please visit www.hopeclassicrally.org or email ailsa@hopeclassicrally.org