Brilliant, modest, and with a great sense of humour, Honorato del Hierro is an artist with an eclectic career behind him, including IT Engineer and local Chief of Police, but the constant in his life has been painting. As he says, "I just have to paint." Now a highly recognised artist in the region, his work is admired by an increasing number of fans, who are seduced by the light in his paintings and the love with which he features the people and urban landscapes of La Mancha, the land of Don Quixote.
Our Editor Julia Pasarón has known him since she was eight years old, so she couldn't resist the opportunity to interview him in the town where they both grew up, Ciudad Real. My first memory of Honorato (Nora to his friends) is of a laughing teenager, teasing his sister Miti and me with his identical twin José Andrés while we pretended to do homework. Nora was always painting. There were drawings of his everywhere in the house.
When he was a kid, he lived in Córdoba with his family for several years. There, he attended Art School for a bit (outside normal school) and he reckons this it was where he learnt to draw. Apart from that period, he never really had any formal artistic education. His granddad Honorato was a very skilled artist, but he died before he was born. The work he left behind was, in Nora's words, "truly amazing."
There weren't really art books at home when Nora was growing up, but being the perfectionist he is, he wanted his drawings to be as good as possible, so he kept practising until they were good enough in his young and critical eyes. When he and his family moved back to Ciudad Real in 1981, his formal studies took over and eventually he stopped painting all together, "in my family there was no chance I could get away with pursuing a career in art. My father thought that was simply not serious, so I went to Albacete to become an IT Engineer. I didn't come back to Ciudad Real until 1995."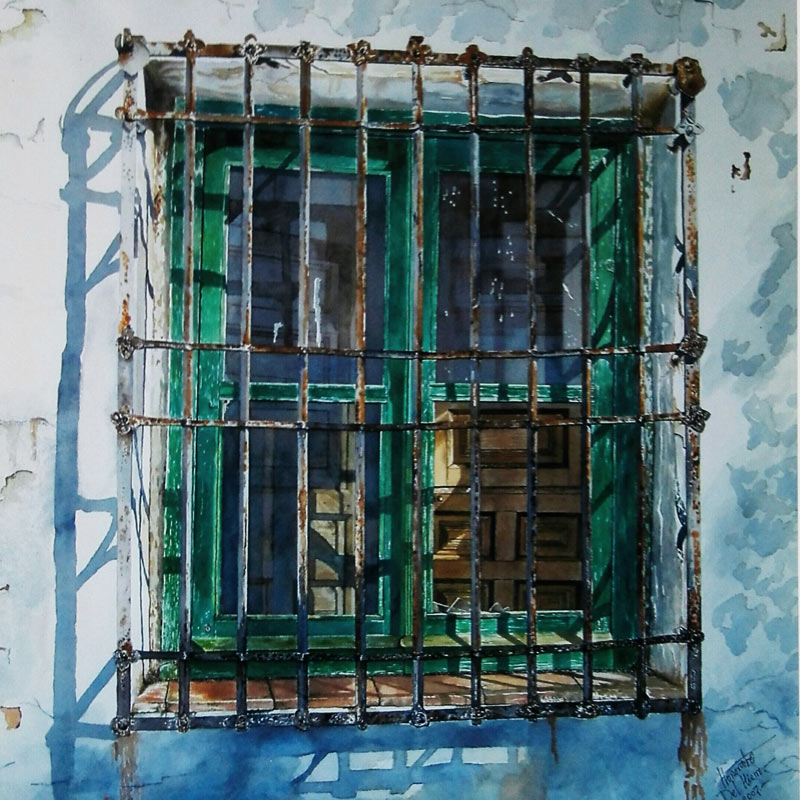 Nora also attained a Bachelor's degree in Marketing and spent years travelling around the country setting up IT systems for stores. "It was exhausting," he confessed, "at some point I couldn't take it anymore and quit. I was already based back in Ciudad Real so it was then (1996) that I became Chief of Police in Malagón, a small town nearby. Believe it or not, my job in the Police brought me a routine that I was craving and slowly, allowed me space in my mind to think of other things, among them, art."
Nobody paints for money. If you paint, you do it because you love it…
So the painting seed germinated inside him and in 2003, he gave his wife a watercolour of a horse, which she absolutely loved and so, she encouraged Nora to keep painting. He took that watercolour to frame and the shop owner asked to see more of his work with the idea of selling it in his shop. "He sold 20-30 small paintings of mine. That success, however small it was, awoke something in me and I started to paint much more regularly."
His first real taste of success came when one of his early works (a large format watercolour on paper called "In a place called La Mancha") was selected for a competition at the prestigious Museum López Villaseñor, which he won. In other years, he has been commended a total of seven times. Nora's work best fits the figurative realism style and has often been referred to as hyperrealism; but he doesn't like that label at all, "realist art doesn't look like a photo," he stated, "hyperrealist does. It is never my intention that my work looks like photos, that is what photos are there for. I want my work to be an artistic representation of what I see."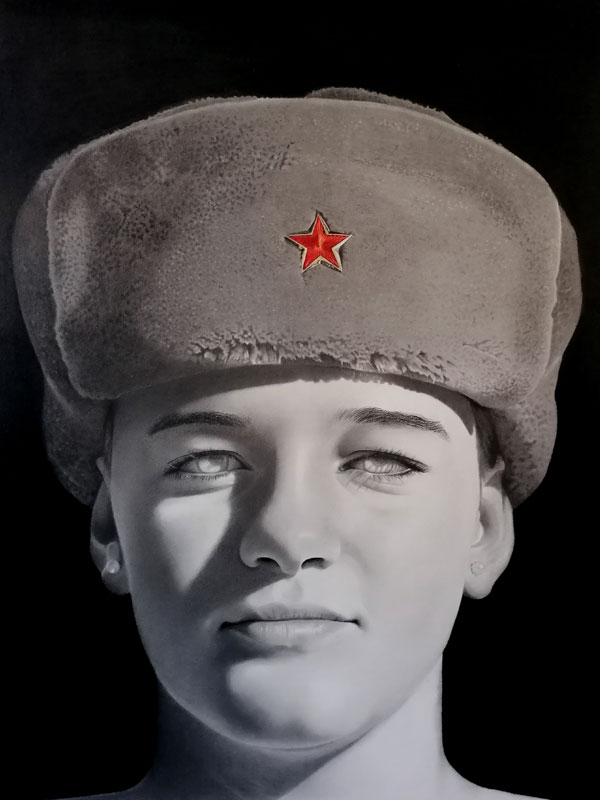 Probably the painter that influenced Nora the most was Velázquez. As a kid, he bought a book about the Spanish Master and was mesmerised by his realism. He remembers looking at Las Meninas for hours. Other painters who strongly influenced him were Zurbarán and Sorolla. "The light and contrast in Sorolla's paintings are stunning. That's why, especially with watercolours, I use a lot of sun and shade; that contrast is what gives you volume."
Nora feels the most comfortable when using watercolours, pencil, and charcoal, although he has played with more unusual media like pen, "I used six Bic biros in one painting, six!" he exclaimed, "who has ever finished a Bic?" In fact, that painting was a finalist at one of the competitions at the Museum López Villaseñor.
A few years ago, he started using oils, "I think oils are the definitive medium. Everything looks better in oils," he said with a half-smile.
Nora is in love with the urban landscapes of La Mancha. There are extraordinarily beautiful villages in the region, such as Almagro, Herencia, Villanueva de los Infantes or Campo de Criptana. The light that bathes them is incredible. They are not as white as those in Andalucía, but they are that kind of style, with the bigger houses often boasting impressive old gates in wood and iron. Some of my favourite works from him are simple doors or facades of old houses flooded with the sharp light of La Mancha.
To my eyes, he is equally talented when it comes to portraiture, which by his own admission "is very very difficult. The triangle eyes-nose-mouth is the most important," Nora explained, "but the most complicated to get spot on. Now, if you manage to do it, you'll probably end up with a very good portrait." I always wondered how an artist could paint someone they do not like. Nora laughed at that, "nowadays very few people have the time to sit for a portrait, so that's not a problem, I mostly work from photos. What surprises me, is the low quality of the pictures that I am given, sometimes even passport pictures! I'd think that if I was to pay good money for a portrait, I'd supply the artist with the best possible photo, don't you agree?" I had to concur. Nora reckons he has painted around 200 paintings so far, half of them portraits. "If I am not sleeping, I am painting," he declared.
His work is regularly exhibited at the Museo López Villaseñor in Ciudad Real and last November, he exhibited in Córdoba.
Exhibiting is always difficult as there is little investment (to say the least) from the local government to nurture young artists and provide them with platforms to show their work. "We, local artists, don't even have a place to exhibit our work. We have to result to hanging our paintings in bars, shops, restaurants… There is no institutional support at all; and if you want to exhibit in a gallery, they charge you 50% of the sale price." His clients are mostly individuals that know him personally and commission him. But recently, he sold two paintings to a Dutch client who discovered him on Instagram.  Admittedly, this is the positive aspect of social media and, partially because of this and partially because he has been selected for the international MOD Portrait competition, one of the most important for realist portraiture, Nora is currently working on exhibiting in Madrid and maybe even signing for a gallery.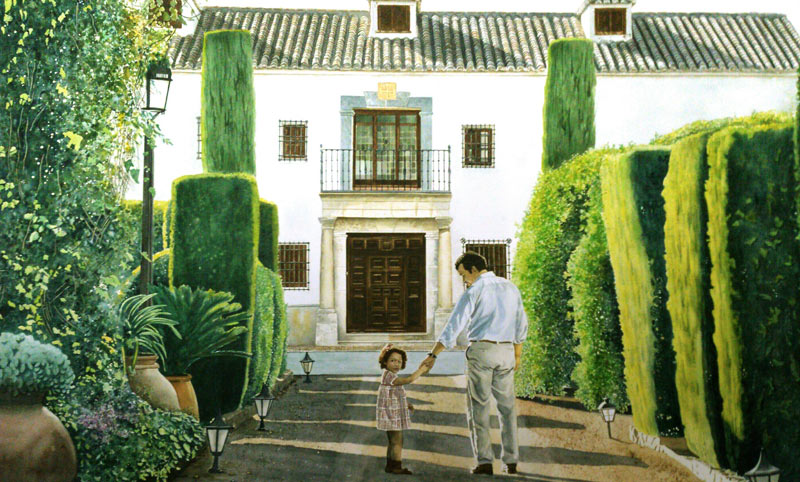 Spain has a lot of artistic talent but there is insufficient investment or variety of opportunities. The local art market only exhibits in large fairs and shows, but very little else for the rest of the time. This year, with the threat of Corona virus locking down entire countries and forcing authorities to cancel large people-gathering events, prospects don't look very promising. Without institutional support it is very important to enter competitions for artists to gain visibility and have a chance to sell their work. Nora though, has a completely altruist view, " I don't ask anything from my art. I paint because I love painting. I couldn't live without it. I don't do it for money. It is nice to sell because when somebody spends money that means that they really like your work." It has always surprised me that in general, people will more readily spend €1,000 on a coat than on a piece of art. When discussing the matter with my old friend, his view is that this is due to lack of education in art, what leads to lack of appreciation. "People in general don't realise the effort and hard work behind a piece of art.
However, nobody paints for money. If you paint, you do it because you love it. When people tell me that they think my paintings are expensive I explain to them that one, there is a lot of effort and hours of work behind them and second, that each and everyone of them are totally exclusive. I don't do lithographs or copies of any kind. " What is unquestionable is his talent. Everybody I know that has seen any of Nora's paintings has been floored. I've always believed that one can't learn to be an artist. He seems to agree with me, "I think that an artist is born with natural talent. Then you have to learn technique, evolve, and practise. The more you draw and paint, the better you become, your strokes become more agile and you feel more comfortable using different techniques and media."
Lately Nora is trying to move away a bit from realism, and try a looser style. One of his latest paintings, a black and white portrait of his daughter as a Soviet officer, shows her with blind eyes, with the intention of awakening strong reactions from viewers. When asked why this change, he answered, "realism doesn't impress as much as I thought, it doesn't provoke the same reaction in the viewer." For a perfectionist like him, this is not going to be an easy journey, "It is difficult to know when to stop, that is true. In a way, I think all realist artists feel that their paintings are never completely finished."
Looking at the future, Nora would like to be more recognised and known in other places, but above all, he just wants to keep painting and evolving.
 

As he said, "I just need to paint."