Based in Val D
'
Isère, in the heart of the majestic French Alps, Hip Hideouts is a relatively new company born of the desire to offer luxury fully catered, highly designed chalets and one hotel and without a reindeer cushion on sight. Before the global lockdown, I-M challenged Jeremy Webb to sample of one of their celebrated chalets, La Bouclia, to find out what is all the "hip" about.
Hip Hideouts was founded in 2010 by London based couple Richard Thompson and Graham Folmer. Richard had worked for several years as an area manager for a large ski tour operator and later in the city in headhunting. Graham had a strong business background having built his own tech companies from the beginning all the way through to sale. He also worked as a CIO in the NHS.
Being trendy urbanites and very stylish themselves, Richard and Graham felt there was a gap in the luxury ski market, especially on the accommodation front: one that would go beyond classic design and avoid cheesy decoration (i.e. knitted cushions on sofas and vintage skis hanging on walls), one that, so to speak, would bring a London chic to the mountains. With that aim in mind, they opened their first chalet in Val d'Isere in 2010, Chalet Sarire. Apart from bringing a fresher and cleaner approach to interior design, they employed a professional chef from the famous Ottelenghi restaurant in London's fashionable Islington to train their own chefs and worked with brands such as Aesops for the toiletries and Redchurch Craft Beer (a company the owners set up in Bethnal Green) to further pamper their guests. "Demand for chalets has grown rapidly and the company now has 10 luxury chalets exclusively in Val D'Isére with 35 members of staff. Over 2,000 guests stay with us every winter. Our approach is very humble, simple and high quality." Graham shared with us.
Val d'Isère is a ski resort in the French Alps, near the Italian border. With nearby Tignes, it's part of the Espace Killy ski area. Here, ski lifts give access to sites like the iconic Face de Bellevarde, a black-rated slope with amazing views of the Alps and the village down below. Another must-see and do is the Grande Motte glacier, known for summer ski runs. In town, bars and restaurants cluster around Avenue Olympique.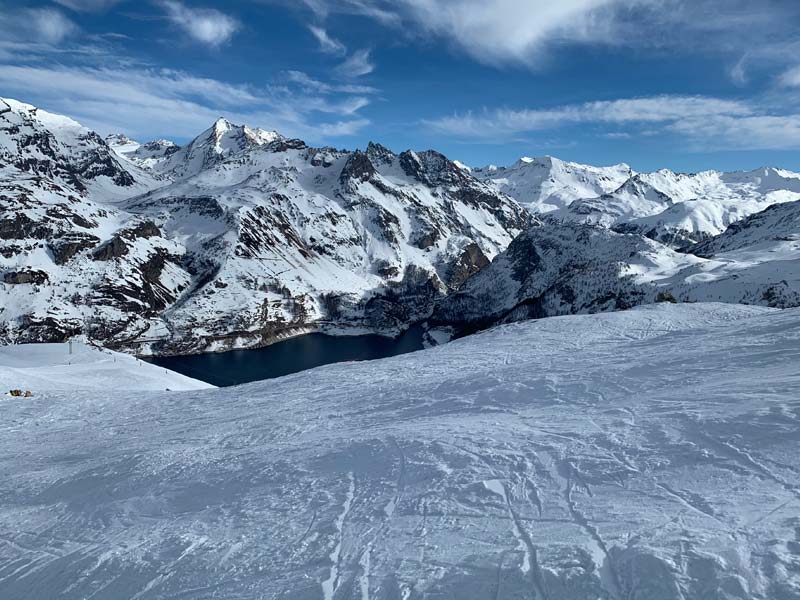 In summer, from June to mid-July you can ski in the mornings on the Pissaillas glacier. A shuttle bus offers transport from the village to the foot of the glacier with all-inclusive ski pass and discount for kids. For lycra lovers, the Col de l'Iseran mountain pass is a popular cycle route in summer.
It is quite common in ski accommodation to completely focus on the "ski to the door" principle, but this was not a priority for Richard and Graham, they actually want their guests to feel like they are in an exclusive location, in a retreat or "hideout", hence the name of the company. The quality of the craftmanship in the properties became a point of special attention and the interiors were thought as a combination of the company's aesthetics blended with the original design of the chalets in order to create a look that would immediately stand out to their guests.
A private driver picks you up from the airport or train station (the closest are those in Geneva) in a Land Rover Discovery and whisks you to La Bouclia through snow-covered roads with postcard-pretty wooden houses everywhere. Our driver Patchy, who knows the area like the back of his hand, pointed out all the places of interest in Val D'Isère as we drove by. La Bouclia is to be found in a secluded location a short walk from town.
Entry to the chalet is gained via a wet room where outside gear is stored, before going into a seating area where footwear is deposited. There are heated racks for ski boots so they are ready to wear the next day. From the anteroom, you access the lower floor where all the bedrooms are set around a circular hallway off which stairs lead to the vast living room and open plan kitchen.
Large arched windows frame a beautiful view the mountain range, which is even more enjoyable from the balcony, which has plenty of sitting available. The focus of the living area is the wood-burning fire around which leather sofas are placed together with the dining table, which sits up to ten people and is near the galley style kitchen where the chalet's professional chef creates gorgeous meals. A functional, yet stylish desk with a MAC is set aside for guests to use.
Macca, an Australian nomadic traveller was our chef for the week. Guests are offered breakfast every day and on five of the seven evenings, a three-course meal.
Our chalet hostess was Lucy, a twenty-four-year-old ex-French teacher. Lucy took care of all your requirements and assisted the chef serving the meals and helping us suggest the right wine for each of the dishes we enjoyed during our stay. Lucy also hosts a champagne tasting evening and a gin event. Macca and Lucy phoned me prior to arrival to discuss what type of meals our group would like, any allergies or special diets in order to plan ahead and have ingredients ready.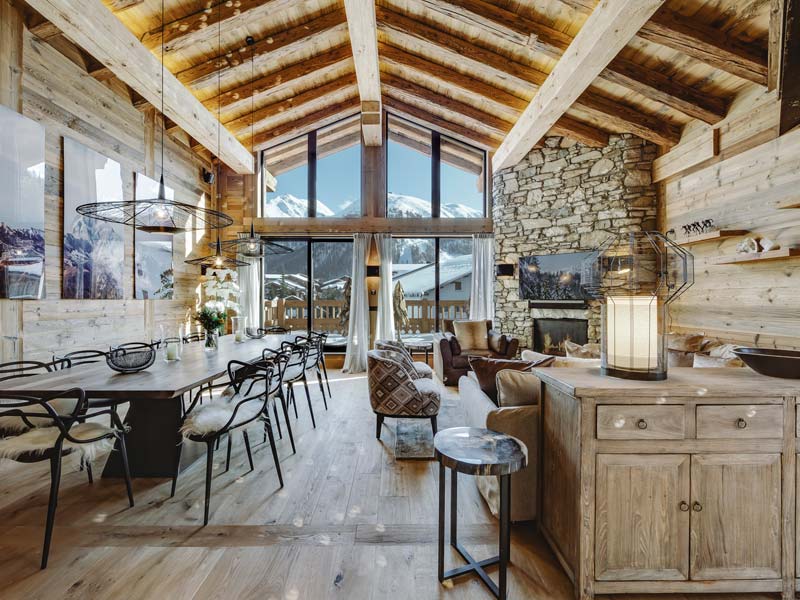 I won't attempt to describe every dish in detail as they are prepared according to your preferences, but what I can tell you is that they'll surely be of the highest quality and beautifully presented. Breakfast offers a different cooked special every day and the rest is based on a sumptuous buffet layout including a generous variety of fresh pastries, fruit, bread and all the normal continental breakfast foods you'd expect in 5 star accommodation.
Lucy explained to us on our first night that we were to treat the chalet as our own and that if she wasn't around, we could help ourselves to drinks at any time. An area near the dining table is set up for hot drinks and close to it, the alcoholic drinks are to be found whilst soft drinks and bottled beers are kept refrigerated in a corridor leading away from the kitchen., there is a cold storage area where soft drinks and bottled beers are located.
Each afternoon Macca would leave an afternoon tea ready to replenish guests on return from the slopes, completed with a large tart or cake and sometimes my favourite, tasty sausage rolls would be on the dining table.
Staff are very knowledge about the town, the slopes, places to eat and in general, anything you may need to know to enjoy Val d'Isere to its full potential. Guests also have full access to Hip Hideouts' concierge service which can take care of all pre-arrival and in-resort arrangements. As the company has been in the resort for 10 seasons they have a little black book of all the best places.
I have to say I really enjoyed having an on-call private driver to drop us and pick us up from the bottom of the slopes, scarcely a few feet from the ski lifts. Back at the chalet, a good sauna and invigorating shower got me back on form and ready for the evening.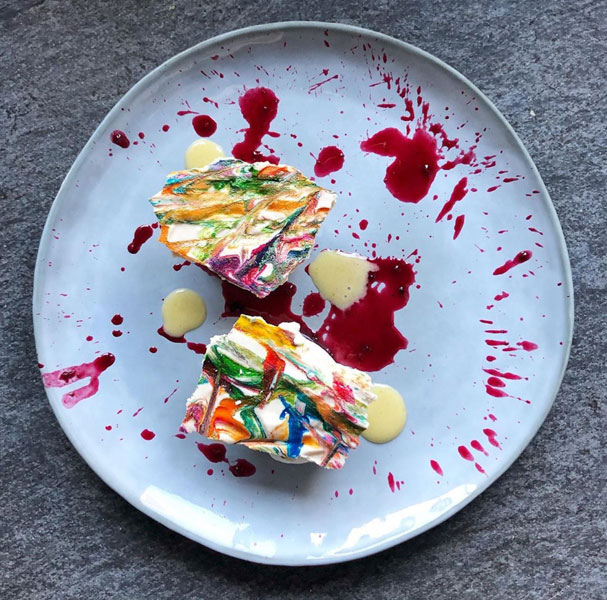 Travelling to Val is easy, with several flights per day from the UK to Geneva. Then either hire a car or use one of many taxi shuttle services available to the town. I found it more convenient to drive, using Eurotunnel Le Shuttle to cross from Folkestone to Calais, then an easy ten-hour drive to Val d'Isere. This option allowed me and the others to take our ski equipment which is a pain to transport on planes. Flights can be £90 return with taxi €110 return. Eurotunnel returns for seven-seat car and roof box £180 return. Hip Hideouts provide heated garages for guests' cars.
Prices at La Bouclia start from around €1,100 per person on a catered basis including daily breakfast, afternoon tea, housekeeping and resort chauffeur plus a 3-course evening meal for five evenings with wine pairings and a champagne and canapés reception.
We loved our stay and the chalet experience made it for us. The standard of service and attention to detail from Lucy, Macca and the drivers was superb. Their friendliness along with professionalism is a credit to Hip Hideouts and I would truly recommend them to anyone wanting to visit Val D'Isère. I hope to stay in one of their chalets or hotels again.