In the midst of the racial tension currently filling our world with such conflict and turmoil, I found it a delightful coincidence to be asked to watch and review a film that shines a spotlight on black struggles, in turn allowing me to appreciate the efforts and difficulties that my people faced back some decades ago when racism was in its full might (even though many will agree that in this day and age racism hasn't weakened but actually taken more stealth a form).
Hidden Figures, released in 2016, is a biopic of three African American women having to overcome bias and segregation as they maintain – and try to advance– their careers within NASA, during the space race against the Soviet Union. The movie is loosely based on the eponymous nonfiction book by Margot Lee Shetterly. The main character is Katherine Johnson, a mathematician, whose calculations of orbital mechanics were critical to the first successful spaceflights, is played by Taraji P Henson, who has received global acclaim for her work in such films as Baby Boy, Hustle and Flow, The Curious Case of Benjamin Button and Think Like a Man.
Dorothy Vaughn, also a mathematician, worked for the National Advisory Committee for Aeronautics and later progressed to become the chief supervisor in the Langley Research centre. She is portrayed by Academy Award winner Octavia Spencer, who has an outstanding career as an actor with blockbusters such as Seven Pounds, Big Momma's House, Never Been Kissed and Coach Carter as well as award winning films like The Help, The Shape of Water and Fruitvale Station among many others. Better known as a singer /songwriter than as an actress, Janelle Monae is casted as Mary Jackson. As well as being a mathematician, Mary Jackson was an engineer for the National Advisory Committee for Aeronautics, later on succeeded by the National Aeronautics and Space Administration (NASA).
Supporting actors include Kevin Costner, one of my all time favourite actors, known for starring in Dances with Wolves, The Untouchables, JFK and possibly the biggest adaptation of Robin Hood; Jim Parsons, most famous for playing Sheldon in the hit TV series The Big Bang Theory; Kirsten Dunst, who I particularly remember from the films Bring it On, The Virgin Suicides and All Good Things; as well as Aldis Hodge, whose work in movies like Brian Banks and Clemency has been widely recognised by the public and critics alike; and Mahershala Ali, who has won two Academy Awards for his performances in Moonlight and in Green Book.
In the film, Mary Jackson's struggles have her going up against the high court, challenging the laws in place so that she can attain the necessary qualifications to become an aeronautical engineer (the first female in history to do so). The problem is that in order to receive these qualifications, she would have to attend a college that only allows white students to study. Back in the early 60s, the system of segregation was a common policy, denying coloured students the opportunity to reach the same level of education as their white equivalents. Luckily, Mary is ready and prepared for her day in court; she had done her research: "Your honour, you of all people should understand the importance of being first."
A confused judge asks, "How's that Mrs Jackson?"
"You were the first in your family to serve in the armed forces, US Navy," Mary answers, "the first to attend university and the first state judge to be recommissioned by three consecutive governors. The point is Your Honour, no negro woman has ever attended a non-white high school. Its unheard of…"
She does well to bring the space programme into her argument: "And before Alan Shepherd sat on top of a rocket, no other American had ever touched space and now he will forever be remembered as the US Navy man who was the first to touch the stars; and I plan on being an engineer at NASA, but I can't do that without taking these classes at this all-white school. Now, I can't change the colour of my skin, so I have no choice but to be the first, which I can't do without you sir. Your Honour, out of all the cases you'll hear today, which one will matter 100 years from now? Which one will make you the first?"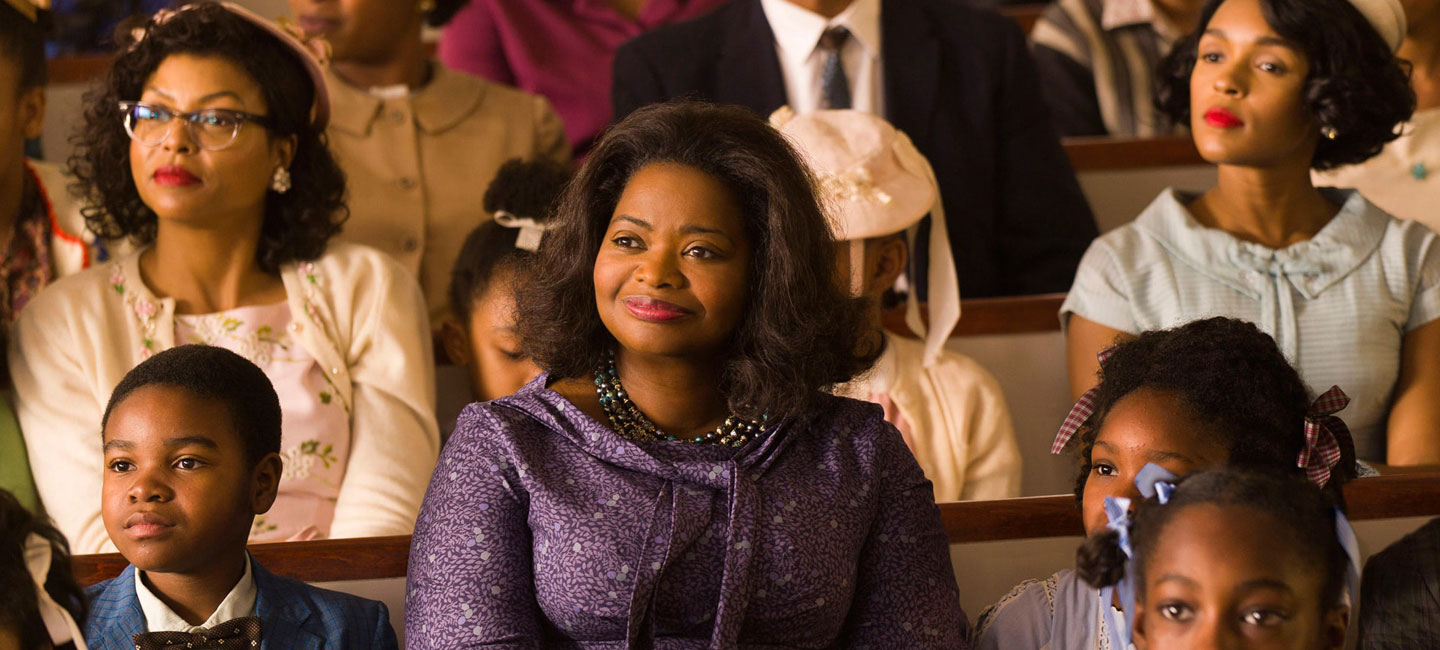 Surely, her heartfelt speech in the courtroom manages to sway the decision of the judge, whose ego clearly has been stroked, yet has been tasked with the responsibility of historical reform. He allows her to attend only the night classes so she can pursue her degree.
Dorothy Vaughn is the oldest of the three women and plays a mothering role to the other two, who hold a higher status in their respective fields. This causes her to feel downbeat at times, but musters up the courage to persevere. As well as the main two characters, she also manages the other black women in the NASA staff detail, who work as computers and in other roles within the agency. At the time, NASA units were segregated by race and sex. Dorothy does the work of a supervisor, but is not given the title nor is she paid as one. Her constant appeals for this to be corrected is time and again disregarded and slept on by her superior Vivian Mitchell, played by Kirsten Dunst. Vivian Mitchell is what I would call a subtle racist. I say subtle because this was a time when blacks were so casually oppressed that a white person didn't have to be bold with their prejudice. It was just the norm.
When the new IBM 7090 is installed in the office, Vivian is happy to let Dorothy know that soon her and her staff will not be needed as the IBM electronic computer will be advanced and powerful enough to do the calculations her team is tasked with in so quick a time, that her faction will be deemed obsolete. Dorothy steals a Fortran book (programming language) from a public library and teaches herself and her West Area co-workers programming. When NASA learns of her new skills, she is promoted to supervise the Programming Department; she accepts only on condition that 30 of her co-workers are transferred as well. Vivian finally addresses her as "Mrs. Vaughan" rather than "Dorothy". She became NASA's first black supervisor.
I would say Katherine Johnson has the most challenging battle of the three ladies, as her expertise sees her reassigned to the main headquarters of the Space Task Group, where she is now surrounded only by white males in the department charged with ensuring the safe take-off and orbits of the astronauts. Initially, she receives quite a frosty reception as these top officials are not used to a coloured woman in their grounds, much less holding a seat in their office. Jim Parsons's character makes it increasingly awkward for her throughout the film, blatantly letting her know how unwelcome she is. With every request she makes (always pertaining to their joint objectives) he is quick to remind her that she doesn't have the necessary clearance, forcing her to take a back seat. The head of the department, Al Harrison (Kevin Costner) plays the fatherly professional, who sees through all the racial tension to realise that Katherine is extremely good at her job and an integral part of the team. Her trajectory equations become absolute with Harrison and with astronaut Colonel John Glenn. That doesn't make things any easier for her.
Possibly my favourite scene is when she is away from her desk for a long period of time, during critical drills and none of the other colleagues know where she is. Upon her return, Harrison yells at her in front of everyone else in the office and a frustrated Katherine yells back, letting him and the rest of the department know that as a black woman, she isn't allowed to use the same restroom as her white colleagues so has to retreat to the "coloured restroom" which is all the way on the other side of the quarters, meaning one quick trip to relieve herself would take her up to 40 minutes.
In her emotional state, she also laments at how nobody in the office will even share a pot of coffee with her because she is coloured. After she storms out of the office, a stunned Harrison and his team are left to reflect on the way things are in their grounds, prompting Harrison to force all to share one pot of coffee, also making all toilets on the compound to be colour fluid. Perhaps one of the great movie quotes at this point is that "Here at NASA, we all pee the same colour!" The day of the launch, discrepancies are found in the IBM 7090 calculations for the capsule's landing coordinates. Astronaut Glenn asks for Katherine to check them and it is her trajectory calculations that allow for a safe launch and orbit. This part is true – although the real Katherine Johnson took a day and a half to check the calculations. Nonetheless the small scene emphasises the role and importance of the "human computers" in the first forays into space. In the movie, however, once she delivers her results to the control room, the door is slammed on her face. Harrison then, on reflection, gives her a security pass.
Following the mission, the mathematicians are laid off and ultimately replaced by electronic computers. Katherine is reassigned to the Analysis and Computation Division, Dorothy continues to supervise the Programming Department, and Mary obtains her engineering degree and gains employment at NASA. Stafford (played by Jim Parsons) accepts her name as a report co-author. The epilogue reveals that Katherine went on to perform calculations for the Apollo 11 and Space Shuttle missions. In 2015, she was awarded the Presidential Medal of Freedom. The following year, NASA dedicated the Langley Research Centre's Katherine G. Johnson Computational Building in her honour. Just recently, NASA named their Washington DC Headquarters building after Mary Jackson. It is worth reflecting that, with all the negative press concerning racial discrimination at the current time, without the efforts of three pioneering ladies who were discriminated against, that "whitey" would have never made it to the moon.
Hidden Figures is currently available for free on Netflix