Hergé. The Exhibition arrives in Madrid after a world tour that has included cities as far apart as Paris, Quebec, Odense, Seoul, Shangai and Lisbon, delighting Tintin fans of all ages. Curated by the Musée Hergé of Belgium, the show immerses its visitors in the universe of illustrator and artist Hergé, creator of the iconic comic book series The Adventures of Tintin. Hergé said about his most famous character: "Tintin is me wanting to be heroic and perfect…" "Tintin is me… my eyes, my feelings, my lungs, my guts!… I believe I am the only person able to animate him, the only person able to give him a soul."
Tintin was created in 1929. He was like Totor's (the first cartoon created by Hergé) young brother, who had become a journalist but kept his boy scout's spirit. He is aged between 16 and 18, with a face which never wrinkled despite officially turning 90 years old in 2019. "Since the Soviets, the character of Tintin has not evolved. From a graphic standpoint Tintin is still a sketch."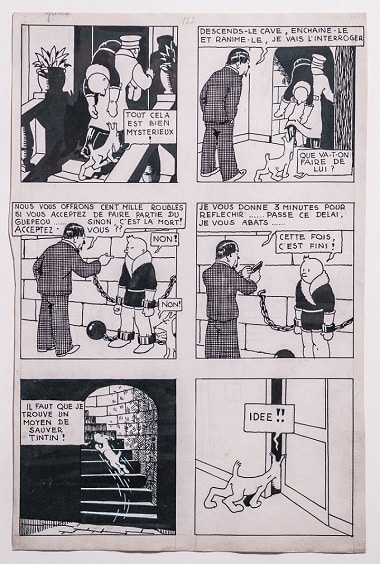 The first eight adventures of Tintin were created in black and white. The first published in colour was The Shooting Star, 1942. Later the pre-war books were redrawn and published in colour.
Considered as the father of European comics, Hergé's creative genius has opened decisive paths for the 9th art and his influence is still visible in the world of contemporary comics. He is not only the expert in the ligne claire, and the creator of Tintin, but also an artist of multiple talents: graphic designer, publicist, screenwriter, and painter. Recognized as one of the renowned artists of the twentieth century, Hergé is a universal creator. The show presents a wide selection of documents, original drawings and many other works by the talented artist, from illustration to comics, with forays into advertising, cartoons in newspapers, fashion design and plastic arts.
In addition, for the first time in Spain, part of Hergé's private collection of contemporary art will be shown, revealing his facet as a great collector. You can see the works of Hergé himself, inspired by Modigliani, Klee, Miró and many other renowned artists. Fans will be delighted even more to discover that many other treasures from the Musée Hergé's collections are on display, such as original drawings, sketches, film clips, models and the artist's original artwork.
Many treasures from the Musée Hergé's collection are on display, such as original drawings, sketches, film clips and models.
The tireless reporter Tintin and his faithful Milú have already surpassed the threshold of 90 years, but even in the 21st century they have not lost their relevance and have conquered their place among the greats of universal literature. The adventures of Tintin continue today to arouse passions in both readers and other creative minds. The books are being more republished than ever and keep inspiring artists, writers, producers, and film directors.
Visitors to Hergé. The Exhibition, will be able to explore the creative processes behind his most emblematic albums, his work in the studio, his markedly cinematographic influences, his dialogue with contemporary art, his different steps as a creator, from the modelling of objects or buildings to coloration.
Hergé. The Exhibition
Circulo De Bellas Artes.
C/ Alcalá, 42, Madrid.
Until 19th February 2023
Words: Lavinia Dickson-Robinson, edited by Julia Pasarón
All pictures courtesy of Archivos Gulbenkian. ©Pedro Pina