I must admit I was a novice in all things Korean, until I visited the newly opened Hallyu! exhibition at the V&A Museum. The first major exhibition celebrates the colourful and dynamic popular culture of South Korea, following its early origins to its place on the global stage today. Hallyu is a Chinese term which, when translated, literally means "Korean Wave". It is a collective term used to refer to the phenomenal growth and global popularity of South Korea's popular culture, encompassing everything from music, movies and drama to online games and Korean cuisine, to name but a few.
South Korea has a dedicated goal to become the world's leading exporter of popular culture. Since early 1999, Hallyu has become one of the biggest cultural phenomena across Asia, attributing its origins to movies and TV dramas that were released early that year. From there, popularity grew, not only within their borders but also in Singapore, Japan, Taiwan, Hong Kong, China, and Vietnam.
This overwhelming success led to regional media sources quickly picking up the cues and collectively announcing the birth of Hallyu. However, the actual origins go back much further. Several factors contributed tremendously to the evolution of the Korean wave and initiated its phenomenal growth. Probably the most important one, which eventually made way for Hallyu, was the Korean Government's decision in the early 1990s to lift the ban on foreign travel for nationals. This made way for them to explore the western world. Many studied abroad, and this gave rise to new interpretations of art, cinema and music, and innovative forms of expressions.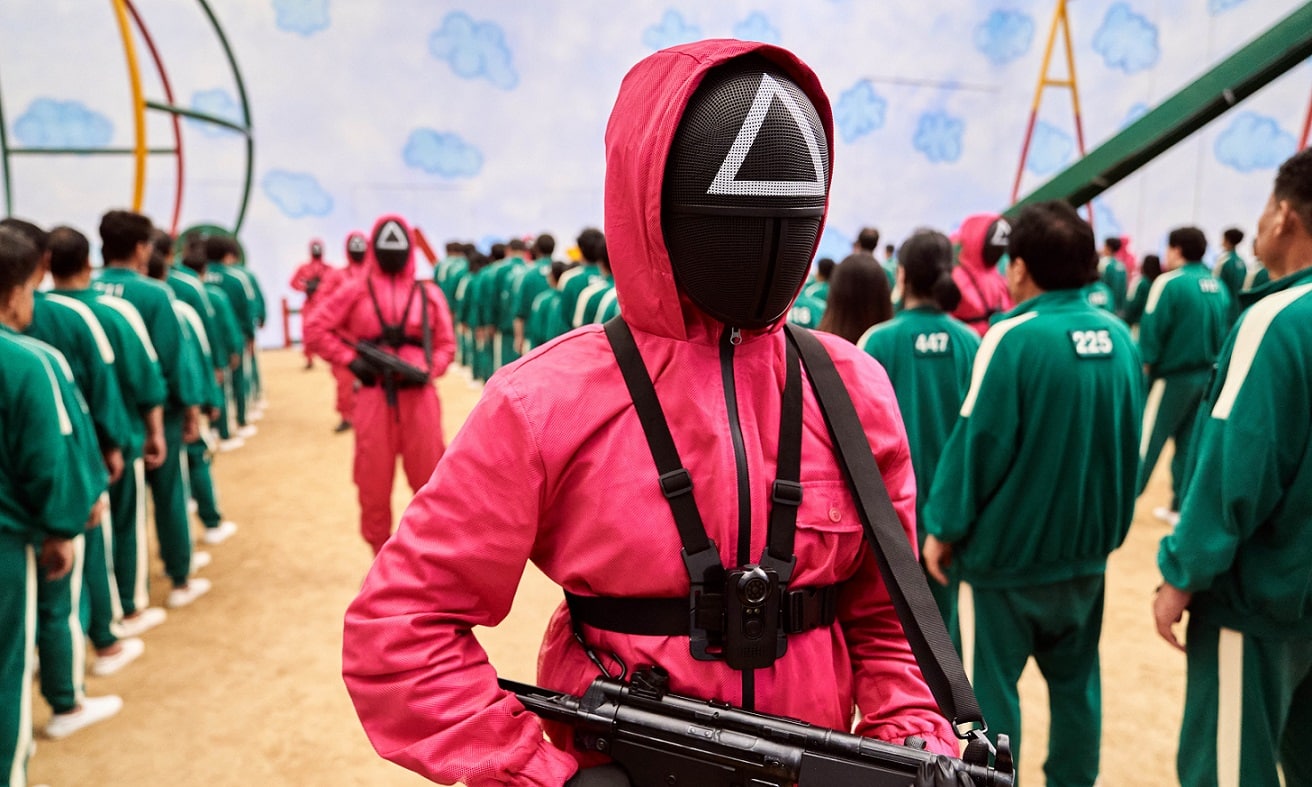 Still from Squid Game, a Netflix Original Series and one of last year's most successful shows on TV. © 2021 Netflix.
Korean censorship laws had prohibited movie makers and other artists from showcasing many topics considered controversial and had curbed their creative independence for a long time. In 1996, this censorship ceased and provided immense opportunities and independence to the young and vibrant generation of Korea to express newer and bolder ideas through cinema and music. Many influential film makers rose during this period.
Following the severe Asian financial crisis of 1997-98, President Kim Dae-Jung pushed for information technology and popular culture as the two key drivers for the future Korea. Technology created new industries above the traditional manufacturing Korea has been dependent on since it rose out of poverty and industrialized, and popular culture became an important export product worth billions of dollars, helping to rebrand Korea.
So, what can you expect from the exhibition?
From K-Pop costumes to K-drama props and posters, alongside photography, sculpture, fashion, video and pop culture ephemera, every facet of this global phenomenon is covered. The exhibition features around 200 objects across four thematic sections – including some loans never seen in the UK before – alongside pop culture ephemera and digital displays. Traditional and contemporary Korean culture is also explored by connecting historic objects with popular culture and socio-political events.
Gangnam Style, by PSY became a worldwide smash hit in 2012. It was the first YouTube video ever to reach 1 billion views. Here seen performance at TODAY, New York, in 2012.
The exhibition opens with a familiar example of Hallyu: PSY's viral 2012 hit single 'Gangnam Style', with his iconic pink suit jacket on display; the first music video to reach 1 billion views on YouTube. Highlights include an immersive re-creation of Parasite's bathroom set, and an array of iconic costumes and props seen in K-drama, film and music – including from hit Netflix series Squid Game, and outfits worn by different generations of K-pop idols, from PSY, to aespa and ATEEZ. It also presents monumental artworks, including by Nam June Paik, Ham Kyungah and Gwon Osang; around 20 high fashion looks by Tchai Kim, Miss Sohee and Minju Kim among others; as well as early examples of advertising and branding, including an original poster from the Seoul Olympics, and the first Korean branded cosmetic from the 1910s.
'From Rubble to Smartphones' provides historical context to the meteoric rise of Hallyu, highlighting how – within living memory – South Korea rapidly evolved from a country ravaged by war in the late 1950s to a leading cultural powerhouse by the early 2000s. Korea's 20th-century history is marked by the Japanese colonial occupation, the territorial division that led to the Korean War, and the subsequent 27 years of military rule. In the 1960s and 70s South Korea experienced rapid industrialisation and economic growth, and the country was propelled onto the international stage in 1988 with the Seoul Summer Olympics, changing Korea's image overseas for the first time. Despite the 1997 Asian Financial Crisis, bold strategies and IT innovations turned South Korea into one of the most digitally connected countries in the world by the late 90s. Korea's modern history is represented and explored through photography, posters, and archive materials, alongside objects ranging from Olympics posters to early examples of electronics.
Eight Beauties of Korea folding screen, 1900-1950. Attributed to Chae Yong Shin. Ink and colour on cotton. © OCI MUSEUM OF ART
'Spotlighting K-drama and Cinema' focusses on the remarkable success of K-drama and film, charting in turn their rise in popularity from the late 1990s to the present day, through multimedia, installations, posters, storyboards, props and costumes. Traditional Korean costumes and props will also be on display, including the grooming kit from The Handmaiden. This section also showcases webtoons, a Korean innovation of digital cartoons designed for mobile devices, as a source of inspiration for many K-dramas.
'Sounding K-pop and Fandoms', the third section, delves into the explosion of K-Pop music around the world, as well as underlining the crucial roles social media and fandoms play in increasing their reach. Visitors enter the gallery through a corridor lined by fan lightsticks, then will be greeted by posters, ephemera and album covers from early K-Pop bands like Seo Taiji and Boys and BoA, before progressing through to explore the concept of 'Idols' in K-pop. Highlights include a monumental three-metre-high sculpture of G-Dragon by Gwon Osang, whilst costumes on display will include Aespa's original iridescent outfits from the music video 'Next Level', and British punk fashion-inspired ensembles worn by four members of ATEEZ in the music video 'Fireworks'.
Aespa 'Next Level' MV, 2021 © SM Entertainment
The final section 'Making K-beauty and Fashion', presents K-beauty and fashion, underlining their origin whilst showcasing their innovative and experimental approach that led to new aesthetic standards both inside and outside of Korea. It highlights how product placement in K-dramas and endorsements from K-Pop idols have amplified the international profile of K-beauty and fashion. Featuring cosmetics packaging from the 13th century to the present day, the exhibition will trace packaging's design evolution, from ornate porcelain pots to items including face mask wrappings boasting idols as superheroes.
Central Saint Martins's Class of 2020 student Sohee Park (Miss Sohee) saw her Peony dress from her graduation collection 'The Girl in Full Bloom' gain practically iconic status when Miley Cyrus wore it on The Graham Norton Show.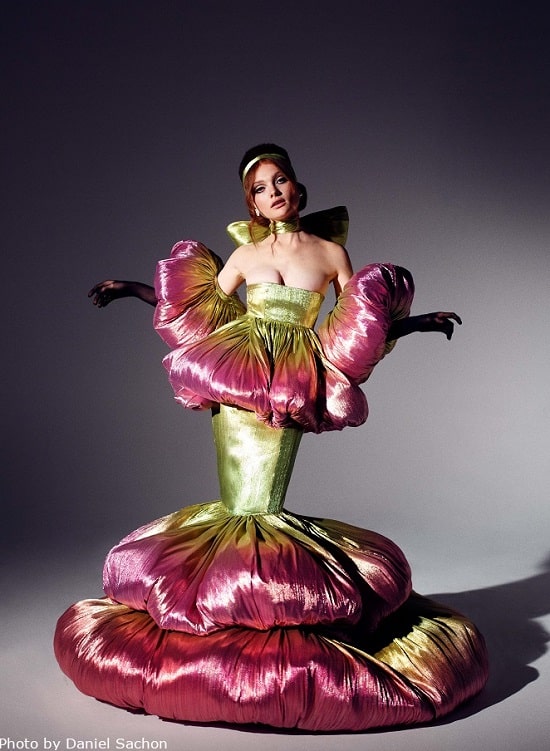 I was surprised to learn that the V&A has been collecting Korean art and design since 1888, and now holds one of the largest collections of contemporary Korean craft and design outside the country, including graphic design, fashion, and digital art. It was the first European institution to host the seminal exhibition the National Art Treasures of Korea in 1961 and opened London's first permanent gallery devoted to Korean arts in 1992.
Hallyu has provided Korea with an excellent opportunity to showcase its diverse culture, people, its unique entertainment products, exotic locales, and its own pan-Asian superstars to the rest of the world. Curated for the V&A by Lead Curator Rosalie Kim and Project Curator Yoojin Choi, the exhibition is also accompanied by a new publication edited by Kim.
The exhibition Hallyu! The Korean Wave runs from 24th September 2022 – 25th June 2023.
Opening image: Ji Won Choi x Adidas. Photo by Francesca Allen, courtesy of Adidas.