Home at the Palace
The Swiss Alps are one of the most remarkable examples of astounding beauty on our doorstep. One of my favourite places in the region is Gstaad, a chocolate box village, which, since the '30s, has been favoured by the most elegant Europeans and many a Hollywood star as a summer destination, although nowadays is most popular during the ski season.
It is easy to understand why. Nestled among imposing Alpine peaks in the Bernese Oberland region, and home to prestigious international boarding schools, Gstaad has been for a very long time a holiday destination for royalty and celebrities. Elizabeth Taylor, Jacquie Kennedy, Ava Gardner, Princess Grace of Monaco… they all flocked here in the golden years when glamour was truly glamorous. The traffic-free centre of the village is a harmonious mix of restaurants, luxury boutiques, hotels and bars; the aesthetic integrity of the area being guaranteed by the strictest of construction laws. Towering over the village and the surrounding valley as an imperious period queen is the Gstaad Palace Hotel, a fairy tale castle-like building which first opened its doors in 1913. It quickly became the establishment of choice by practically all the celebrities and royals that have graced the streets of this Alpine retreat, from Kofi Annan to David Bowie, Madonna to Roger Federer.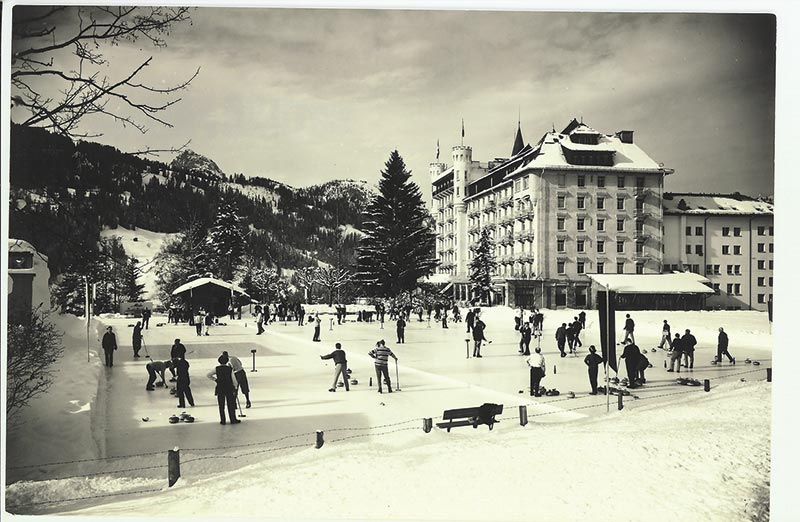 The hotel is today in the hands of the third generation of the Scherz family. Call me a romantic but I do love a good family story and even better, I love an old school hotel: plush carpets, wood panelling everywhere, walk-in wardrobes the size of a whole studio… and of course, a hundred and
one ways to spoil yourself. 
With more than 30,000 square metres of grounds, the hotel is like a resort in itself: tennis courts, indoors and outdoors pool, clay pigeon shooting, a spa to die for… This is the kind of place designed for guests to stay for at least two weeks, often a whole month, and in occasions, a whole season. Basically, you can make it home, dangerously easily. 
There are many five star hotels, but very few  truly offer five star service.
The staff at the Gstaad Palace are the real deal. Attentive without being fussy, warm without pretence, and always, always, ready to help. I came here 26 years ago with my father, just for two nights, but this place imprinted in my mind some of my favourite memories of travelling with my dad. As I walked in this time, the scent in the lobby sent an electric jolt of recognition to my brain, and for a second, I felt like two and a half decades had disappeared and that my father was just outside, parking his beloved Audi. But enough of this, at the end of the day, nostalgia is not what it used to be. To anyone coming here I'd suggest you resist the urge to rent a car and instead take the Belle Epoque train for a unique experience in the Orient Express style. This little jewel runs everyday from Montreaux to Zweisimenn, with a few stops along the way, among them, Gstaad. The Belle Epoque crawls up, snaking between the mountains, offering passengers the chance to enjoy a breath taking scenery of soaring mountains and maddening deep valleys.
The transfer from the station to the Gstaad Palace hotel takes five minutes and on arrival, the warm hospitality of the staff wins you over from the word "go".
There is no such a thing as a bad room here. From the smallest double to the spectacular Penthouse suite (three bedrooms, private sauna and extraordinary views over 240sq metres), all of them are furnished to the highest standards and stylishly decorated, without being designed within an inch of their ceilings, which by the way, I am not very fond of, because normally it means terrible lightning in the bathroom, uncomfortable furniture and sterile atmosphere.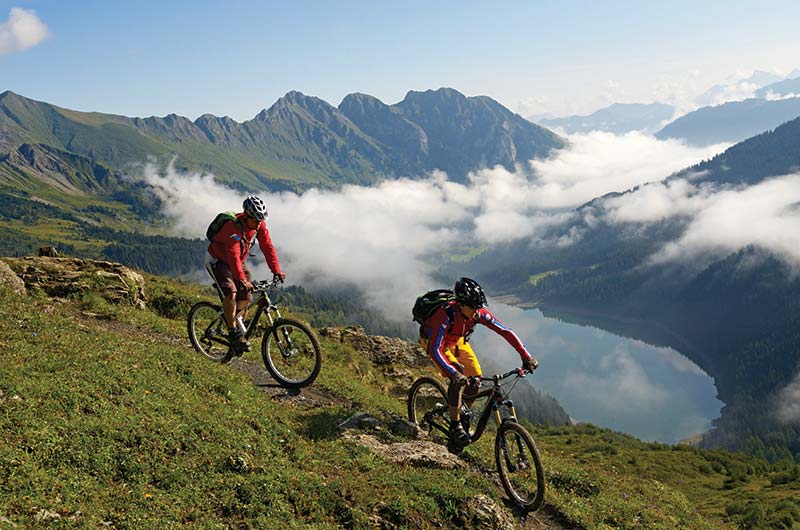 Everything is properly done at the Gstaad Palace, including a proper hair dryer, proper bathroom lights, proper walk-in wardrobe, and even proper desks. It's heaven! The elevator is a bit slow, but so would you if you had been ferrying guests up and down seven floors for over a century.  Le Grand Restaurant looked very much the way I remembered it: white tablecloths, beautiful cutlery, soft lightning, and live music at just the right volume. We had seabass in salt crust -dinner with a show. Career waiters, true professionals, worked together in perfect unison, almost like an orchestra, to serve us the most delicious dinner.
On this trip I discovered e-bikes, a fabulous invention that involves a little motor in a pushbike to allow anyone to climb the steepest Alpine peaks. Our guide Claudia, part of a unique group of eight local women tour guides, took us from the Gstaad Palace all the way to Lauenen lake, where the sun came out and flooded the valley with gold autumn light, making the water twinkle as if its surface was all covered with sparkles. Total bliss, total peace.
I was lucky enough to be in Gstaad for the "Raid du Sud" classic rally. Petrol head me couldn't help but dribble over the beauties that for once, had the privilege to circulate through the village, normally closed to any kind of motor traffic. Gstaad has become famous for its rallies, partly thanks to Andrea Scherz, General Manager of the Gstaad Palace. 
He is a great fan of classic cars himself and enjoys taking part in challenging rallies. Actually, the Palace has been running the "Weekend des Vétérans" over the last weekend of June for more than forty-five years and three years ago Scherz created the "Gstaad Palace Challenge", which is open to collectable classic sports cars built between 1950 and 1980. The rally takes place at the very end of August. 
If you are a gourmet, I'd recommend you stop at Earlybeck, probably the best boulangerie in the area, and try some of the local delicacies.  For the die-hard cheese lovers, there is a bizarre local attraction just out of Gstaad that I'm sure you'll love: the cheese grotto. This is kind of an underground silo where 3,000 wheels of cheese worth 1M Swiss Francs are kept until they mature and are ready to be sold to the public. A weekend at the Palace wouldn't be complete without a visit to their renowned spa. As everything at the Gstaad Palace, the spa is ample and elegant, organised around a central room with an open fire in the middle, perfect to sit and relax for a while, until it's time for your treatment. 
I chose a Jardin de Monts energising massage, with oils exclusively made for the hotel by the Jardin de Monts Garden, just 40km away. The massage technique is inspired by pre-Colombian Indian rituals from South America. It really made a difference on my tired limbs and long-suffering Editor's back. There are also all the standard hair and beauty treatments you may expect from such a first class establishment, including micro-needling, a very popular non invasive anti-age treatment.
On our last night, we went for dinner to another of the Palace's restaurants, Le Grill, where I ate the most delicious tuna carpaccio served with avocado and ginger and a surprisingly light and flavoursome duck breast with wild mushrooms. We washed it all down with a bottle of Humagne Rouge 2015, a fruity, cheerful red wine only available in Switzerland.
One of the afternoons during our stay, I had the chance to meet Andrea Scherz, grandson of the Sherz who bought the hotel back in 1947, and who's been its General Manager since 2001. I interviewed him on Le Grande Terrase of the hotel, overlooking the valley of Gstaad, sipping champagne and nibbling on parmesan biscuits.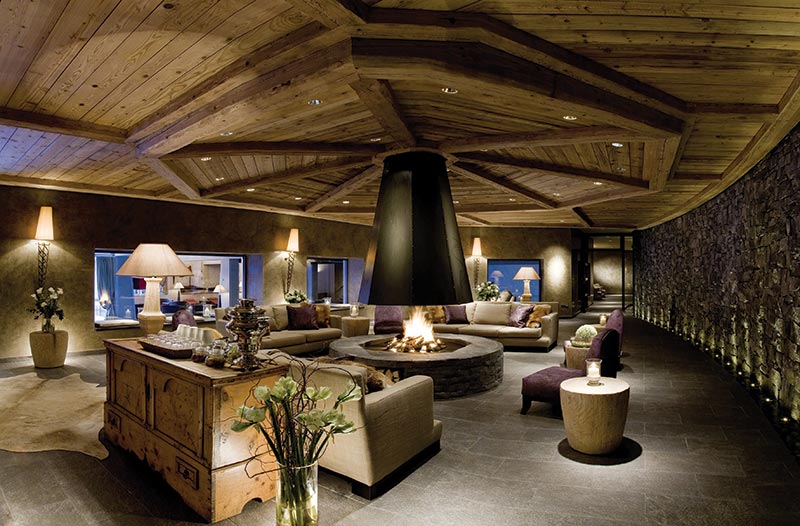 I-M: As a child, you must have heard amazing stories about the early days of the Gstaad Palace. Any in particular that holds a special place in your memory?
A.S: My grandparents and father often mentioned World War II. What fascinated me was the gold bunker that was built in the garden of the hotel. A two floor fortified bunker with a five meter concrete roof which was disguised as the hotel's terrace. My father recalls that his mother used to take him by the hand to see the gold deliveries in the early morning hours. Heavily guarded army trucks rolled up to the back of the hotel and men with crates transported each gold bar one by one into the lower floor of the vault. All this was done to save the Swiss gold from a potential German invasion, as Gstaad was one of the best defended and most inaccessible areas of Switzerland.
I-M: You must have met many celebrities here. Who impressed you the most as a kid and as a grown up?
A.S: Roger Moore used to play electric trains with me when he came for cocktails at my parents' house; much to their annoyance, because he seemed more interested in my train than in my father's cocktails. I had a love-hate relationship with Elizabeth Taylor. I loved that she always gave me a big hug when I was a little boy but I hated the hairs of her fur coat tickling my nose during the hug. Jacques Chirac played hide and seek with my brother and me on the Palace grounds and I once met Michael Jackson for drinks at my dad's house.
I was most impressed with the kindness and sharpness of Margaret Thatcher. I had the privilege to spend some time with her showing her around our beautiful region and sharing the occasional beer on a warm summer evening.
I-M: How was training with your father and grandfather to one day be in charge of the family business? Which were the core values that they instilled in you?
A.S: My father had the great habit of taking me to meetings related to the hotel or other positions he served in the area of Gstaad. I learnt a lot by observing and asking questions later. Core values my parents gave me were honesty, to never do to others what I wouldn't like done to me, and to only spend the money I had made before. During the season, I had all my lunch breaks from school at home in the hotel and occasionally my brother and I were allowed to accompany our parents to the hotel in the evening. In a very natural manner, during these meals, I learnt a lot about hospitality, but my father never pushed me to go into the family business.
I-M: The hotel has undergone many changes over these 105 years but always managed to keep its identity and personality. What is the secret?
A.S: I think it's very simple, during eighty of its 105 years, the hotel has been owned and managed by the same family. As I said before, we have shared the same values and ideas about hospitality through three generations, which in turn reflects on the hotel.
I-M: Your love for classic cars shows in the Gstaad Palace "Weekend des Vétérans" and the "Gstaad Palace Challenge" rallies. Are you pleased with the way these events are growing? 
A.S: Indeed, I am very pleased with the two events. The "Weekend des Vétérans" was created about 50 years ago by my father and it's still highly successful. Four years ago, I created the "Gstaad Palace Challenge" to offer an additional, more challenging and competitive rally. On the third year, we already managed to sell 26 of the total of 30 spaces available. These rallies introduce new guests to the hotel and are a highlight to our summer calendar.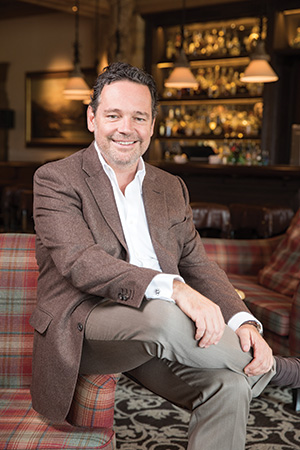 I-M: Do you own classic cars yourself and take part in these rallies?
A.S: As we are the organizers of these rallies, out of fairness, I do not participate but I help organizing them. On the "Weekend des Vétérans" I look after the lunch halt and on the "Gstaad Palace Challenge" I open the road with the latest model of our sponsor, Ferrari Switzerland. I own a Jaguar E-Type Series 1 and two road versions of Rally Champion cars of the '80s.
I-M: I believe the Gstaad Palace employs over 300 workers directly and many more indirectly. What is the role that you think the Gstaad Palace plays in the local community?
A.S: Yes, that is correct. We have 300 employees in winter and 200 in summer. On the hill above Gstaad, the Palace is like the lighthouse of the town. When its lights are on, many tourists come into the region and bring business to all sorts of commerce.
I-M: Lastly, what has Andrea Scherz not done yet that he'd like to do?
A.S: One day, I would like to take a six months sabbatical.