La Dolce Vita… Alpine style
Fun isn't necessarily the first thing that comes to mind when thinking of Switzerland  

– but now might be the time to think again, especially if 

you are into classic cars. 

With its stunning mountain roads and hidden car storage facilities, Gstaad has been for many years the mecca for car lovers in the Swiss Alps, with many rallies taking place in the country or passing by it at one stage or another.

Four years ago, Andrea Scherz, owner of the Gstaad Palace Hotel and a classic car enthusiast, decided to create the eponymous rally, aimed at fellow petrolheads looking to give their sports collectors' cars a bit of a challenge. The event was an immediate success, getting fully booked from its very first edition, with participants coming from all corners of the world. Entries are limited to a maximum of 30 crews and to cars manufactured between 1950 and 1986. Regularity and navigation tests, as well as fun parcours in close grounds, are designed to measure the abilities of the participants, both drivers and navigators.

The event is sponsored by Chopard, Edmond de Rothschild and Bonhams. Philip Kantor, Automobile Director at Bonhams, has been coming to the Gstaad Palace Challenge for years. "This rally represents a unique cocktail of beautiful scenery with a challenging roadbook; competitors being further rewarded by fine food and wine in the evenings – a recipe that definitely works for Bonhams' clients." This year I had the privilege to take part in the rally, which departed from the gorgeous Fairmont Hotel in Montreux , the famous resort town on Lake Geneva. We all met at the Fairmont for the driving and safety brief. All the cars were lined up on the promenade in front of it, between the lake and all the grand Belle Époque buildings in what looked to me like the best wish-list ever put together for anyone fond of cars. From a Cadillac Fleetwood (one has to admire the courage it takes to bring a car like that to negotiate the narrow local roads and the tight Alpine turns), to my friend Matthias's Mercedes Gullwing.

A total rookie in these affairs, I quickly realised that my companion and I were completely out of our depth. Thankfully, seasoned rally-goers Liz Comstock-Smith and Michael Kershaw, with whom I fell in love at first sight, and who ended up winning the rally, took us under their wing. Over coffee on the terrace of the Fairmont, they helped us understand the basics of the navigation codes, technical and regularity challenges and all the other "rallying" bits and bobs. Andrea Scherz had kindly lent us his beloved golden baby (Jaguar E-Type Series 1) to drive. Right after lunch, we set off through Montreux in a spectacular parade. I managed to do all of 20 minutes before we missed a crossing and had to turn back on ourselves, losing precious time along the way. However, it didn't matter – I was having so much fun! Once I found my bearings again, the route took us over the Bernese Alps, with their snow-capped peaks and characteristic deep valleys speckled with postcard-pretty mountain villages.
The coffee stop allowed us to really soak up the breathtaking views from those mountains… as well as dry up the sweat. The weather was gorgeous, but it meant that half of us were sweating even from parts of our body we didn't know existed. Classic cars and air-con are not really bedfellows. The pit stop also gave us the opportunity to break the ice and meet the participants we hadn't met at the brief. I had expected to find a serious, competitive crowd; but instead I found a group of incredibly friendly, fun people (many of them Swiss, yes) whose aim was to enjoy the region, take their classic cars for a good spin and discuss it all over dinner and drinks back at the Palace.
Once dried and re-hydrated, we all got back into our cars and drove up the picturesque Saanenland, finishing at the Palace. We managed to make it back within our allotted time by the skin of our teeth and with the car in one piece. Andrea was so relieved to see us come in that he literally went on his knees and kissed the ground. That evening, the Palace team had organised drinks and a barbecue on the terrace of the Palace. It was a dream of a summer evening: balmy weather, ice-cold champagne, wonderful food and the opportunity to speak to all other contestants. The evening finished with wonderful cigars selected by Andrea, who is member of a local cigar club, the White House Havana Club.
Talking to Patrick and Catherine Schoettker, whom I had met in the morning while admiring their gorgeous red Porsche 365B 1600 Super in the line-up in front of the Fairmont, I learnt that unfortunately, their four-wheeled beauty had decided it didn't like the summer heat and after lunch, refused to keep going. This was their second year taking part in the Gstaad Palace Rally and they knew the organisation would have prepared for all eventualities, so voila! another Porsche was supplied for the good-humoured couple to stay in the race… and this one came with air-con! Patrick commented: "Today's route was very special, a great combination of beautiful lake scenery with the start in Montreux, leading to a progressive climb through the Bernese mountains where we all (drivers, navigators and cars) could enjoy a well-deserved rest. The most impressive exploit remains, however, that the organizing team manages every year to surprise even the local participants by bringing them to unknown roads. You discover new roads in your own back garden!"
The designer of the rally, Kim Bannister (responsible for the Flying Scotsman and the Peking to Paris Challenge), told me this year they had put a lot of thought into how to expand the geographical reach of the rally to show participants different parts of the country. Andrea added:
"Although in general this year's rally is very similar to previous years, this time we decided to explore another part of Switzerland which forced us to use the motorway for about 40 minutes in order to get there."
I wasn't the only one having trouble reading the instructions. Serge Stotzer, who runs Switzerland's biggest auction house for classic cars – Oldtimer Galerie Toffen in case you are thinking of doing a bit of shopping – brought his friend Alexis with him as co-pilot, and he was as much a rally virgin as I was, so we ended up lost in the same places several times. With good humour Serge commented, "It was Alexis's first time so we were a bit overwhelmed with all the instructions. Nevertheless it was a lot of fun to drive through these beautiful mountain areas, especially the Jura region, where I've rarely been before; and of course all the nice people I've met or seen again."
On the second day and with a slightly sore head, my companion and I departed fresh and early, having managed to climb up to the middle of the table. Again, among the challenges for the day, the organisers had included a bit of a twist in the itinerary which took most of us around the same village time and again and again, until actually my companion figured out what had to be done and led the whole tribe up the mountain and then down again to the Jura region to visit the Chopard Manufacture and museum, in which gardens its Co-President, Karl-Friedrich Scheufele had kindly offered to host all of us for lunch. The museum displays a collection of pocket and wrist watches that go back a couple of hundred years, showing a variety of complications, decoration techniques and popular styles over time.
This visit was one of the reasons why Andrea and Kim changed the itinerary this year and in my eyes, it was definitely worth it. The drive to Fleurier was truly exhilarating and one I couldn't have done without my companion. Team work is always best. I asked Mr Scheufele what he thinks makes this rally so special. After reflecting for a moment, he answered: "The Gstaad Palace Challenge is an intimate but very high-quality rally, where participants come to exercise their exceptional cars, admire beautiful roads and scenery, and experience the generous hospitality around the event. Several of our clients from the Chopard boutique in Gstaad enjoy participating in the event, which has a special place in our annual calendar of Classic Racing gatherings."
I have to admit that by the time we finished lunch I was starting to feel a bit tired. Martin Liebi, another Palace Challenge rookie, agreed with me, confessing back at the Palace: "I feel today was too long. In my view, there was no need to go so far away, although that said, I thought there was a very good combination of challenging and easier parts. Also, as a beginner, I didn't fully understand how the evaluation was done." Martin was quick to add with a big smile, "however, I thought the whole itinerary was very well organised and full of interesting routes. All the people taking part in it have been great, such a fun and multicultural environment!" Last, he added, "coming to the Palace is always great anyway!"
When asked about the complexity of the rally, Andrea replied: "The level of difficulty remained more or less the same as in other years, but Saturday was a very long day due to the fact that we went to the Swiss Jura to see Chopard. Some of the participants complimented us that our kind of rally, level of difficulty and quality is unique in Switzerland. Some others confirmed that it is a challenge regarding the tests and the distance. This rally truly appeals to ambitious bon-vivants and many have already said: "We will be back." So Martin, it seems that you and I just have to up our game!
Back at the Palace, showered and restored, we all came down for cocktails and dinner in the magnificent Baccarat room, where the winners and runners-up were to be announced. Father and daughter teams did extremely well, with Werner Kummer and his daughter Cynthia scoring third place with their one-of-a-kind Ferrari 250 GT SWB "SEFAC". Werner is no stranger to classic car rallies, being a regular participant in Vintage Car Events such as Mille Miglia and Ennstal-Classic. This experienced rally fan was quite impressed with the Gstaad Palace Challenge, as he told me even before he knew they had made it to the podium. "I was impressed by the professional organisation of the Palace rally; truly the highest level. The diversity and combination of the special stages – a great mix of map-reading, regularity and ability – differentiates it from other events and makes it most entertaining. The limited number of participants combined with the excellent hospitality of the Gstaad Palace gives this event a very personal note and has made it a highlight in my annual car activities. The date for next year has already been marked."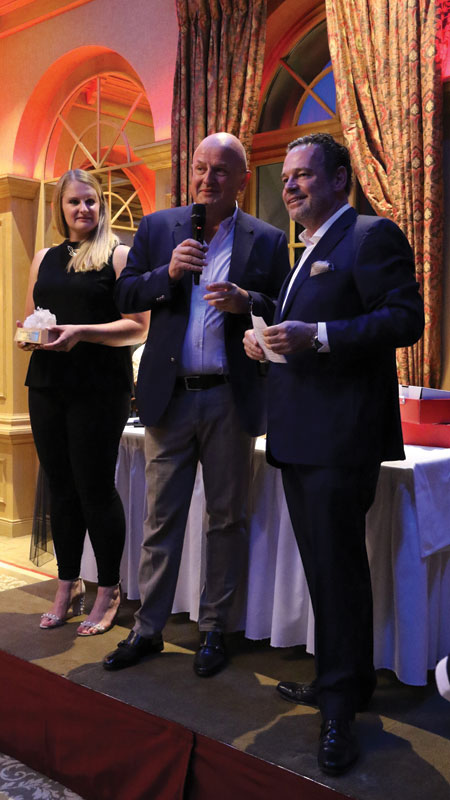 Upon hearing they had made third, his daughter Cynthia said: "Gstaad is very dear to my heart. I take any opportunity to visit! I really enjoy participating in vintage car rallies, not only because of the beautiful scenery and the fantastic prizes to win but also because it gives me quality time with my father and allows us to connect with other people sharing the same interests and passions. The combination of dad and I doesn't always work," she says with a smile, "but we have found out with time that we make a strong duo behind the wheel."
In second place came Joseph Huber and his daughter Lea in a Porsche 911 Targa whose windscreen had kind of come off on the last leg of the trip. Intrepid Joseph and Lea didn't let that slow them down and over a glass of wine Joseph mentioned that at some point they considered holding it in place with scotch tape. On the road, Lea actually told her dad, "Whatever you do dad, don't brake." Winners Liz Comstock-Smith and Michael Kershaw had a little bit of extra help from Bear, their stuffed navigator that goes with them everywhere in their gorgeous Aston Martin DB4. One can't help but ask the question: Should we be looking at rules about having an extra navigator on board?
Champagne in hand, Liz expressed her love for the Gstaad rally (this was their second year in a row taking part): "It is true that a lot is crammed in but the organisation of the Gstaad Palace and their attention to detail is legendary. It is a wonderful opportunity to admire superb cars, enjoy exceptionally pleasant company and fascinating scenery; not to mention the Palace's unrivalled luxury and excellent food. Some of the tests were a bit dramatic but… much to our genuine surprise, we actually won! Who could ask for anything more? We are already looking forward to next year."
Gstaad Palace Challenge 5th edition: 28-30 August 2020